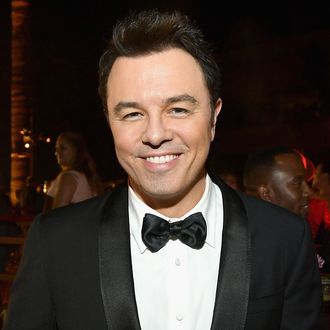 Seth MacFarlane.
Photo: Matt Winkelmeyer/Getty Images
During the 2013 Oscar nominations, Seth MacFarlane made a joke about Harvey Weinstein that plays slightly differently after the mogul's history of alleged sexual harassment and assault has come to light. "Congratulations," MacFarlane said to the year's five Best Actress nominees. "You five ladies no longer have to pretend to be attracted to Harvey Weinstein." In the wake of more women coming forward with stories of abuse, MacFarlane has explained the genesis of the joke, saying it was his way of protesting Weinstein's alleged treatment of his Ted co-star Jessica Barth. Barth told The New Yorker that the ex–Weinstein Company boss "alternated between offering to cast her in a film and demanding a naked massage in bed"; MacFarlane says he heard the story from Barth, and included the dig as a way to get back at Weinstein:
Here's MacFarlane delivering the joke, which was met with guffaws from the audience.