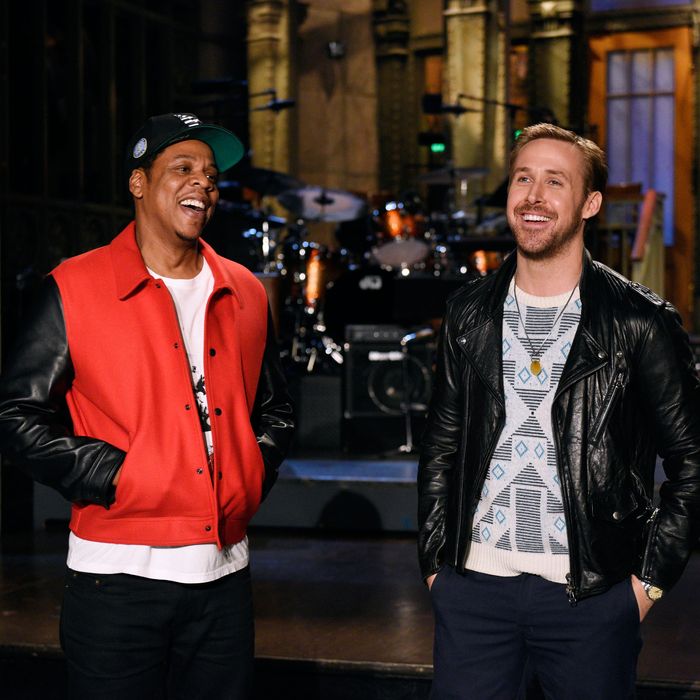 Photo: Rosalind O'Connor/NBC
Saturday Night Live kicks off season 43 with new faces, new writers, and a backlog of topical comedy to catch up on, but it was host Ryan Gosling's charms and tendency to giggle his way through sketches that made for a familiarly charming season opener. After last season ended with the departure of cast members Bobby Moynihan, Vanessa Bayer, and Sasheer Zamata, SNL won a slew of Emmys and, less than a week ago, added seven new writers and three featured players. Newcomers Chris Redd and Heidi Gardner both got lines in several sketches in the premiere, while Luke Null is yet to get his feet wet. (Perhaps he'll start with a guitar bit on Weekend Update?)
The show also worked quickly to take on President Trump's handling of the crisis in Puerto Rico, but didn't get to other news-dominating subjects like the NFL protests, health care, or North Korea. (Not like those issues are going away.) Gosling didn't get any better at keeping a straight face his second time around as host, but he kept up with the cast and committed to each bit as long as he could stand it. Remember, all this guy has to do is say, "Hey, girl" to make America swoon. He basically can do no wrong.
The Chaos President Cold Open
Coming off his Emmy win for the role, Alec Baldwin returns as Donald Trump to open SNL's season alongside Aidy Bryant's Sarah Huckabee Sanders. While SNL could have chosen any number of Trump scandals from over the summer, they dove right into the news of the day: Trump's Twitter attacks on San Juan mayor Carmen Yulín Cruz (played by Melissa Villaseñor), sent from his golf course. Once again, the president's tweets and nonsensical TV sound bites — like his explaining what an island is — are pretty much said verbatim, giving the writers all the source material they need. (If only the real Trump could say something as responsible as, "Sometimes when you're president you have to make sacrifices, so I skipped the back nine.") Fellow Emmy winner Kate McKinnon steals the scene with her elflike Jeff Sessions ("I live in the grandfather clock down the hallway. I made friends with some mice. They tell me secrets.") and Alex Moffat drops in as Chuck Schumer for the first "Live from New York!" of the season.
Ryan Gosling Monologue
He may been here promoting Blade Runner 2049, but the theme of Gosling's second SNL monologue is the much-tweeted joke about his character in La La Land "saving jazz" as a white guy. Sitting down at the piano and lighting a cigarette (the difficulty of multitasking gave us our first giggle of the night from Gos), he reminisces about saving jazz, asks the house band to actually play some jazz, and gets yelled at by Kenan Thompson for saying he saved jazz. The months-old joke made the monologue a little one-note (sorry) save for his too-funny mispronunciations of "Ner-leans" and "Chica-gy," but a surprise Emma Stone cameo at the end takes the monologue out on a high note (again, sorry).
Another Close Encounter
The best part of Gosling's last stint at SNL was his part in this recurring sketch (including how many times he cracked up), where alien abductees described their encounters and Kate McKinnon's "Mrs. Rafferty" stole the scene with her wildly different experience and nicknames for her genitals, so it's great to see it again. Aidy Bryant and Mikey Day play the NSA agents as Cecily Strong and Gosling (in a trucker hat) spill their beautiful story of alien enlightenment, while Mrs. Rafferty recounts how her "taco and choco" were fondled. "These guys are tripping out at Burning Man, meanwhile, I'm stranded at the Fyre Festival." Gosling goes two for two, breaking as soon as Mrs. Rafferty buries her face in his butt, but who wouldn't?
Levi's Wokes
In the first pre-taped sketch of the night — and our first glimpse of new cast members Chris Redd and Heidi Gardner — SNL takes the much-misused and appropriated "woke" to its furthest logical conclusion: a commercial for sizeless, style-neutral, gender-non-conforming denim. Levi's Woke jeans have no discernible shape or color, something called a "uni-fly," and they are guaranteed to be "made by white kids." If I have an overall criticism of this episode, it's that it needed a lot more Leslie Jones, but at least we got to hear her say, "What's my size? Why don't you try asking me about my #accomplishments?"
The Fliplets
It's good to find out the SNL writers have been binge-watching House Hunters as much as the rest of us. Poking fun at our collective national HGTV obsession, "The Fliplets" imagines if the Property Brothers' third brother were actually a black-sheep triplet. (And yes, it's weird that the Property Brothers actually have a third brother.) In the sketch, Pete (Mikey Day), Zeke (Alex Moffat), and Tristan (Gosling) try to get through a promo while the latter spouts off conspiracies, disturbing details from their past, and general nonsense. It ends with Tristan delivering a dark confession to camera, as all HGTV programs should.
Weekend Update
While Weekend Update's Summer Editions gave us a small dose of Colin and Che, it's good to have them back at the desk to handle the year's onslaught of cringe-worthy news. Trump leads the top of the segment with Jost asking, "How is the president worse at humanitarian aid than Pitbull?" and Che imploring him to, "Do what you just did for white people twice," justifiably adding, "Ya cheap cracker." The guys also slipped in the obligatory Hugh Hefner joke after the Playboy mogul's passing ("He will be buried in a folder marked, 'Work stuff') and one of the funniest observations comes from Che remarking that Saudi Arabia is letting women drive "only a few short years after cars can drive themselves." It's funny because it's depressingly true.
The first guest is obviously Kate McKinnon as Angela Merkel, who's there to discuss her fourth term win as chancellor of Germany, but really to hit on France's President Macron and reveal how hung up she is on Obama. She has a breakup box full of letters, a Creed mixtape, and everything — but hey, don't we all?
Later, Alex Moffat brings back his character Guy Who Just Bought a Boat, including new abbreviations like "rock a quality frag" and "loca-sh, loca-sh, loca-sh." His bit of constantly undercutting his goofy yuppie boasts with admissions like, "I have a small penis" still work. This time Ryan Gosling joins as Guy Who Just Joined SoHo House, which is a joke that probably went over a lot of (non–New York or L.A.) people's heads. Luckily, anyone can laugh at a line like "Captain Blackout reporting for booty," as long as you can get over watching Ryan Gosling say, "I'm terrible at sex."
Henrietta and the Fugitive
Definitely the silliest sketch of the night (we'll get to you, Papyrus sketch), this black-and-white noir crime parody finds Aidy Bryant as a massive hen who falls for bad boy Ryan Gosling, a human man fleeing cops played by Moffat and Beck Bennett. Gosling commits to the bit, scolding his deep-down love for the hen ("Come on Freddy! What're you doing? She's a chicken!"). The highlights of the sketch come when Bryant has a little trouble getting the gun out of Gosling's back pocket, resulting in his third break of the night, as well as the unexpected "20 years later" epilogue that finds Gosling losing it even more thanks to Bryant's head scarf falling off.
Italian Restaurant
If you remember the classic Schillervision sketch with Chris Farley from the '90s, where he overreacts after being duped by coffee "crystals," this sketch doesn't fall far from the SNL tree. Poking fun at blind taste-test commercials that somehow aren't obvious to the testers ("This is a warehouse with three tables"), diners played by Kyle Mooney, Villaseñor, Redd, Gardner, Gosling, and Strong are told that the pasta they've been eating at "Terrazano's" is actually Pizza Hut, which somehow infuriates Strong and Gosling's characters. The pair really sell their outrage as Strong's character fiercely defends the Italian eatery she has never been to, and of course Gosling cracks up again.
Papyrus
The second pre-taped sketch of the night relies on the viewer sharing one very specific (albeit popular) opinion: Papyrus font is garbage. Ryan Gosling goes through an intense journey in realizing that a professional graphic designer chose Papyrus as the title font for Avatar. McKinnon, Mooney, and newcomers Redd and Gardner make appearances while Gosling shows he's still good at being dramatic in the rain. If you didn't already have a hatred for Papyrus, you won't be able to stop seeing it now. Just avoid all "hookah bars, Shakira merch, and off-brand teas."
Dive Bar
The last sketch of the night is really just an opportunity for SNL's longest-serving cast member, Thompson, to do his thing. The premise is that Thompson, Mooney, and Gosling have a pathetic gig as the warm-up band at Mickey's End-Zone sports bar on a Sunday night. The set is interrupted by Thompson's character prying into Gosling's private life and worrying about where his "good jeans" are. Luckily, Leslie Jones makes an appearance at the end and once again, complications with a prop and cast breaks get the biggest laughs. But hey, that's live TV for you.