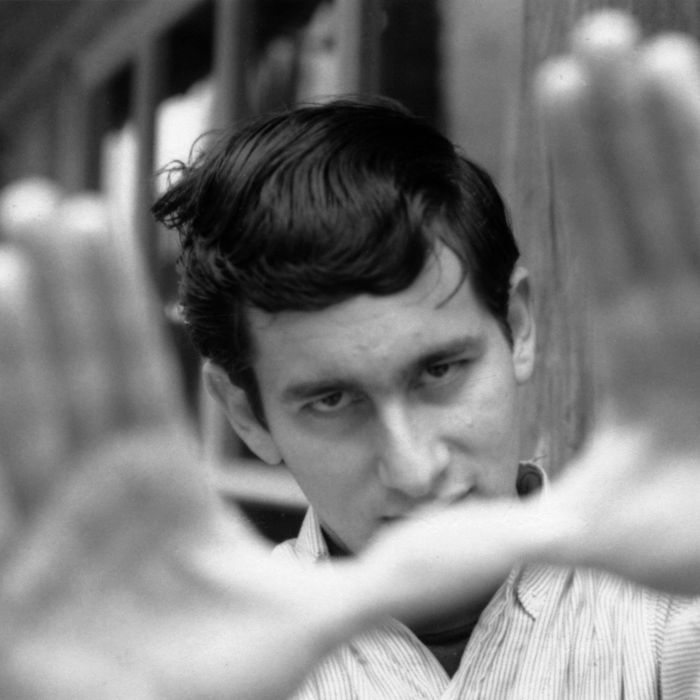 Steven Spielberg has not directed and/or produced every single beloved movie of the past four decades. It just feels like he has.
No American director is more well-known or more commercially successful than he is. As New York Times critic Janet Maslin puts it in the new HBO documentary Spielberg, "There is no film career trajectory like his in the history of cinema." We know how extraordinary his movies are, which makes it seem almost redundant for HBO to devote two-and-a-half hours to celebrating and analyzing his work this Saturday night. Is there anything that can be said about Steven Spielberg that hasn't already been said?
It turns out the answer is yes. In the hands of documentarian Susan Lacy, creator of PBS's American Masters series, Spielberg captures the man himself talking personally and candidly about his filmography and the ways in which personal heartbreaks and interests have informed his work. It also contains interviews with his three sisters, both of his parents, prominent film critics, a parade of major stars with whom he has worked, and his closest filmmaker friends: George Lucas, Martin Scorsese, Francis Ford Coppola, and Brian De Palma. There is so much to say and cover in a relatively short period of time that even some of the more high-wattage sources — Tom Cruise, Oprah Winfrey, Leonardo DiCaprio, Harrison Ford — get only a modest amount of on-camera time. The unused footage from this thing could probably make a whole other documentary.
Spielberg traces both the life and career trajectory Maslin refers to, but not by moving in the chronological order of a standard biography. Lacy devotes early time to the planting of the earliest filmmaking seeds in this wunderkind, such as the intimidating impact that seeing Lawrence of Arabia had on a 16-year-old Spielberg. "When the film was over, I wanted to not be a director anymore," he says, "because the bar was too high."
From there, she slides up and down the Spielberg timeline to touch on various themes, including the way he addresses fear in his own life and onscreen (Jaws and Poltergeist); his relationship with Judaism (Schindler's List); his explorations of injustice and politics in films like Amistad, Lincoln, and even the 9/11-inspired remake of War of the Worlds; and his depictions of families that break apart, the issue that Spielberg returns to most frequently. "I've avoided therapy," he says, "because movies are my therapy."
It is common knowledge that the divorce of Spielberg's parents had a profound effect on him and is something he actively grappled with in Close Encounters of the Third Kind and E.T., among other movies. But it is one thing to know that, and another thing entirely to hear Spielberg speak about it, acknowledging that the Close Encounters scene where Roy Neary's son screams, "Cry baby! Cry baby!" at his father is based on something Spielberg did to his own dad. It's another thing, still, to hear Spielberg's parents speak about their split.
His mother, Leah Adler, who died earlier this year at the age of 97, acknowledges that her first marriage ended because she was having an affair with her husband's best friend, Bernie Adler, a man she later married. But at the time, she and Arnold Spielberg told their four children that it was he who ended the marriage. "I figured I could be hurt less than she," explains the filmmaker's father, who is still wonderfully articulate at the age of 100. "I still loved her."
That spawned decades of resentment in a son who believed his dad destroyed their family unit, not to mention decades' worth of wildly popular movies about absentee patriarchs. "I was hurt by it, but quietly hurt," the elder Spielberg says of seeing that theme addressed again and again. "I didn't broach it with Steven. I just ate it up a little bit." Honestly, the story of this family should be a Steven Spielberg movie, though, to the documentary's point, it already has been, several times over.
Spielberg also does a magnificent job of examining the director's technique, from the way he guides child actors — there is familiar but nevertheless delightful footage of him on the set of E.T., coaching Henry Thomas and Drew Barrymore — to his fluid and masterful camerawork in early projects like Duel to the vaster canvases of films such as Saving Private Ryan. Lacy allows us to hear what Spielberg and analysts of his work have to say while showing us what they're describing via well-chosen scenes from his films, an approach that invites a more active understanding of his craft. This is a documentary that could and should be shown in film schools.
While the movie is, not surprisingly, mostly laudatory, it doesn't skip over Spielberg's failures and disappointments either. He speaks about the misguided hubris that led him to make the famously panned comedy 1941; his disappointment about the fact that his first marriage, to actress Amy Irving, ended in divorce; and about how unequipped he was to handle certain aspects of The Color Purple, specifically the sexual relationship between Celie (Whoopi Goldberg) and Shug (Margaret Avery), something only hinted at gently in the film. "I might have done that had I made the movie ten years later," he says. "I was just timid. I was just a little embarrassed. I just wasn't the right guy to do that."
Ultimately, though, Spielberg is not intended to dissect the things the Amblin man chose not to do — although given the breadth and influence of his career, one could make another whole documentary on that subject. It is a deep, personal exploration of America's most significant living filmmaker, someone who, as writer-producer Steven Bochco puts it, has "a gear in his brain that turns stories into pictures." It is a studied consideration of what his extraordinary body of work tells us about him, and why it speaks to so many.
At one point, Daniel Day-Lewis notes that "until the day he dies" Spielberg will "be doing work that he feels viscerally compelled to do." It's a pleasure to get this opportunity to delve into why and how he does that, while he's still here and very much still doing that work.