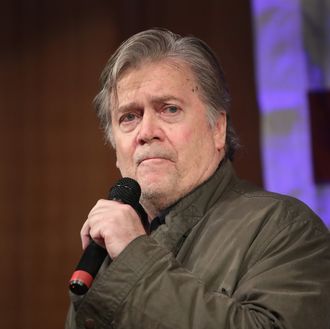 Photo: Scott Olson/Getty Images
Although Breitbart, the conservative news outlet run by former Trump adviser Steve Bannon, has been blasting high-profile Democrats this week for past campaign donations from Harvey Weinstein, liberals weren't the only ones who profited from the embattled producer. The Associated Press reports that Bannon, in quite a hypocritical twist, gained hundreds of thousands of dollars from a joint business venture with the movie mogul. In 2004, Bannon, a former Goldman Sachs banker, was trying his hand at Hollywood investments and served as chairman of a small company distributing DVDs. At that time, he joined the the Weinstein Company's ill-fated Genius Products. According to the AP, Bannon's company received a $500,000 consulting contract from TWC, which was led by Harvey and his brother Bob Weinstein, with a $200,000 bonus for Bannon. He was also offered stock options in Genius Products that were then valued at over a $1 million.
Since the New York Times published its explosive investigative report that detailed decades of sexual-harassment allegations against Weinstein, Breitbart has posted dozens of stories about Democrats who were friendly with Weinstein, a frequent donor to the party. Hillary Clinton, Barack Obama, and others have since condemned Weinstein. Clinton announced on Wednesday that she would be donating Weinstein's campaign contributions to charity.