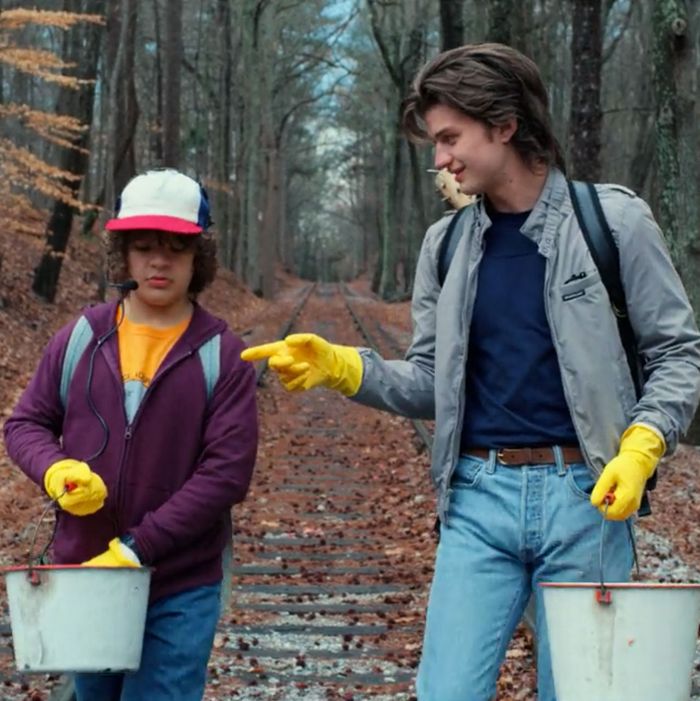 Just look at 'em.
Photo: Netflix
Spoilers for Stranger Things season two ahead.
Steve Harrington is the only teen on Stranger Things without a younger sibling to guide through puberty or that lesser evil of the Upside Down. But in season two, our reformed villain gets an unexpected lil' best friend in his polar opposite, Dustin Henderson. Jock meets nerd in a collision of two worlds that seem particularly unaligned, even for a show about a parallel demonic dimension, and their friendship is delightful.
In the first season, Steve (Joe Keery) earned his stripes as a reviled bully who slut-shamed his hookup turned girlfriend Nancy (Natalia Dyer) and berated the class recluse, Jonathan Byers (Charlie Heaton). He's known around Hawkins High as King Steve, and certainly not for his benevolence. Dustin (Gaten Matarazzo), meanwhile, with his delightful, semi-toothless grin and hyperactive passion for science, is a textbook geek. Their paths are not designed to cross, but as the end of the first season hinted, neither character is as one-note as the '80s film tropes informing their personalities.
Stranger Things' first year redeemed Steve as the antihero with a spiked bat who saved Nancy and Jonathan from the Demogorgon. Season two sees Steve continue on this journey by further transitioning into a hero, full stop, now with Dustin as his sidekick. The two join forces by happenstance: Steve shows up unannounced with a bouquet of roses to once again reluctantly apologize for being douchey to Nancy (some things never change), but instead, Dustin recruits Steve to help him deal with his pet "Demodog," which he's been secretly hiding. "We've got bigger problems than your love life," Dustin says, adorably minimizing Steve's emotions. They soon learn there's room for both fighting monsters and romance — or, in their case, what becomes the show's best bromance.
What follows is the makings of a buddy-cop-esque spinoff. In joining Dustin on his misadventures, Steve becomes a self-appointed babysitter. He's there to keep the boys from getting themselves killed, which means volunteering to lure out a pack of Demodogs, and then being the last to escape the tunnels beneath Hawkins so Dustin doesn't get eaten alive. It also means Steve gets to play big brother, a role he relishes because it gives him the opportunity to reassert his machismo after it's taken quite a few hits — some physical, courtesy of the show's new human villain, Billy (Dacre Montgomery). Keery steps into this new position with gusto, going for a comedic mentor-mentee dynamic rather than a power trip. He endearingly refers to the kids as "shitheads," with Dustin his favorite, of course.
Perhaps being forced to swallow his pride allowed Steve to see something of himself in Dustin. (Could it be that Steve was just as much of a dweeb in middle school? The way he encourages Dustin's science experiments by freezing a dead Demodog is telling.) As they work together to help defeat the Mind Flayer, Steve also takes Dustin under his wing, imparting as much wisdom as he can so high school won't be such a drag. In yet another Stand by Me callback set along the Hawkins train tracks, Steve clues Dustin in on "sexual electricity" and how to get a girl by being a jerk. (Listen, he's new to this mentorship thing too.) It's bad advice delivered with the best intentions: Ultimately, he hopes to spare Dustin the future pain that Nancy just brought to Steve himself. "She's only gonna break your heart and you're way too young for that shit," he lovingly warns. But like the best older brother, Steve also knows that the kid's gotta learn that lesson on his own. If he has to endure heartache, let it be in style.
The secret of Steve's appeal to women, he tells Dustin, also has to do with his hair — a shiny, voluminous, gorgeous mullet. Steve entrusts Dustin (and Dustin alone) with his regimen, which involves a generous amount of Farrah Fawcett hairspray. This sets up what is, without question, the best scene of Stranger Things to date: Dustin transforming into a mini-Steve, hair and all, for his first school dance. And better yet, Steve is his chaperone! They trade banter on not caring about girls, Steve compliments Dustin's new look ("You look like a million bucks"), and then reminds him not to overdo it on what Dustin thinks is a sexy growl, sealing their friendship with a handshake. Keery never got to interact with the younger cast in season one, but by season two's end, it's hard to remember that Steve and Dustin were ever anything but besties.
If for no other reason than to keep this relationship going, we kindly request that Hawkins High hold Steve back another year.
Get all your Stranger Things 2 questions answered at the show's Vulture Festival L.A. panel on November 18! Tickets are available here.