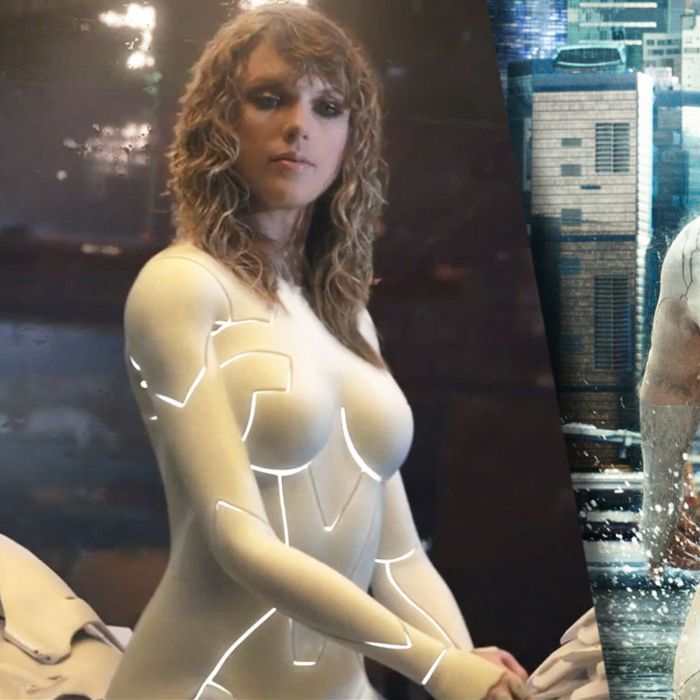 Taylor Swift in "Ready for It?" and Scarlett Johansson in
Ghost in the Shell
.
Photo: Big Machine Records/Paramount Pictures
The live-action Ghost in the Shell movie might have been a flop, but at least one pop star dug it. On Thursday night, Taylor Swift released the music video for the second single off her upcoming Reputation and the internet was not prepared for all the movie references in "…Ready for It?" In addition to its general dystopian Blade Runner vibe, the video seems to reference several other futuristic sci-fi projects. It's basically Stranger Things for kids who were more into manga than Spielberg.
Watch the video above, then check out all the references below:
Ghost in the Shell
About a minute into the video, Swift encounters a doppelgänger who's basically a really expensive Halloween costume version of Scarlett Johansson in Ghost in the Shell — right down the pattern on her skin-tight robo-suit. Some shots even nod directly to scenes in the little-loved March reboot.
Prometheus
Speaking of shot-for-shot remakes, this shot of Taylor examining a mysterious blue orb seems to be a nod to Snowman star Michael Fassbender doing the same thing in Prometheus.
Tron: Legacy
Of course, you can't put sexy sci-fi robots in a dark-blue color scheme without someone seeing a reference to the 2010 Garrett Hedlund vehicle Tron: Legacy.
Westworld
Early in her career, Taylor sang about a "White Horse." Now, she's riding a robot one. Is it a reference to Westworld, the credits of which depict a similar process of robo-horse creation?
The Evil Kermit Meme
Given the other influences, it's unlikely that Swift and director Joseph Kahn spent their immense amounts of money and creative energy on recreating the most popular meme of November 2016. But the screenshots don't lie.