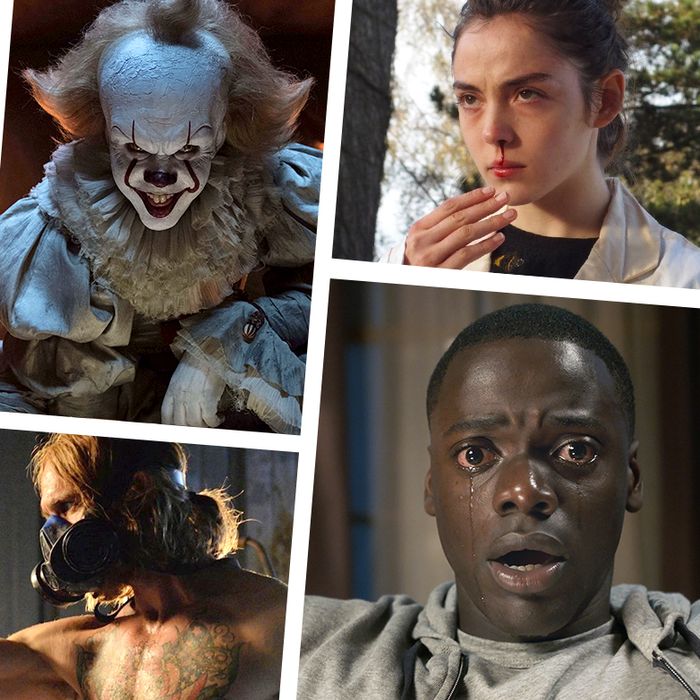 Clockwise from top-left: Split, It, Raw, Get Out, The Devil's Candy.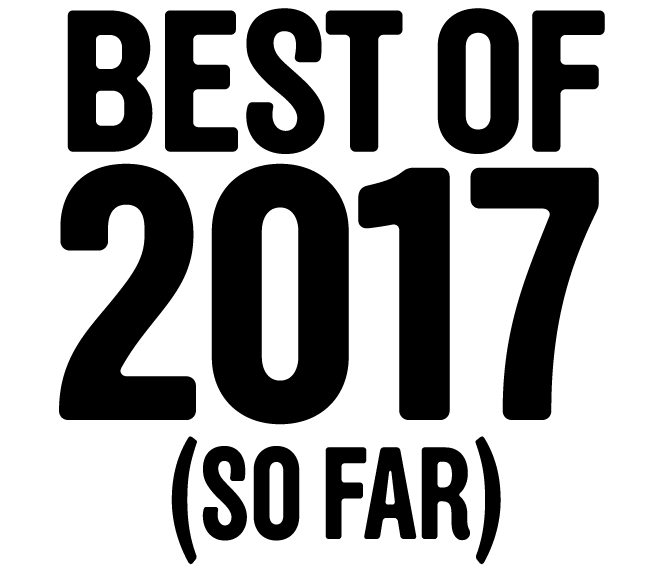 This list has been updated to include October releases.
The conversation around horror movies this year has been dominated by two words: Get Out. Jordan Peele's boundary-breaking thriller has deservedly become the reflexive response to the question, "Seen any good horror movies lately?" But while Peele's directorial debut has been generating early Oscar buzz, a lot of other great horror movies have hit theaters so far this year. Young actresses like Anya Taylor-Joy, Sennia Nanua, and Garance Marillier have impressed in showcase roles, while occult stories like A Dark Song and The Blackcoat's Daughter have moved past the well-worn exorcism narrative in favor of more distinct takes on satanic horror. And there have also been some very good bad guys! Here then, are the best horror films of the year so far that aren't Get Out. (But there's also Get Out.)
Annabelle: Creation
Annabelle: Creation is the fourth movie in the ever-expanding Conjuring universe, and it served as one of this year's biggest summer horror surprises. Director David Sandberg came on for the second Annabelle movie, putting some snap back into the sub-franchise by taking viewers even farther back in time to learn the origins of the wicked doll. Dark, brooding indies are always appreciated, but sometimes, you just want jump scares served up on a platter. That's exactly what Creation delivers — it's absolutely overflowing with good, cheap thrills.
Berlin Syndrome
There are more and more strong roles for women in horror films, but still too few female directors. With Berlin Syndrome, Cate Shortland has made a terrifying film about the psychological toll of abusive relationships. Veteran horror heroine Teresa Palmer stars as an Australian tourist who gets taken prisoner after a one-night stand in Berlin, and the actress is even better in Berlin than she was in last year's Lights Out. Shortland's claustrophobic look at toxic masculinity and the line between love and obsession is a powerful first foray into the suspense genre.
The Blackcoat's Daughter
Blackcoat's Daughter is the first feature from Osgood Perkins (star of Legally Blonde, son of Anthony), who also recently directed Netflix's I Am the Pretty Thing That Lives in the House. If these films are a guide, Perkins has an affinity for stories about quiet, emotionally isolated women susceptible to being overcome by spirits, and Blackcoat's is one of the more eerie possession movies in recent memory. It stars Kiernan Shipka and Emma Roberts as two characters on distinct but intersecting paths, both of whom suffer from troubling visions and flashbacks, and who are linked together by a boarding school in the Northeast. The movie is structured like a puzzle, and Perkins is entirely content to let viewers dwell on long, contemplative takes, with occult imagery sprinkled about. It's hard to make a unique movie about demonic possession, but Perkins avoids hoary tropes like exorcisms and body contortions. For that, his haunting debut earns your attention.
A Dark Song
A Dark Song is the feature debut of Ireland's Liam Gavin, who comes on the scene strong with this meditation on grief and loss. A woman becomes obsessed with communicating again with her dead son, and so hires an occultist to guide her through a months-long ritual that will allow her to interact with the spirit realm. One big catch: Once the house has been bound, no one can leave it until the process is done. In an isolated country manor, she goes through one ordeal after another: Is her guru just a charlatan? When strange things start to happen, it is truly the divine, or just her paranoid mind? One thing is certain, though: When you open the door to the dead, you have to be prepared for whatever comes through.
The Devil's Candy
Australian director Sean Byrne's long-awaited follow-up to his 2009 hit The Loved Ones is at once an ode to heavy metal, an endearing family drama, and a wonderful serial-killer movie rooted in a demonic-possession story. Ethan Embry plays a metalhead and aspiring artist, the head of a working-class family that's struggling to make ends meet. They can't resist buying a house on sale for a criminally low price, but the landlord neglected to tell them that's because the previous owners were killed by their son after the devil told him to do it. (To be fair, there's hardly a box for that on Zillow.) The Devil's Candy has plenty of thrashing guitar, an unexpectedly touching father-daughter dynamic, and eventually, lots and lots of fire.
Get Out
Here it is! You know it. You've heard about it, but if you haven't seen it: Believe the hype. Jordan Peele's directorial debut is funny, frightening, and one of the most incisive pieces of social commentary ever made in suspense cinema. The story of a black man going home to meet his white girlfriend's family, only to discover an unsettling plot, is one of the best movies of the year in any genre, and it's a safe bet you'll find it atop many critics' lists when the year is over.
The Girl With All the Gifts
Zombies are a pretty tired construction at this point; you've got to have a really killer element to stand out. Fortunately, this British adaptation of M.R. Carey's sci-fi novel has a great weapon in young actress Sennia Nanua, who delivers an impressive performance as a hybrid zombie who may contain the cure to a civilization-destroying infection in her unique blood. When a horde of undead overruns the research facility she's being kept in, a small unit of scientists and soldiers must try and find safety while ensuring her survival — and also avoid being eaten by her. It's an affecting family drama, and very good zombie romp.
Hounds of Love
Fun fact: Australians make really good rural-crime horror. (See Lake Mungo and The Snowtown Murders for proof.) Hounds of Love is the debut feature from Ben Young, and it tells the story of a mildly rebellious high-schooler taken prisoner by a couple that kidnaps local girls, makes them sex slaves, then kills them. Young does a phenomenal job of leaving the worst of the violence offscreen; he knows there's little value showing a brutal rape when a cutaway will deliver the message just as well. But it's the movie's female victimizer (Emma Booth), who herself is trapped in a cycle of abuse and infatuation with her murderous boyfriend, who takes Hounds to the next level, and who drives one of the most nerve-racking final scenes in recent memory.
It
As September ends, It looks poised to pass the half-billion dollar mark at the global box office before it leaves theaters, becoming the highest grossing horror movie of all time while blowing past the previous record-holder, The Exorcist. It's also gotten very good reviews. Andy Muschietti's revival of the classic Stephen King tale adheres more closely to the book than the iconic mini-series that aired on ABC in 1990. It's also shinier and meaner than its screen predecessor, putting the Loser's Club through plenty of R-rated trials as they come together to try and vanquish the demonic Pennywise from their sleepy little town of Derry, Maine. Bill Skarsgård is great as the dancing clown, but keep your guard up against the heinous Henry Bowers — the bully's teeth are almost sharper than the sewer-dwelling hell creature's.
It Comes at Night
A less-than-honest marketing campaign has led to a lot of dissatisfaction from people who saw It Comes at Night in theaters, but A24's newest art-house horror movie deserves to find the right audience. It's a movie about two families who are brought together under extremely tense circumstances after an unexplained societal collapse. There is no physical "It" in It Comes At Night — just a nerve-jangling tone study about the limits of humanity when normal social rules have been abandoned. So let's be clear: Almost nothing in this movie will jump out and scare you, but if you want gorgeous cinematography, long takes, and an enduring sense of impending doom, this is the film for you.
Killing Ground
The most consistently well-executed horror cinema of the year has been funneling into the US from across the world. Killing Ground is the debut feature from Australian director Damien Power, whose take on the trapped-in-the-woods trope functions with equal effectiveness as a character drama and an icky thriller that makes you sink into your chair. When a couple on a camping holiday realizes the neighboring campsite has been hastily abandoned, they first set out to find its inhabitants, but then realize it's time to get the hell out of Dodge when they come upon a twisted murder scene deeper into the woods. This one is not for viewers who prefer their violence off-camera. While Power does not gleefully linger on gore in the tradition of torture-tourism movies like Saw or Hostel, Killing Ground's brutality is presented in long, direct takes, making it feel horribly intimate. At a time when so many scary movies are artfully moving the violence out of the frame, Killing Ground is a quiet return to pain for the viewers who want it.
Lake Bodom
This Finnish movie premiered at SXSW earlier this year, and debuted for audiences on the horror-streaming service Shudder this month. The plot follows four teenagers — two boys and two girls — who go camping together in a nearby forest. The issue is, the boys lured the girls there under false pretenses to help them re-create a crime scene from an unsolved murder that took place on their impromptu campsite years before. That's not even the creepiest part, but we're not here to ruin the twists in this self-aware isolation horror standout.
Prevenge
Alice Lowe wrote, directed, and starred in Prevenge, and it's one of the most darkly delightful movies to come out this year. Lowe plays Ruth, a pregnant woman who is mourning the death of her partner, and processing the grief by taking orders from her angry fetus to kill a bunch of people. Pregnancy horror is a genre unto itself, but it rarely affords its leads as much agency as Lowe gives Ruth in Prevenge. The result is some of the most empowering body horror you'll find.
Raw
French director Julia Ducournau's first feature knocked critics out as it made its way around the festival circuit last year, and it finally hit U.S. theaters in March. It's a coming-of-age drama mixed with cannibal horror, about an academically overachieving and socially underachieving girl who finds herself living in the shadow of her more popular older sister. If that weren't bad enough, a terrible hazing incident leaves her with an insatiable new hunger. Actress Garance Marillier is great as the repressed and increasingly rebellious lead, and Ducournau delivers a beautifully shot look at the terrifying bridge between being a teen girl and a young woman. Raw doesn't lazily lean on gratuitous violence, but it does provide just enough blood for the gore-hounds out there.
Split
Before Get Out premiered, Split spent a month as the early favorite for the year's biggest horror movie. For an original story, its box-office success was unprecedented — until Peele's movie set the bar even higher. Still, Split fully cements the return of M. Night Shyamalan as an appointment-viewing director, with James McAvoy in full bloom as a man with multiple personalities, and Anya Taylor-Joy reaffirming why she's horror's young actress du jour. The themes in this one are dark, but it's great to see the director get his edge back.
Super Dark Times
Super Dark isn't big or expensive. It's a lean little paranoia-based thriller about a pair of high schoolers who have to deal with the fallout of a very bad and very weird accident that will change their lives forever. In his debut feature, director Kevin Phillips does a great job of balancing tension with heartfelt adolescent drama as he follows a couple of nerdy boys who are dealing with high school bullies, first loves, growing apart from your best friend — and also, manslaughter.
Creep 2
Mark Duplass and writer-director Patrick Brice have put together an excellent follow-up to their micro-budget Creep from 2014, in which Duplass plays an amiable serial killer who prefers to forge weird bonds of friendship with his victims before doing them in. Desiree Akhavan plays a videographer on hand to film Duplass's character (he's changed his name from Josef to Aaron) as they spend a day together in a remote cabin. Creep 2 is tense and uncomfortable and features one of the best nude scenes of the year. It's also a clever deconstruction of a serial-killer movie, powered by an extremely discomfiting performance from Duplass in fully scary mode — made even scarier by the steady, confident presence of Akhavan.
The Babysitter
McG's The Babysitter is low-risk, high-yield horror-comedy play time. Cole (Judah Lewis) is a little old for a babysitter, but at least the late-blooming lovable geek has the ultracool Bee (Samara Weaving) to look after him. One weekend, when his parents go out of town (a well-placed Ken Marino and Leslie Bibb), Cole endeavors to spy on Bee after bedtime to see what she gets up to, and he is understandably surprised when she sees her carrying out ritual sacrifice in his living room with a group of sexy teens. Bee made a deal with the devil and her friends want in on the action, but when Cole finds out what they're up to, he's going to have to kill or be killed to make it through the night. Babysitter is highly silly and very bloody, but it's Bee and Cole's sweet bond at the core that gives it a surprising, charming backbone. Also, actress Hana Mae Lee (the silent beatboxer in Pitch Perfect) actually gets to speak lines!
Better Watch Out
Chris Peckover has served up a perfect Halloween-time treat with his debut feature, Better Watch Out. It's a combination black comedy and Christmas horror story about a night of babysitting that turns awfully bloody when preteen Luke sets a plan in motion to get his minder to finally want him the way he wants her. Things start to go off the rails when a gun-wielding masked man invades the house, and only get worse when the babysitter's ex-boyfriends enter the picture. We don't want to spoil the fun, but suffice to say Peckover does an excellent job of balancing violent bombast and acts of violation that are genuinely uncomfortable and anything but funny. He makes you a participant in the debauchery, then makes you pay for it, then does it all over again. Olivia DeJonge and Ed Oxenbould, those precocious siblings from The Visit, both give great performances alongside Levi Miller. Virginia Madsen and Patrick Warburton aren't in the movie for long, but when they are, they're hilarious.
Gerald's Game
This Stephen King adaptation from designated horror hitter Mike Flanagan feels like horror for grown-ups. Carla Gugino and Bruce Greenwood play Jessie and Gerald, a married couple looking to put some zest back in their relationship with a weekend getaway. Jessie insists she's up for new experiences, but things get too rough too fast after Gerald cuffs her to the bed and starts playing out a rape fantasy she didn't know he had. The situation goes from distressing to harrowing, though, when Gerald dies of a heart attack, leaving her chained to the bed with little to no hope of rescue. Gugino delivers a powerful, dynamic performance, playing both the victim on the bed as well as a bolder manifestation of her subconscious self that tries to guide her through the situation — and through past traumas that have landed her in handcuffs with someone like Gerald in the first place. Gugino's Jessie is a case study in the duality of feminine strength and vulnerability onscreen, embodying the virtues and perils of both.
Happy Death Day
A bratty college girl wakes up in a strange boy's dorm room on her birthday, does the shame-walk back to her sorority, and gets killed on her way to a rager that night. That sounds like the opening death in a slasher movie in which said bratty girl will never be heard from again, but in Happy Death Day, it keeps happening over and over and over again. Tree Gelbman (Jessica Rothe) doesn't know why she keeps dying and coming back, but she does come to the conclusion that if she wants to move on with her life — or at least see it mercifully end — she has to unmask her killer. In a lesser movie, this Groundhog Day premise could get tired real fast, but Happy Death Day is aware enough of its own absurdity to be in on the jokes, and willing to make them before you do. This movie is as sweet as it is mean, which adds up to lots of fun, and new face Rachel Matthews is flat-out excellent as the head bitch in charge of the sorority house.
1922
Stephen King fever is still running hot in 2017, with the year's final adaptation arriving in late October. Based on the novella of the same name, 1922 is about a Nebraska farmer named Wilfred James (Thomas Jane), who, with the help of his teenage son (Dylan Schmid), murders his wife (Molly Parker) to prevent her from selling her share of their land so she can move to the big city. The rest of the movie is a pressure cooker, with Wilfred succumbing to paranoia and hallucinating the ghost of his wife, who tells him terrible truths that only the dead could know. As the anxiety and harsh weather and bad luck take their toll, Jane delivers an excellent performance as the buttoned-up, soft-spoken farmer who can't escape his sins — especially with all those judgmental rats following him everywhere he goes.
Cult of Chucky
Murderer Charles Lee Ray has been in the body of a Play Pals Chucky doll for 30 years now, and the horror-comedy franchise still has a lot of gas in the tank. Brad Dourif sounds like he's having as much fun as ever as the voice of Chucky, Jennifer Tilly is back in for round four, and even the original Andy (Alex Vincent), who we last saw in 1990's Child's Play 2, has returned to the fold! Don't sleep on this wry, ridiculous, and surprisingly queer-friendly franchise, which has proven itself the surprise winner of the 1980s slasher wars. We would describe the plot, but it would really only make sense if you watched the previous six movies first (or read our primer on the franchise here).
Tragedy Girls
Alexandra Shipp and Brianna Hildebrand are two high-school friends obsessed with social-media clout — and they're willing to kill to boost theirs. Fall has been a great season for horror comedy, and Tragedy Girls brings the fun as it follows Sadie and McKayla on their journey from trying to track down a serial killer in their town, to actually becoming the serial killers themselves. Dark and brooding toxic female friendships are a favorite trope in the suspense genre, but sometimes extremely misguided best girlfriends just wanna have a good time, even if that means dismembering bodies with the high-school shop supplies just for the lulz.