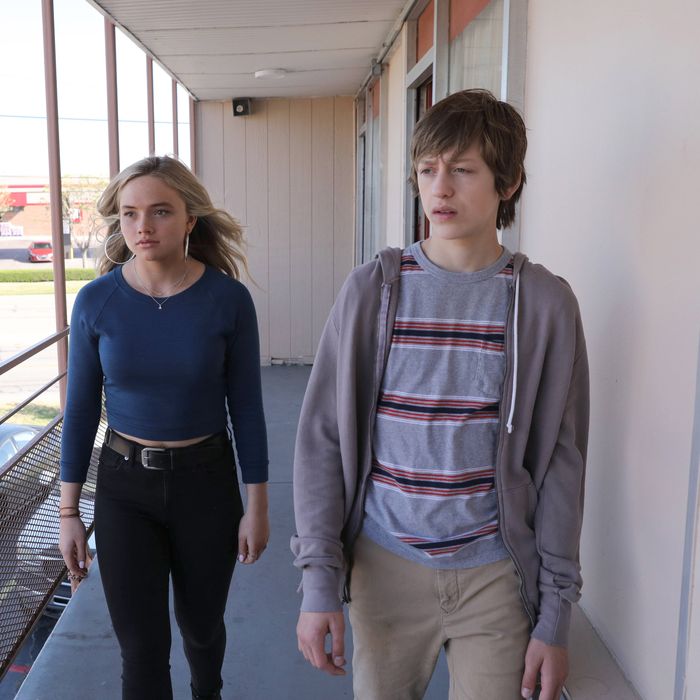 Natalie Alyn Lind and Percy Hynes White in The Gifted.
Give credit to Fox's new mutant melodrama The Gifted for understanding that pop culture is so packed with superhero narratives that viewers don't need the usual setup anymore. The first few minutes of the series' pilot are so aggressively slam-bang that they made me wonder if I'd accidentally started watching the second episode by mistake. I hadn't; Fox only made one episode available in advance, which seems to be the unfortunate trend, because it prevents me from more enthusiastically recommending new shows that, like The Gifted, seem to know what they're doing.
The pilot drops you into the middle of a chaotic, rain-drenched chase scene and then backs into its introduction of the Mutant Underground, a radical group akin to the Black Panthers. Members include Jamie Chung's Clarice Fong, a purple-haired woman with emerald cat-eyes who can open portals in space; magnetism-powered Lorna Dane, a.k.a. Polaris (Emma Dumont); John Proudstar, a.k.a. Thunderbird (Blair Redford), who appears to be both super-athletic and super-aware; and Marcos Diaz (Sean Teale), who I'm told can manipulate photons, though the pilot doesn't really make that clear. Then we get an extended detour that introduces teenaged siblings Lauren and Andy Strucker (Natalie Alyn Lind and Percy Hynes White), whose parents Reed (Stephen Moyer) and Caitlin (Amy Acker) don't know they're mutants. The news will come not just as a shock to their folks, but a huge inconvenience: Reed is a federal prosecutor specializing in cases that involve mutant threats to national security.
You have to run to catch up, and that's okay, because if you're watching this series, you already know that mutants are superpowered stand-ins for persecuted minorities or designated enemies of the ruling class and its government. Series creator and head writer Matt Nix (Burn Notice) and co-executive producers Lauren Shuler Donner (the X-Men films) and Bryan Singer (ditto — he also directed this pilot) know this territory intimately, and treat it both as an action-thriller playground and as a landscape of unsubtle but effective analogies for difference and discrimination. As in the X-Men comics and movies, as well as FX's similarly themed but aesthetically more daring Legion, The Gifted treats mutant power as a signifier of difference that is socially unacceptable, unless the powers can be used to tame, turn, and harness members of the despised class. An incident of high-school bullying escalates into a telekinetic blowout modeled on the prom scene in Stephen King's Carrie, ground zero for stories of ostracized "freak" teenagers whose fear and depression become weaponized. When government agents of the Sentinel Service — a domestic strike force in charge of apprehending or killing unruly mutants — show up on the Struckers' doorstep, threatening to bag and tag the kids without due process, they cite "the Amended Patriot Act" as justification for doing whatever the hell they want.
The pilot is no great shakes in the filmmaking department: Singer, a director known for his attention to composition and movement, relies on a lot of choppy handheld camerawork here, and some of the computer-generated effect imagery, particularly of rain and beams of light, is weak. But the mood and characterizations carry the day, and the final action sequence, which throws the established mutant warriors and a handful of newbies against a swarm of robot hunter-killers, is exceptional. The mood and the content split the difference between the crowd-pleasing, mostly bloodless mayhem of the Marvel films and the dark-night-of-the-soul stylings of adult-oriented fare like Legion and the outstanding Wolverine solo film Logan. There's a lot to admire here, though whether the show can build on its initial promise remains to be seen.