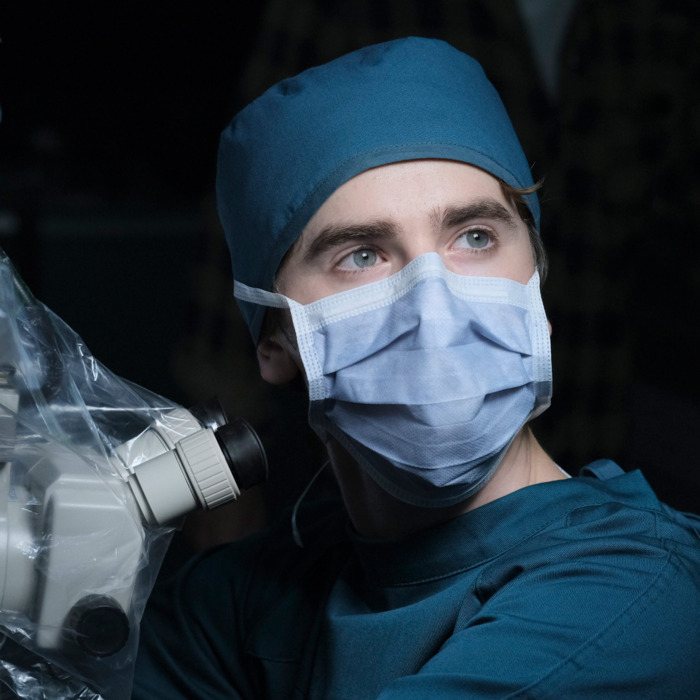 Network TV's new sensation is The Good Doctor, a.k.a. The Freddie Highmore Doctor Show, a.k.a. the show where the former star of Bates Motel once operated on a person's liver on top of a stopped car on a Los Angeles overpass. See, The Good Doctor is a wild TV show. It's both conventional and predictable — it was based on a Korean drama — and somehow willfully free of any obligation to realism. It's the ultimate comfort TV, and I'm here to explain the joy of it to you.
Our hero is Shaun Murphy, a young pediatric surgeon with autism and savant syndrome who works as a resident at San Jose St. Bonaventure Hospital. His mentor and the man running the hospital is played by Richard Schiff of The West Wing, and he's mostly just seen holding iced coffee. Shaun has a friend in fellow doctor Claire (Misfits and Lovesick's Antonia Thomas), who's got a whole on-again, off-again thing with another resident named Jared (Chuku Modu). Nicholas Gonzalez plays the mean, hunky attending surgeon. Each week they try to solve medical cases, and then Shaun comes up with a brilliant idea to actually solve those medical cases. There's some nice interstitial music, and occasionally a scene where Freddie Highmore thinks about problems while organs float by his head. (That is how we know he's a genius.)
This week on The Good Doctor, Freddie Highmore saves a porn star. The porn star in question is an 18-year-old woman who's estranged from her parents, and who has a boil in her vagina. While operating on the boil, Shaun and Claire discover that she actually has a tumor in her vagina, which is bad news because if they remove the tumor, they'll also have to sever a nerve and she won't have any feeling in her genitals. Also, Shaun reveals that he almost kissed a girl once and we get a treacly flashback to his childhood, wherein we see him being teased by cruel young children.
The porn star is understandably sad about her future of not being able to have any feeling in her genitals, but in the process, she rediscovers her faith in God. Don't worry about her, though. While thinking about the pipes in his apartment (this episode is called "Pipes," by the way), Shaun has a breakthrough: Nerves are like pipes! Which means they can take the patient's nerves from her thigh and use them in her genitals instead. (I think? I didn't really follow the logic.) Shaun just has to ask her one very important question: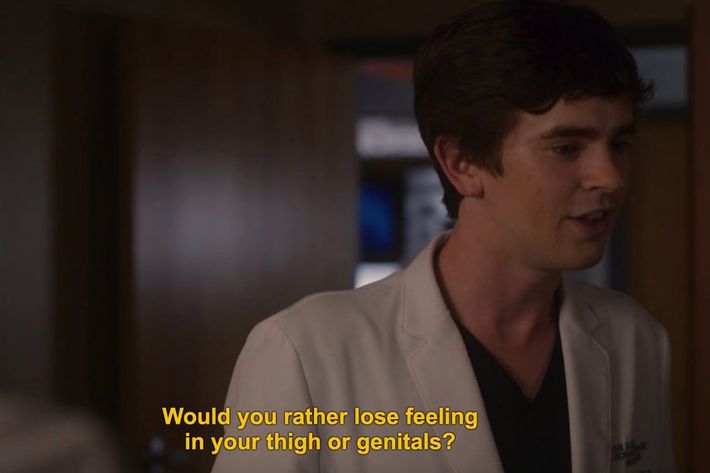 The porn star, of course, decides she'd rather lose feeling in her thigh. The operation goes well! So well that she calls her parents! Everyone is happy! Especially because, in the episode's other plot, they successfully stop a pregnant woman's heart so they could operate on her without killing the fetus! Afterward, everyone goes out for drinks and Shaun makes eye contact with a girl on the other side of the room, but he's got a whole thing going on with the girl in the neighboring apartment wherein he tells her that she smells bad and she's nice to him, but we'll discuss that some other time. Maybe next week on This Week on the Freddie Highmore Doctor Show.