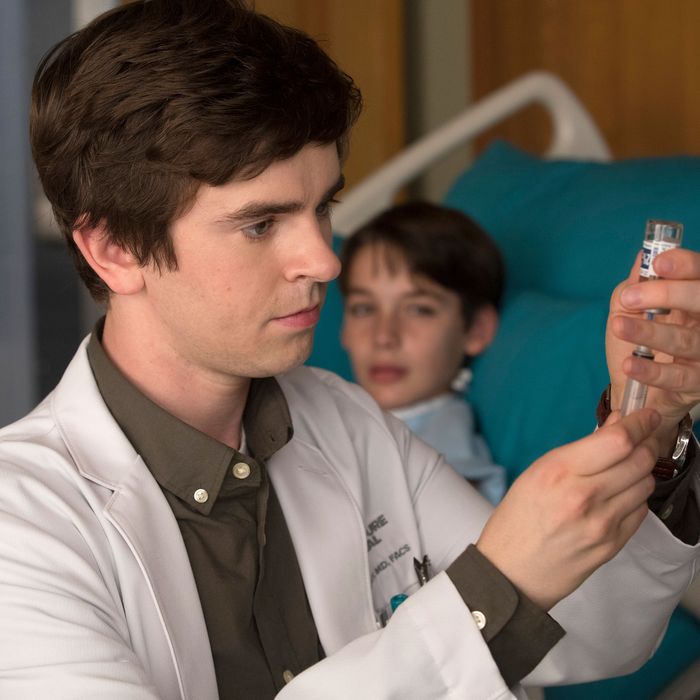 The good doctor at work.
Photo: ABC
The great news for The Good Doctor keeps on coming. Barely a month after its premiere, ABC's feel-good Freddie Highmore hospital drama has emerged as the No. 1 drama on network TV, edging out NBC's red-hot This Is Us and CBS's perennial leader NCIS to claim ratings supremacy among hour-long shows. Per Nielsen's most current data through Sunday, Good Doctor is averaging a stunning 17.4 million viewers this season, about a half-million more than Us (16.9 million) and NCIS (16.8 million). It's still early in the season, and it's possible Us or NCIS will end up on top come May. But even beyond the horse-race numbers, Doctor's vital signs are some of the healthiest an ABC series has seen in years.
One of the main reasons Alphabet execs are so pumped about the prognosis for their new hit is that the show is doing well in the 10 p.m. slot: It's actually the most-watched series — new or returning — in the time period since CSI: Miami in 2006–07. This is notable, since the last hour of prime time has proven difficult for many broadcasters in recent years, particularly for newer shows. Network research studies have shown many viewers now use the 10 p.m. hour to catch up on series they've recorded earlier in the night (or from other evenings), putting 10 p.m. hours at a disadvantage. And while cable networks now program originals in all time slots, some of the bigger first-run cable shows on networks such as FX, TNT, and USA air at 10 o'clock. A few shows, most notably ABC's How to Get Away With Murder, have managed to make an early splash at 10 p.m. But most of the biggest drama hits of recent years — Empire, This Is Us, Scorpion, Bull — began their runs in 9 p.m. slots. That The Good Doctor has been able to reach such a broad audience in the 10 p.m. hour suggests the time slot isn't quite as deadly as networks thought; they just need to find the right program.
Doctor has also overcome its late hour in part by getting a massive lift from time-shifting and streaming. Its September series premiere generated 7.9 million viewers via DVR replays and Nielsen-measured streaming within a week of broadcast, the single-biggest increase in the Live-plus-7 ratings in the DVR age. On average, the show's L+7 lift has averaged a whopping 7.5 million viewers, with 5.4 million of those viewers replaying the show within three days of airing. That last stat is significant because advertisers care much more about viewing that takes place closer to air. And speaking of Madison Avenue, Doctor is also scoring well with the kinds of audiences advertisers love: It's a top-10 show among adults under 50 with college degrees, as well as young adults who live in homes that are rich (average income above $100,000) and very rich (over $200,000). Good Doctor is also a top-ten show with all adults under 50, though it's worth noting that it's still well behind NBC's This Is Us in that critically important demo. In L+7 ratings for the first month of the season, the Peacock tear-jerker is averaging a 5.5 rating with adults under 50, demolishing Doctor's 4.3 rating. Of course, Us has a key advantage: It follows the young-skewing hit The Voice, while Doctor is slotted behind the much, much older-skewing Dancing With the Stars.
The early ratings success for The Good Doctor is particularly welcome at ABC, a network that has done well at creating successful comedy franchises in recent years (The Goldbergs, Black-ish, American Housewife) but has had far less luck with dramas. Last fall's Designated Survivor did fine, though it lost ground in the second half of its first season. But Doctor looks to be in an entirely different league, giving the Alphabet its This Is Us– or Empire–level hit. Indeed, ABC researchers say Doctor is the network's biggest first-year series in 13 years, stretching all the way back to the 2004–05 season when Lost and Desperate Housewives both arrived with a bang. And while, again, it's still very early in the season, right now, The Good Doctor is on track to be ABC's No. 1 scripted series since season five of Grey's Anatomy, back in 2008. Memo to ABC development executives: Medical melodrama works.