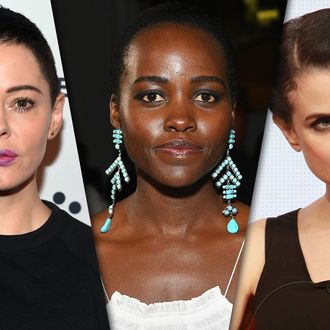 Rose McGowan, Lupita Nyong'o, and Mia Kirshner.
Photo: Getty Images
On Thursday, the New York Times published a bombshell report detailing decades of sexual harassment allegations against Hollywood titan Harvey Weinstein. Since then, multiple women have come forward to share additional accusations against the powerful producer, including several instances of alleged sexual assault. By Tuesday afternoon, another report by the Times featured additional allegations by several high-profile actresses — including Gwyneth Paltrow and Angelina Jolie.
We have compiled a list of all the allegations against Weinstein, which we will update continually as new accusations come to light.
Actress Cynthia Burr — Late '70s
Cynthia Burr was in her early 20s when her manager suggested she meet with Weinstein. After greeting her in the lobby of a New York City building, Weinstein tried to kiss her in the elevator. Afterward, he forced her to perform oral sex in a hallway. "The way he forced me made me feel really bad about myself," she told the New York Times. "What are you going to do when you are a girl just trying to make it as an actress? Nobody would have believed me."
Former Harvey & Corky Productions employee Hope Exiner d'Amore — Late '70s
When Weinstein learned his Harvey & Corky employee Hope Exiner d'Amore was interested in the film industry, he suggested she come to New York City with him to network. When they arrived at the Park Lane Hotel, he said they'd have to share a room because of a booking error, Exiner d'Amore told the Times. That night, he forced oral sex and intercourse with her: "I told him no. I kept pushing him away. He just wouldn't listen. He just forced himself on me." After Exiner d'Amore's alleged rape, she said Weinstein offered her credit cards for shopping sprees, but she declined and was later fired.
Unnamed woman — 1980s
Toward the end of October, an unnamed woman reported an assault to Scotland Yard, according to Evening Standard. The woman alleged that a man sexually assaulted a woman outside of the UK's jurisdiction in the early 1980s. Scotland Yard did not name Weinstein, but the case is part of the department's inquiry into him.
Former intern Paula Wachowiak — 1980
62-year-old Paula Wachowiak told the the Buffalo News that Weinstein exposed himself to her in 1980 when she was interning on his first film, The Burning. One day on set, Wachowiak was ordered to bring a folder of checks to Weinstein's hotel room. When she arrived, Weinstein answered the door wearing nothing but a hand towel. He dropped the towel, took the folder, and eventually asked her to give him a massage. She refused, she said, but Weinstein persisted, telling her "what a fantastic opportunity it was for me to be part of this project." He later bragged to her, "So, was seeing me naked the highlight of your internship?"
Former aspiring actress Tomi-Ann Roberts – 1984
Tomi-Ann Roberts told the Times that in 1984, when she was 20, Weinstein was a customer at an establishment where she worked as a waitress. As she was an aspiring actress, he suggested she audition for him and asked him to meet at his hotel. But when she arrived, he was naked in the bathtub, and he suggested she would be more comfortable if she were naked, too. He told her that if she didn't show her breasts in private, she wouldn't be able to do it in the film, as her character may have a topless scene. Roberts is now a psychology professor at Colorado College.
Actress Lysette Anthony – Late '80s
In an essay published in the Sunday Times, British actress Lysette Anthony alleged Harvey Weinstein raped her after stopping by one morning at her London home. Having met during a publicity tour, the pair were platonic acquaintances; Anthony says they had spent time together on a number of occasions without incident before the former studio head attacked her. After the initial assault, Anthony asserts Weinstein began inviting the actress to his hotel room for his signature harassment scenario: a professional meeting that turned sexually abusive. Moved by the stories of Weinstein's other alleged victims, Anthony said she finally reported her rape to police earlier in October.
Actress Heather Kerr – Late '80s
On October 20, The Facts of Life actress Heather Kerr alleged in a press conference called by attorney Gloria Allred that Weinstein sexually assaulted her during a business meeting. She alleges Weinstein unzipped his pants and made her touch his penis. When she recoiled, he told her that this was just how Hollywood worked. Kerr claims she was so traumatized that she stopped acting soon after.
Actress Sophie Dix – 1990
British actress Sophie Dix told The Guardian she had just been cast in a new film with Colin Firth in 1990 when Harvey Weinstein invited her to meet in his room at the Savoy hotel "to watch some rushes," or unprocessed footage from the day's filming. But once there, "all the alarm bells started ringing," she said. "Then before I know it, he started trying to pull my clothes off and pin me down and I just kept saying 'no, no, no'." The actress was only 22 at the time, and was able to run to the bathroom to hide.
Once she opened the bathroom door, however, Weinstein was allegedly in front of her, "standing there masturbating." After the incident, Dix was "very, very vocal" about what had happened — telling people involved in the film, friends, and family — until she allegedly received a phone call from Weinstein telling her to "stop talking." She told The Guardian that she believes her career trajectory was "massively cut down" after the assault.
Actress Kate Beckinsale – 1990 (approx.)
Kate Beckinsale revealed in an Instagram post that Harvey Weinstein allegedly propositioned her at the Savoy Hotel in London when she was only 17. She claims she was called to a meeting at the hotel and assumed it would be in a conference room, only to be summoned to his room, where he greeted her in a bathrobe. "After declining alcohol and announcing that I had school in the morning I left, uneasy but unscathed," she wrote in her post.
Beckinsale continued that, years later, he asked her if he had "tried anything" during that meeting. "I realized he couldn't remember if he had assaulted me or not," she wrote. Beckinsale added that she believes rejecting Weinstein harmed her career.
Actress Rosanna Arquette – Early '90s     
Actress Rosanna Arquette told The New Yorker that in the early '90s, she met Weinstein at his hotel room — and he opened the door wearing a white bathrobe and asking her for a neck massage. She offered to recommend a good masseuse, but the producer allegedly grabbed her hand, put it on his neck, and then grabbed it again (after she pulled it away) and pulled it toward his erect penis. He reportedly told her she would regret rejecting him, and Arquette believes her career suffered as a result.
Nonprofit executive Louise Godbold – Early '90s
Louise Godbold, the co-executive director of Los Angeles nonprofit Echo Parenting & Education, wrote in a blog post that in the early '90s she had a traumatic encounter with Weinstein: "… the office tour that became an occasion to trap me in an empty meeting room, the begging for a massage, his hands on my shoulders as I attempted to beat a retreat … all while not wanting to alienate the most powerful man in Hollywood."
Actress Annabella Sciorra — 1990s
Sopranos star Annabella Sciorra recalled several encounters with Weinstein to The New Yorker. Weinstein offered to drop Sciorra off after a dinner event, and she didn't think anything of it. Later that night, she alleges, he returned, barging into her apartment, held her down, and forced intercourse. "Like most of these women, I was so ashamed of what happened," she said. "And I fought. I fought. But still I was like, Why did I open that door? Who opens the door at that time of night? I was definitely embarrassed by it. I felt disgusting. I felt like I had fucked up."
For several years, Sciorra's career stalled, and she thinks Weinstein was responsible. "From 1992, I didn't work again until 1995," she said. "I just kept getting this pushback of 'We heard you were difficult; we heard this or that.' I think that that was the Harvey machine." In 1995, she was in London promoting a movie when Weinstein tracked her down, harassing her with phone calls and sending cars to deliver her to his hotel. One night he showed up and pounded on her door: "For nights after, I couldn't sleep. I piled furniture in front of the door, like in the movies," she said. In 1997, while promoting the same movie at Cannes, Weinstein booked the hotel room next to hers. Early one morning, he knocked on her door. "There's Harvey in his underwear, holding a bottle of baby oil in one hand and a tape, a movie, in the other," she recalled to The New Yorker. "And it was horrific, because I'd been there before." She dialed hotel staff, and Weinstein retreated once they arrived.
Fashion designer and actress Tara Subkoff – 1990s
Actress and fashion designer Tara Subkoff, who co-founded the label Imitation of Christ, told Variety that Harvey Weinstein sexually harassed her in the 1990s the night she was offered a role in one of his films. Later that night at a party, Weinstein allegedly asked her to sit on his lap. "I was so surprised and shocked I couldn't stop laughing because it was so awkward," she said. "But then I could feel that he had an erection. I got quiet, and got off his lap quickly." Weinstein allegedly asked her to follow him outside and "other things I don't want to share." She told Variety, "It was implied that if I did not comply with doing what he asked me to do that I would not get the role that I had already been informally offered." She laughed in his face and left the party — only to lose out on the part and allegedly be blacklisted from acting. "It became impossible for me to get work as an actress after this, so I then had to start a new career path and started Imitation of Christ, a fashion and art label," she said.
Former Weinstein Company employee Laura Madden – 1991
Former Weinstein employee Laura Madden told the Times that the producer badgered her into giving him massages at London and Dublin hotels starting in 1991. "It was so manipulative," she told the Times. "You constantly question yourself — am I the one who is the problem?" Madden reportedly told friend Karen Katz that she once locked herself in a bathroom of his hotel while sobbing.
British actress Jessica Hynes – 1991  
Bridget Jones actress Jessica Hynes reportedly tweeted that when she was 19, Harvey Weinstein wanted her to screen test for a role in a bikini. When she refused, she lost the job.
Actress Sean Young – 1992 (approx.)
Actress Sean Young revealed during an appearance of the Dudley and Bob With Matt Show podcast that Weinstein exposed himself to her in 1992 while she was working on the Miramax film Love Crimes. "I personally experienced him pulling his you-know-what out of his pants in order to shock me," she said. "My basic response was, 'You know, Harvey, I really don't think you should be pulling that thing out, it's not very pretty.'" Young added that she immediately left the room, and refused to take a meeting with Weinstein again.
Actress Katherine Kendall – 1993
Swingers actress Katherine Kendall told the Times that Weinstein undressed in front of her and chased her around a living room in 1993 when she was 23. He had asked her after a screening to join him as he swung by his apartment to pick something up. While there, he went to the bathroom, emerged in a robe, and asked her for a massage. When she refused, he left and returned nude. "He literally chased me. He wouldn't let me pass him to get to the door," she said.
Actress Gwyneth Paltrow – 1994
Gwyneth Paltrow told the Times that when she was 22, Weinstein — who had just hired her to star in his Jane Austen adaptation, Emma —summoned her to his Peninsula suite, during which he put his hands on her and requested she massage him in the bedroom. "I was a kid, I was signed up, I was petrified," she said.
She reportedly told her then-boyfriend Brad Pitt, who confronted Weinstein — an account that Pitt confirmed to the Times. The producer then threatened Paltrow not to tell anyone else what had happened, and she told the Times she thought she was going to get fired.
Actress Florence Darel – 1994
French actress Florence Darel told Le Parisien that Weinstein pursued her during the mid '90s when she was 26, and that he "propositioned" her at a hotel while his former wife Eve Chilton was in the next room.
According to People, Darel and Weinstein met in 1994 at a film premiere, and he started calling her repeatedly. Eventually she agreed to meet at his suite at The Ritz in Paris at the urging of her agent. But while she was there, Weinstein allegedly told her that he found her very attractive and wanted to have "relations" with her. She told him she was in love with someone else, and he allegedly said she could be his mistress a few days a year so that they could work together. "Basically, it was 'If you want to continue in America, you have to go through me,'" she said.
Unnamed woman — 1994
On October 28, a woman reported a sexual assault that occurred in Westminster in 1994 to local police. The police did not name Weinstein as the alleged assailant, but the case is known to be part of the London police's larger investigation into Weinstein, according to the Evening Standard.
Actress Mira Sorvino – 1995
Actress Mira Sorvino told The New Yorker that during the 1995 Toronto International Film Festival she found herself alone in a hotel room with Weinstein, who had produced the film she was promoting at the time,Mighty Aphrodite. "He started massaging my shoulders, which made me very uncomfortable, and then tried to get more physical, sort of chasing me around," she said. He then showed up at her apartment late at night a few weeks later, only to leave after she said her boyfriend was on his way.
Author Liza Campbell – 1995
British artist and writer Liza Campbell, who formerly worked as a script reader for Miramax, wrote in an essay for The Sunday Times of Londonthat Weinstein tried to persuade her to take a bath with him in 1995. He had agreed to meet with her in his hotel after she complained that she had been receiving less scripts, and when she arrived, he suggested they take the meeting in the bath. "I could hear the thump of shoes being taken off and felt shocked that the meeting had turned sleazy," she wrote.
Unnamed woman — Mid 1990s
On October 24, a woman reported being assaulted in Westminster in the mid-1990s, according to Evening Standard. Weinstein was not named as the alleged assailant, but the case is part of the police force's investigation into his conduct.
Actress Judith Godrèche – 1996
French actress Judith Godrèche joined Weinstein for breakfast during the Cannes Film Festival in 1996 when she was 24. He invited her to his suite to discuss a possible Oscar campaign and the marketing of her film Ridicule, which he had acquired. But upstairs, he reportedly asked her for a massage."The next thing I know, he's pressing against me and pulling off my sweater," she told the Times.
Actress Asia Argento – 1997
Italian-born actress Asia Argento told the New Yorker that in 1997, when she was 21, she was invited to a Miramax party at the Hôtel du Cap-Eden-Roc on the French Riviera. But when she arrived, there was no party; instead, a producer allegedly led her upstairs to Weinstein and left the room. Weinstein allegedly asked her to give him a massage, and she reluctantly agreed, before he forced her legs apart and performed oral sex on her as she continuously told him to stop.
Actress Claire Forlani – 1997 (approx.)
Actress Claire Forlani posted on Twitter that she had declined to speak with Ronan Farrow for The New Yorker article and subsequently felt "shame" for not speaking out sooner. She revealed in the post that she "escaped five times" during encounters with Weinstein — twice in meetings at the Peninsula hotel, during which she alleged "ducked, dived, and ultimately got out of there without getting slobbered over." She also wrote that she had three dinners with Weinstein around the time she was 25, and recalled hearing him brag about the actresses he had slept with.
Actress Ashley Judd – 1997 (approx.)
Actress Ashley Judd went on record with the Times about an instance two decades ago at the Peninsula Beverly Hills hotel. When she arrived for what she thought was a breakfast meeting with Weinstein, he instead had her sent up to his room, appeared in a bathrobe, and asked her to give him a massage or watch him shower. "I said no, a lot of ways, a lot of times, and he always came back at me with some new ask," Judd told the Times. "It was all this bargaining, this coercive bargaining."
Actress Rose McGowan – 1997
In 1997, then 23-year-old actress Rose McGowan reached a $100,000 settlement with Weinstein during an "episode in a hotel room at the Sundance Film Festival," according to the Times. McGowan has previously spoken out on Twitter about being raped by a powerful Hollywood producer, and has called for the entire board of Weinstein's (former) company to resign.
Model Zoe Brock – 1997
Former model Zoe Brock of New Zealand wrote in a blog post that she was "Harveyed" at the Hôtel du Cap-Eden-Roc in 1997 when she was only 23. Brock had met Weinstein at the dinner during the Cannes Film Festival, and later got into a car with him and two of his friends, believing he was taking her to the same spot as her crew. Instead they detoured to his hotel, and the other men then left her alone in a room with Weinstein. The producer then got naked and asked if she would give him a massage. He allegedly put his hands on her shoulders, before she shrugged him off and locked herself in his bathroom. "Harvey chased me, dick, balls and all, and banged on the door with his fists, pleading with me to come out," she wrote.
Former Weinstein Company employee Zelda Perkins – 1998
According to the Times, in 1998, 25-year-old Zelda Perkins reportedly confronted Weinstein after she and several co-workers had been "regularly subjected to inappropriate requests or comments in hotel rooms." She allegedly threatened legal action unless he changed his behavior, and one of Miramax's lawyers reportedly flew to London to negotiate a settlement with her. Perkins is now a theater producer, and later broke her non-disclosure agreement with Weinstein to discuss the allegations with the Financial Times.
Actress Angelina Jolie – 1998 (approx.)
Actress Angelina Jolie told the Times in an email, "I had a bad experience with Harvey Weinstein in my youth, and as a result, chose never to work with him again and warn others when they did. This behavior towards women in any field, any country is unacceptable."
Actress Lauren Holly – Late '90s
Appearing on the Canadian TV show The Social on October 16, actress Lauren Holly discussed an experience she'd had with Weinstein in the late 1990s, when she had attended what was supposed to be a work meeting at his hotel. Upon arriving at Weinstein's room, she said, everything seemed normal. Weinstein had a bottle of Champagne waiting for her, and they discussed films and acting opportunities. "My first thought was, 'Oh my God, I'm really important. Harvey Weinstein has Champagne for me, this is very exciting. I think I'm going to make more movies with him,'" Holly said. Things went south, however, after Weinstein left the room and reappeared in a bathrobe. He proceeded to use the bathroom and shower in front of Holly, while continuing the conversation. He allegedly then emerged from the shower naked, and approached Holly, asking for a massage. Holly became scared, she said, and "pushed him and ran." When she told some industry contacts what had happened later that night, she was advised not to report it. "You need to keep your mouth shut because it's Harvey Weinstein," she remembers them saying.
Actress and writer Marisa Coughlan – 1999
Marisa Coughlan, a former actress who now works as a writer, told The Hollywood Reporter that, when she was 25, she met Weinstein at the 1999 premiere of her film Teaching Mrs. Tingle, a Miramax movie. A few weeks later, she was invited to meet with Weinstein at the Peninsula Hotel to discuss a film role. In his hotel suite, Weinstein allegedly told her that he wanted her to be one of his "special friends" and give him a massage in the bedroom. She rejected him, and in a follow-up phone call, Weinstein allegedly offered to fly her to New York so they could go ice skating and have other "romantic" dates. The actress later met with Weinstein again at a restaurant in Beverly Hills, but refused to go back to his room. Soon after, she found out another actress was offered the role.
Actress Daryl Hannah — Early 2000s
Daryl Hannah told The New Yorker that she met Weinstein at the Cannes Film Festival before she appeared in Kill Bill: Volume 1, which was released in 2003. They ran into one another in the lobby of the Hôtel du Cap-Eden-Roc, and he asked for her room number so he could arrange a meeting. Later that night, she said, he called her incessantly. Two nights in a row, she watched from the peephole as he pounded on her hotel-room door. The second night, her makeup artist was in the room with her. "The knocking started again and again. And I was like, 'Oh, shit,'" Hannah said. "We actually pushed a dresser in front of the door and just kind of huddled in the room."
Years later, while promoting Kill Bill: Volume 2 in Rome, Weinstein barged into Hannah's hotel room. She was there with another hair-and-makeup artist, Steeve Daviault, who confirmed to The New Yorker that he remembered the incident. "He came through the living room and into the bedroom. He just burst in like a raging bull. And I know with every fibre of my being that if my male makeup artist was not in that room, things would not have gone well. It was scary," Hannah told The New Yorker. Surprised by Daviault's presence, Weinstein demanded Hannah accompany him downstairs to a party. When she arrived, he was alone in the reception room and asked if her breasts were real and if he could feel them, or at least see them. She said no, and returned to her room. The next day, the Miramax plane left without her. "I called all the powers that be and told them what had happened," Hannah told the magazine. "And that I thought that was the repercussion, you know, the backlash from my experience."
Actress Romola Garai – 2000 (approx.)
British actress Romola Garai, who starred in Atonement, told The Guardian that she met Weinstein alone in his London hotel room when she was 18. The producer was allegedly only wearing a robe during their meeting at the Savoy. "Like every other woman in the industry, I've had an 'audition' with Harvey Weinstein, where I'd actually already had the audition but you had to be personally approved by him," she told The Guardian.
Actress Melissa Sagemiller – 2000
Actress Melissa Sagemiller told the Huffington Post that Harvey Weinstein made three lewd advances towards her during the summer of 2000, when she was 24 and filming the movie Get Over It in Toronto. First, Weinstein allegedly referred to himself as "the last tycoon" and was "very flirty" during a lunch meeting. Then, he allegedly asked her for a massage while he was in a robe during a meeting at his hotel room, before saying, "Well, you're not going to leave until you kiss me." He blocked the door, until Sagemiller relented and kissed him on the lips. At the film's wrap party, the actress declined Weinstein's offer to fly back to New York on his private jet, but the next day at the airport, she says he allegedly "kidnapped" her bags to ensure she would have to fly on his plane. "So I get on the plane, I walk up and I go, 'Harvey, you motherfucker,'" she said. "He's just sitting there. He pats his hand on the seat next to him, and he's like, 'See, Melissa, you can't say no to me. I always get what I want.'"
Actress Erika Rosenbaum – 2000 (approx.)
In an audio interview with the New York Times, Canadian actress Erika Rosenbaum opened up about years of alleged harassment and manipulation from Weinstein she suffered during her early 20s. Throughout the powerful 25-minute interview, Rosenbaum details her encounters with Weinstein, including an instance in a Toronto hotel when he allegedly held her neck as he masturbated behind her. She told the Times that the trauma has stuck with her through the years.
Actress Heather Graham – Early 2000s
Actress Heather Graham told Variety that during a meeting with Weinstein in the early 2000s, he told her that he had an agreement with his wife that he could sleep with whomever he wanted while out of town. A few weeks later, he asked the actress for a follow-up meeting at her hotel — which made her uncomfortable, so she requested that a friend join. But Graham's friend couldn't make it, so the actress made an excuse to postpone the meeting.
"Harvey told me that my actress friend was already at his hotel and that both of them would be very disappointed if I didn't show," Graham said. "I knew he was lying, so I politely and apologetically reiterated that I could no longer come by." The actress was never hired to be in one of his films after the encounter.
Former Miramax intern Morgan Shanahan – Early 2000s
In an essay for BuzzFeed, former Miramax intern Morgan Shanahan (who now works as a senior parenting editor at BuzzFeed) revealed she was harassed by Weinstein in the early 2000s. Shanahan wrote that she would often spend time in front of the Miramax building in Tribeca, where she would come across Weinstein as he exited his chauffeured car and walked into the lobby. "Almost every time Weinstein walked past me, he'd comment on my body or clothing," Shanahan wrote. "A couple of times, he asked if I needed a ride home. (I did not)."
Actress Alice Evans – 2002
The Vampire Diaries actress Alice Evans wrote an essay for the Telegraphin which she ponders whether or not her refusal to go with Harvey Weinstein into a hotel bathroom negatively impacted her career and the career of her actor husband, UnREAL's Ioan Gruffudd. While at Cannes in 2002, Weinstein allegedly attempted to get Evans alone, telling her "Just go. I'm right behind you. I want to touch your tits. Kiss you a little." After she refused, the producer remarked on her then-boyfriend Gruffudd's recent audition for Weinstein: "Let's hope it all works out for your boyfriend." Gruffudd did not get the role.
Actress Dawn Dunning – 2003
Actress Dawn Dunning told the Times that in 2003, when she was 24, she met Weinstein at a New York nightclub where she worked as a waitress. She agreed to meet him for a meal at a hotel in Manhattan, but was told he was running late and to go up to his suite. When she arrived he was in a bathrobe, and he told her he would only give him a role in one of his upcoming films if she agreed to have three-way sex with him. When she laughed in response, she claims he told her, "You'll never make it in this business. This is how the business works.
Model Trish Goff – 2003
Model Trish Goff told the Times that she met Weinstein at a cocktail party at Vogue editor Anna Wintour's house in 2003 when she was 25. Soon after, her agent received a call inviting Goff to lunch with the model. She said she was "nervous" as she knew he "had a reputation, but I was equally nervous about not going because I was a single mother, and what if he made it so I didn't work anymore?" Goff agreed to meet him for lunch at the Tribeca Grill, and the two dined in a private room. Weinstein allegedly implied that he had asked her because "you were looking at me" — as if she was interested — and inquired about her love life. "Then he started putting his hands on my legs, and I said, 'Can you stop doing that? When we finally stood up to go, he really started groping me, grabbing my breasts, grabbing my face and trying to kiss me," she told the Times. Goff allegedly repeatedly told Weinstein, "Please stop, please stop," but he allegedly did not until they were back in a public space.
Actress Ashley Matthau — 2004
Ashley Matthau met Weinstein while she was in Puerto Rico filming Dirty Dancing: Havana Nights. Weinstein bullied Matthau — who was then using Anderson, her maiden name — into meeting with him at his hotel. "Don't worry," Matthau, now 36, recalled him saying on the drive over. "Nothing is going to happen. We're just going to discuss future projects." Once they got to his hotel, the conversation turned sexual, she told the Times, and Weinstein stripped naked, fondled her breasts, and masturbated on top of her. "I kept telling him, 'Stop, I'm engaged,' but he kept saying: 'It's just a little cuddling. It's not a problem. It's not like we're having sex,'" she said. Later, when she considered pressing charges, she and her attorney met with Weinstein and his high-powered attorney Daniel M. Petrocelli. She told the Times that Petrocelli promised to "drag her through the mud by her hair." She settled for over $100,000 in exchange for a legally binding promise to never discuss the incident.
Actress Lucia Evans – 2004
Speaking with The New Yorker, actress Lucia Evans says Weinstein approached her at a New York club in 2004 and asked for her number.
He started calling her late at night, and eventually, his assistant set up a daytime meeting with her at the Miramax office. During the meeting he reportedly told Evans to lose weight and discussed movie roles, before taking his penis out of his pants and forcing her head onto it. "At that point, after that, is when he assaulted me," Evans told the New Yorker. "He forced me to perform oral sex on him."
Film executive Katya Mtsitouridze – 2004
Russian film executive and TV host Katya Mtsitouridze told the The Hollywood Reporter that Weinstein sexually harassed her in 2004 at the Venice Film Festival. The pair had met the previous year, and he would allegedly often invite her to his hotel room or offer to fly her to New York, but she always declined. However, in Venice, Mtsitouridze claims Weinstein moved their public meeting to his hotel room at the last minute. At his hotel, the producer allegedly greeted her in a bathrobe, said his masseuse was late, but that they could "have fun without her." She was able to escape when room service showed up with Champagne.
Actress Lena Headey – 2005
Game of Thrones actress Lena Headey wrote in a series of tweets that Weinstein pulled her aside at the Venice Film Festival to make "some suggestive comment, a gesture," while she was there promoting Miramax's The Brothers Grim. She tried to laugh it off, but was never in another Miramax film after that, she wrote. The actress also alleges that years later, in Los Angeles, Weinstein told her he had a script for her in his hotel room during a breakfast meeting. When she made it clear she wasn't interested in anything other than work, Weinstein allegedly went "silent" and "furious," and "march[ed] me forward" to his room with his hand on her back. His key card didn't work, so he allegedly "walked me back to the list, through the hotel to the valet, by grabbing and holding tightly to the back of my arm." Headey wrote that she got into her car and cried.
Actress Connie Nielsen — 2005
In a guest column for Variety, actress Connie Nielsen added her name "to the rapidly expanding list of women whom Harvey Weinstein has harassed." She writes that Weinstein's actions were "well-known" in the Hollywood community, and that she was warned not to be alone with him early in her career. However, at the opening night of the 2005 film The Great Raid, Weinstein put his hand on her thigh at dinner while her brother and boyfriend were there. "I grabbed his hand and squeezed it violently to hurt him and proceeded to hold it in place on his own thigh," she wrote.
Artist Mimi Haleyi — 2006
During a press conference with attorney Gloria Allred, Mimi Haleyi revealed that she met Weinstein in 2004 at Cannes, and was later sexually assaulted by the producer at his New York City home in 2006. "I told him no, no, no but he insisted. I said I'm on my period, there's no way this is going to happen, please stop," she read aloud from a statement during the conference. Weinstein then backed her into a room, which she believed to be his kid's room, where he held her down on the bed. "He then orally forced himself on me while I was on my period. He even pulled out my tampon. I was mortified." Afterwards, Weinstein allegedly rolled onto his back and said, "Don't you feel we're so much closer to each other now?"
Journalist Lauren Sivan – 2007
Television news reporter Lauren Sivan told the Huffington Post that, while she was working as a news anchor on the local New York cable channel Long Island 12, she met Weinstein and others at Cipriani in Manhattan. After riding with him to Socialista, a club where he was an investor, she agreed to join him on a tour of the Cafe Socialista restaurant. In the kitchen, Weinstein allegedly dismissed the staff and then tried to kiss her when they were alone. She rejected him, so he allegedly blocked her from leaving and masturbated in front of her.
Actress and writer Sarah Ann Masse – 2008
Actress and writer Sarah Ann Masse told Variety that she was working as a nanny in 2008 as she pursued an acting career in New York. The agency she worked for sent her to be interviewed to babysit Weinstein's three children with ex-wife Eve Chilton, and she participated in nearly a month of pre-interviews before it was arranged for her to meet Weinstein at his house in Connecticut. He "opened the door in his boxer shorts and an undershirt" and conducted the entire interview in his underwear, Masse said. Weinstein allegedly asked Masse about being an actress and whether she felt it was a conflict. "Then he said, 'Okay,' smiled at me, and said, 'You would never flirt with my friends or anyone to get ahead?'" she told Variety. When the interview ended, Weinstein grabbed her and "gave me this really tight, close hug that lasted for quite a long period of time. He was still in his underwear Then he told me he loved me."
Actress Louisette Geiss – 2008
Actress and screenwriter Louisette Geiss, who is being represented by Gloria Allred, says she met with Weinstein at a restaurant at the Sundance Film Festival in 2008, before Weinstein suggested they move the meeting to an office adjacent to his hotel room. According to the Hollywood Reporter, Geiss had heard the rumors about Weinstein and asked him to promise not to touch her. But after 30 minutes, he left the room and returned wearing only his bathrobe, before allegedly asking her to watch him masturbate.
Actress Vu Thu Phuong – 2008
Vietnamese model and former actress Vu Thu Phuong wrote in a Facebook post, translated in Saigoneer, that she was sexually harassed by Weinstein in 2008 in a hotel room. Phuong wrote that she had agreed to meet with Weinstein about a possible role, and that the meeting quickly turned sexual when he appeared before her wearing only a towel around his waist. He allegedly tried to convinced her to let him show her how to properly perform a sex scene. "I can teach you, don't worry. Many stars have also been through this," he allegedly told her. Phuong rejected his advances and decided to walk away from an acting career. "I decided that I didn't want to sell myself to enter Hollywood," she wrote.
Actress and model Natassia Malthe — 2008
In a press conference with her lawyer Gloria Allred, actress Natassia Malthe said Weinstein sexually assaulted her in 2008 after the BAFTA Awards, and continued to sexually harass her after the incident. In the middle of the night after they met, Malthe said Weinstein, seemingly on drugs, knocked on her hotel-room door and barged into her room. "I remember he took off his pants and sat on my bed," Malthe said. He asked for a blow job, and when she said no he began masturbating in front of her. Then, she said, he overpowered her and forced intercourse. During a later meeting in his hotel room, ostensibly to discuss a potential role in the movie-musical Nine, Weinstein promised there would be "no hanky panky." There, he asked that she join him and another woman for a threesome.
Actress Dominique Huett — 2010
Actress Dominique Huett claims that she was lured to Weinstein's Beverly Hills hotel room in November 2010 where he forcibly performed oral sex on her and masturbated in front of her. "I didn't know how to say no to someone like him at the time, which I regret," she said in a press conference. "I wish I would have shut it down right there, like I did a few years earlier." Huett has now filed suit against the Weinstein Company in Los Angeles County Superior Court, alleging the company was aware and complicit in the ex-co-chair's sexual misconduct. "We allege the Weinstein Company knew that Harvey Weinstein was using his position to bring young, aspiring actresses into vulnerable places where he would then prey on them," her attorney Jeff Herman said during the press conference.
Actress Emma de Caunes – 2010
French actress Emma de Caunes had a lunch meeting with Weinstein in 2010 at the Hôtel Ritz in Paris, during which he convinced her to accompany him to his hotel room so he could give her a book he was adapting. Once they got to the room, he allegedly turned on the shower, emerged from the bathroom naked and with an erection, and demanded she lie on the bed. She told The New Yorker, "I looked at him and I said — it took all my courage — but I said, 'I've always hated Walt Disney movies.' And then I left. I slammed the door."
Actress Lupita Nyong'o – 2010 (approx.)
In an op-ed for the New York Times, Oscar-winning actress Lupita Nyong'o detailed several encounters she had with Weinstein, starting when she was still a student at the Yale School of Drama. During the second of those meetings, Weinstein invited Nyong'o to a movie at his home while his children were present. He then led her into his bedroom and allegedly said he wanted to give her a massage. "I panicked a little and thought quickly to offer to give him one instead: It would allow me to be in control physically, to know exactly where his hands were at all times," Nyong'o wrote. Weinstein then allegedly said he wanted to take off his pants, and she told him it would make her "extremely uncomfortable." And later, during her fourth encounter with Weinstein, he allegedly tried to pressure her to join him in a hotel room. He reportedly told her that "if I wanted to be an actress, then I had to be willing to do this sort of thing."
Actress Eva Green – 2010-2011 (approx.)
Penny Dreadful star Eva Green released a statement to Variety confirming Weinstein had attempted to leverage a business meeting into a sexual encounter. "I met him for a business meeting in Paris where he behaved inappropriately and I had to push him off," the actress explained. Green's mother, French actress Marlène Jobert, revealed details about the incident during a radio interview a day before Green discussed it publicly.
Film student Lacey Dorn — 2011
Lacey Dorn met Weinstein at a New York Film Festival party for The Artist in 2011 when she was 22, soon after graduating from Stanford. They met again at a Halloween party at Rose Bar in the Gramercy Park Hotel a few weeks later. There, he asked her for her email so they could discuss her career over lunch. "Great meeting you," he wrote in the subject line of an otherwise blank email sent to her at 12:26 a.m., according to the Times. When Dorn went to say good-bye to him, he grabbed her between her legs. "I was so naïve, I didn't say anything. And he didn't say anything either," she told the Times. "I just got out of the party as fast as possible."
Actress Jessica Barth – 2011
Ted actress Jessica Barth told The New Yorker that after meeting Weinstein at a Golden Globes party in 2011, he invited her to a business meeting at the Peninsula. Once in his hotel room, Weinstein allegedly went back and forth between offering her a film role and demanding a naked massage. He allegedly asked her, "So, what would happen if, say, we're having some champagne and I take my clothes off and you give me a massage?" The actress declined and got up to leave, at which point he told her that she needed to lose weight "to compete with Mila Kunis."
Model and actress Cara Delevingne – 2012 (approx.)
Model and actress Cara Delevingne posted a statement on her Instagram story on Wednesday, writing that Weinstein once called her to ask if she had slept with any of the women she'd been photographed with. He also reportedly told her that if she was "gay or decided to be with a woman especially in public" she'd never make it in Hollywood. Then, a year or two later, they met in a hotel lobby and at the urging of his assistant, she reluctantly went up to his room, where she felt "safe" because there was another woman present. However, Weinstein allegedly asked the women to kiss, and later tried to kiss Delevingne himself. "I stopped him and managed to get out of the rom," she wrote. "I still got the part for the film and always thought he gave it to me because of what happened."
Actress Léa Seydoux – 2012 (approx.)
French actress Léa Seydoux wrote a powerful op-ed for The Guardian on Wednesday, about an instance during which Weinstein allegedly tried to sexually assault her. Seydoux met the producer at a fashion show, and found him to be "charming, funny, smart — but very domineering." He later invited her to meet for drinks at his hotel, and he proceeded to stare at her "as if I was a piece of meat" the entire night. Seydoux eventually went up to the producer's room with Weinstein and his assistant — who left soon after. When they were alone, Weinstein allegedly "jumped" on Seydoux and tried to kiss her. "I had to defend myself," she wrote. "He's big and fat, so I had to be forceful to resist him."
Unnamed woman — 2012
A woman reported a sexual assault that took place in 2012 to the greater London area's Met police. The woman said a man sexually assaulted her once outside of the Met's jurisdiction, and then twice more in Westminster in 2013 and 2014, according to Evening Standard. Met police did not release Weinstein's name, but the case is part of its larger investigation into him.
Actress Amber Anderson – 2013
British actress Amber Anderson posted on Instagram that Weinstein sexually harassed her in 2013 when she was only 20 years old. Anderson wrote that Weinstein coerced her into a private meeting — "indicating I could not take anyone along with me and dismissing staff who were present" — and that once alone, he propositioned a "personal" relationship to help boost her career. "He tried to take my hand and put it in his lap which is when I managed to leave the room," Anderson, 25, wrote.
Former Weinstein Company employee Emily Nestor – 2014
Weinstein allegedly invited temporary employee Emily Nestor to the Peninsula in 2014 on the first day of her job. According to the Times, he told her that if she accepted his advances, he would help with her career. She told the New Yorker that she had been told by two employees that she was Weinstein's "type" physically, and that Weinstein asked to hold her hand during their hotel meeting. He also reportedly told her, "Oh, the girls always say 'no.' You know, 'No, no.' And then they have a beer or two and then they're throwing themselves at me." Nestor told a friend, who then reported the incident to the company's HR department.
Actress and writer Brit Marling — 2014
In an article for The Atlantic, actress and writer Brit Marling revealed that she also allegedly endured a hotel-room incident with Weinstein. Like many other women who have accused the producer of harassment, Marling claims she met with Weinstein and a female assistant, who left them alone when the meeting moved to his hotel room. He then allegedly offered to give her a massage and unwanted touching occurred, leaving Marling alone, sobbing and feeling ashamed. In her article, Marling addresses the power dynamics of consent, and writes that her creative and financial independence is what let her feel comfortable rejecting Weinstein's advances — a luxury she knows many women in the industry aren't lucky enough to have.
An unnamed female assistant – 2015
An explosive memo written by Weinstein's colleague Lauren O'Connor in 2015 included a claim that Weinstein prodded a female assistant into giving him a massage while naked (also at the Peninsula), which left her "crying and very distraught," per the Times.
Model and actress Ambra Battilana – 2015
In 2015 Weinstein allegedly grabbed the breasts of Italian actress and model Ambra Battilana in his Tribeca office, in addition to putting his hands up her skirt. Battilana filed a report with the New York Police Department, though the Manhattan district attorney declined to bring charges.
The Times notes that Battilana received a settlement from Weinstein. The New Yorker's investigation includes audio taken from a sting operation during which Weinstein admitted to groping Battilana, and attempted to pressure her into watching him shower.
An unnamed female employee – Unknown
The Times reports that a young female employee — who asked not to be identified — quit after complaining that she was being forced to arrange "what she believed to be assignations for Mr. Weinstein." The employee told the Times that she signed a nondisclosure agreement.
An unnamed female employee – Unknown
A former female employee of Weinstein told The New Yorker that she was often asked to join him for the beginnings of meetings with models and actresses. During one such meeting, the producer allegedly told her to tell a model "how good of a boyfriend I am." One time, when she refused to attend one of these meetings, he became enraged. Weinstein reportedly whispered to her at one point, "There are things I've done that nobody knows."
Actress Minka Kelly – Unknown
Actress Minka Kelly posted on Instagram that she met Weinstein at an industry party, and he notified her agent the following day that he wanted to meet her at his hotel room. She wasn't comfortable with that, so instead they met at the hotel restaurant with his assistant, before they were quickly left alone. Weinstein allegedly told her, "I know you were feeling what I was feeling when we met the other night." Kelly wrote that he "then regaled me with offers of a lavish life filled with trips around the world on private planes etc. IF I could be his girlfriend. Or, 'we could just keep this professional.'" Kelly did not want to "offend this powerful man" so she told him she was flattered but declined his offer. He allegedly replied, "Fine. I trust you won't tell anyone about this."
Actress Angie Everhart – Unknown
Actress Angie Everhart told a KLOS morning radio show, according to The Hollywood Reporter, that Weinstein masturbated in front of her while they were staying on the same boat during the Venice Film Festival. Calling into the Frost, Heidi and Frank show, Everhart revealed, "I had just arrived and I was sleeping, I was in my bed. I wake up and Harvey is standing above my bed. All of the sudden he takes his pants down and starts doing his stuff." The actress explained that Weinstein had allegedly blocked the door, and that he "finished" on the carpet of the floor. He then allegedly told her, "You're a really nice girl, you shouldn't tell anybody about this." However, Everhart did tell several people on the boat what happened, but "nobody wanted to do anything about it because everyone was afraid of Harvey."
Actress Mia Kirshner – Unknown
Canadian actress Mia Kirshner wrote in an op-ed piece for the Globe and Mail that Weinstein allegedly treated her "like chattel that could be purchased with the promise of work in exchange for being his disposable orifice" during an "ordeal in a hotel room." Kirshner did not go into further detail about the harassment she allegedly endured, though she did address the "disease" of turning a blind eye to sexual abuse carried out by those who wield power in the film industry.