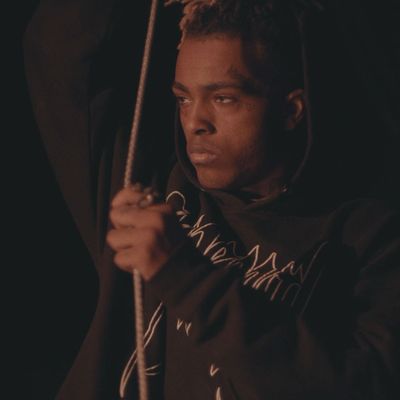 Photo: xxxtentacion/Youtube
Do you have to hand it to XXXTentacion? If you're Capitol Music Group, apparently you do. On Thursday, Billboard broke the news that the infamous 19-year-old Florida artist had signed to CMG (a subsidiary of the larger Universal Music empire) for a stunning sum of $6 million. It's hardly unexpected. XXXTentacion, known commonly as X for short, has had a remarkable 2017 so far. He emerged from obscurity with "Look at Me!" an insolent SoundCloud rap that ascended to the Top 40 based almost entirely off streams. "Look at Me!" led off Revenge, a mixtape that applied, during its brief 18-minute duration, the hit's scuzzy posturing and flayed sonics to a variety of genres (emo, acoustic indie rock, lyrically thick '90s hip-hop, R&B, nü-metal, EDM) with varying success; Revenge was soon followed by 17, a less violent but more depressive 22-minute indie album that debuted at No. 2 on Billboard and received strong praise from no less of a luminary than Kendrick Lamar. "listen to this album if you feel anything. raw thoughts," K-Dot tweeted around 17's late August release; a follow-up tweet simply stated "5th listen." So, in many ways, the music industry, its coffers newly flush with streaming revenue, was simply doing what it was supposed to do: For the sake of mutual profit, CMG was partnering with a rising artist possessing versatile talent and a passionate young fan base.
Just business as usual, one could say. But there's more to any story than just money, and XXXTentacion's story is nothing if not difficult and involved. X's rise to stardom has been shadowed by his incarceration and impending trial on multiple charges of domestic violence. As sections of a deposition published by Pitchfork describe in savage detail, his ex-girlfriend alleges that he strangled her and beat her for cheating on him while she was pregnant with his child. (The artist has repeatedly denied the charges; his trial date is set for December.) What made good business sense for Capitol was more questionable in other regards, particularly in a week when entertainment news was all but monopolized by coverage of sexual harassment, abuse, and assault throughout the film, music, and publishing industries — though, in a perverse way, the relentless stream of criminal allegations aimed at others enabled the news of X's signing to slip under the radar. X, for his part, tried to smooth the waters, apologizing over Instagram to "every single woman that I've ever disrespected or made feel violated" and pledging to donate $100,000 to domestic-violence-prevention programs. (His reputation for violence, though, remained strong as ever; the weekend saw him once again attacked at a concert.)
It's customary to attempt to separate the aesthetics from the ethical stature of the artist, as well as to make a distinction between the business of art and the art itself, but doing so is especially hard in the case of X, whose musical persona and public presentation are both characterized by a mode of brutal intimacy that leaves little room for dispassionate assessment. The people who hate his guts really hate his guts; conversely, his fans accord to him the type of faith typically placed in cult leaders. It's a trust he actively demands: 17 opens with a brooding monologue where he describes listening to the album as "literally, and I cannot stress this enough, literally entering my mind," adding that "I do not value your money. I value your acceptance and loyalty." You're either with him or against him. Either he's a young poor black genius "trapped in a concept, falsely accused" as he puts it later on 17, or he's a thoroughly amoral monster who should be shunned by society and locked away by the state. It's impossible to separate the quality of the art from the artist when the former often serves as defense testimony for the latter in the court of public opinion. "Please bae, don't go switching sides," runs Trippie Redd's chorus to 17 single "Fuck Love"; the final track on 17 is named after the ex who accused him. "Last time I wifed a bitch, she told the world I beat her," X announces on his featured verse on "Roll in Peace" by Kodak Black — who's recently been accused of rape, and whom X defends on the track, then rhymes it with "When they locked lil' Kodak up, my nigga, I couldn't believe it." ("Fuck Love" and "Roll in Peace" are sitting, respectively, at Nos. 74 and 58 on the Hot 100 at the time of this writing.)
No matter where you stand on it, it's the sort of situation that can't help but make you question if truth in this world, let alone justice, is even possible, and the only real hope that X gets what he actually deserves lies in the possibility that the various injustices swirling around his case somehow cancel each other out. X is trying to tilt the scales in his favor in his lyrics, but then again Pitchfork publishing parts of his accuser's deposition can be construed as witness tampering in the court of public opinion too. When it comes to domestic violence, women who tell the truth are all too often disbelieved for no real reason other than the fact that they are women; on the other hand, the criminal-justice system is no less profoundly prejudiced against the poor and people of color, and poor people of color in particular; on yet another hand, X, though still a person of color, is no longer poor and can afford a decent legal defense. On or off the stage, on or off the stand, everything surrounding X is charged with a queasy sense of fatality, a sense that everything is evil and the only things that counts is what evil you're most willing to surrender yourself to. It's no accident that he runs with the motto "Bad Vibes Forever." It's too early to tell what will become of him, but he wouldn't be where he is if he wasn't very good at making it very clear who he is, and in that sense — in the sense that we're forced to talk about him in some way or another — he's already ahead of the game. We're looking at him, and the way we judge him can't help but match the way we judge everything else.