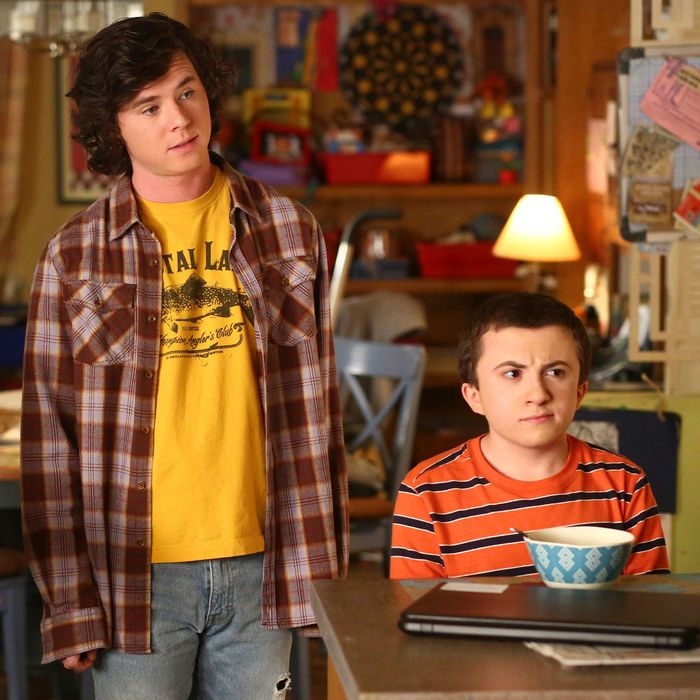 The Middle
.
Photo: Michael Ansell/ABC
This past summer, ABC announced that one of its longest-running comedies, The Middle, would end at the conclusion of its upcoming ninth season. Despite its consistently solid ratings, The Middle never seemed to garner the same amount of widespread interest or acclaim as other ABC sitcoms — as evidenced by those Emmy-loved families on Black-ish and Modern Family — and so, the cancellation news was met with a resounding meh. Sure, the premise of a working-class family in rural Indiana may not be the sexiest on paper, but what the show lacked in glitz it easily made up for in character and a whole lot of heart. (Yes, that heart was probably bought at the Frugal Hoosier's "Eat It Today" section.)
I'll miss the midwestern comfort of The Middle tremendously. Ahead of the show's ninth season premiere on Tuesday night, here are five reasons why you should give the Heck family a chance to charm you too.
The Humor Is Simple, But Effective
There's something pleasantly refreshing about a five-member family that maintains a strong sense of humor despite the forces of the world constantly wreaking havoc on their financial and mental stability. The Middle's comedy isn't derived from, say, the outlandish moments of a family's tween boy explaining his fondness for canapés and velvet smoking jackets, to take from another ABC sitcom. Instead, you get Frankie Heck (Patricia Heaton), a matriarch who wants nothing more than to obsess over The Bachelor finale on an old television that won't guarantee to turn on, as a means of ignoring the fact that she recently lost her job. ("I have a lot to escape from, okay?") Or Mike Heck Jr. (Neil Flynn), a father who overcomes a silly crisis of manhood after falling down the stairs at his limestone quarry, nearly preventing his workers from receiving a coveted cupcake party thanks to the workplace incident. Even when the Hecks are faced with the most crippling of blows — Mike being forced to sell his on-the-rise diaper business to cover his daughter's college tuition after she forgot to reapply for financial aid, for instance — they always manage to plop down on their fraying sofa with $1 cheeseburgers and banter about the day.
Two Words: Eden Sher
While Patricia Heaton and Neil Flynn are the show's most recognizable faces — Everybody Loves Raymond and Scrubs can do that — the breakout star has undoubtedly been Eden Sher, who portrays the relentlessly optimistic and zany Sue Heck. You see, Sue isn't really that popular of a girl. She's constantly rejected from any club she wants to join, she doesn't have a long line of eligible bachelors knocking at her door, and, frankly, she's someone you probably went out of your way to ignore in high school and college. But does Sue care? Hell, no. She's just going to consult kickinitteenstyle.com for the latest teen intel and smile the pain away, even when crippling disappointment seeps its way back home in the form of the dreaded middle-child syndrome. (Yeah, her parents forgot about her a bunch of times.) Watching Sher grow up on The Middle has been a delight to witness, and she deserved a lot more award recognition for Sue's signature crazed smile alone.
The Heck's House
Give the set decorators their due, because the disorganized, oft-claustrophobic ranch house that the Hecks call their humble abode is unlike anything on network television. Gone is the crisp, chic minimalism often favored by TV families that's miraculously always clean. In its place, The Middle gives us chunks of torn wallpaper in the living room, mismatched furniture that's less "eclectic" and more "cheap," a massive hole in a wall in Sue's bedroom, kitchen sinks that cave into the ground, and a patio whose sole purpose seems to be hiding various household crap from visitors. (Also, the eldest son ends up living in a similarly cluttered Winnebago — which lost its roof — during his college years.) It's far from perfect. It's not aesthetically pleasing. But it's real.
The Many Sights of Orson, Indiana
If I ever found myself road-trippin' through the great corn state of Indiana, I sure hope I would end up in a town like Orson. Its popular supermarkets are called the Frugal Hoosier and Yesterday's Bounty. (Per Frankie: "They've got everything! Backed-over bread. Pre-opened pasta. Generic Chinese cereal.") Smack dab in the center of town is the world's largest polyurethane cow. All of the neighbors are chipper, minus Brooke Shields's deranged single mother — did I mention that Brooke Shields plays a deranged single mother? — and partake in yearly lawn mower races. And despite its small size and modest per capita income, it somehow has the demand for an expansive escape-room facility. They had me at "Frugal Hoosier."
Patricia Heaton's Glorious Wig
You thought Julianna Margulies's Good Wife wig was great? Think again.