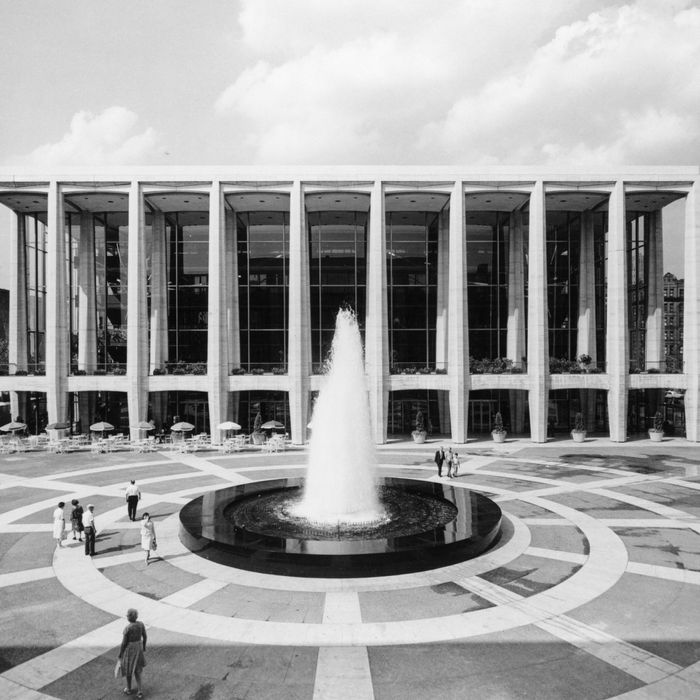 When it was new: Philharmonic Hall, later Avery Fisher Hall, now David Geffen Hall, circa 1965.
Photo: Authenticated News/Getty Images
Failure has its benefits, as J.K. Rowling told Harvard's Class of 2008 at its graduation. She failed early, often, and epically before achieving inconceivable success, and in her life, she said, "failure meant a stripping away of the inessential." That unexpected clarity is why I'm relieved that Lincoln Center and the New York Philharmonic have scrapped a long-gestating and ever-costlier plan to eviscerate Geffen Hall and insert an entirely new building inside Max Abramowitz's travertine 1962 shell. The public never saw the latest design, by Thomas Heatherwick and Diamond Schmitt Architects, so it's impossible to assess how much we'll miss it. But when Lincoln Center's new president Debora Spar and her new Philharmonic counterpart, Deborah Borda, took a look at the price tag ($500 million and rising fast) and the time that the hall would go dark (two years and lengthening), they quickly decided to shut down the project and pursue a more modest and gradual plan.
It would be easy to see this as a defeat on many fronts: for architecture, for New York's self-image, for classical music, and for audiences who deserve better than a long and narrow hall that is famous for its faults. I understand the desire to demolish an acoustically lackluster and visually charmless room and start from scratch. I have spent many nights wishing away the hard clang of horns or craving depth in flattened strings. I have sat at the back of the auditorium and felt I could practically see the sound falter and drop before reaching my ears. I have craved intimacy with music that seemed instead to be blaring from a distant platform.
Minor and major renovations have been carried out before, and although the sound may have improved marginally, the body of the hall grew ever shabbier and more obsolete. So I was hopeful that the Big Fix would work—that after the Philharmonic hit the road for a couple of seasons, it would return to an ideal home. Lincoln Center and the Philharmonic surely hoped to squeeze far more out of a renovation than just superb acoustics, adding ancillary spaces like rehearsal rooms, recital halls, lounges for patrons and musicians, ample dressing rooms, outdoor terraces, gala-ready event spaces, classrooms, recording studios, and exhibition galleries.  Other halls around the world have them all. But it turned out that the architects had almost no room to maneuver inside the Geffen's shell: The exterior walls are untouchable, the roofline more or less sacrosanct, and lower levels already entwined with the subway and a garage.
I have never been convinced that the Geffen Hall really had half a billion dollars' worth of problems, or that such a gargantuan sum could buy the perfect, or even near-perfect concert hall. Hamburg recently opened the Elbphilharmonie, a billowing Herzog & De Meuron mirage that floats above a waterfront warehouse. The auditorium looks spectacular, and apparently music sounds very good there. It also came in seven years late and ten times over budget, for a total of $900 million. Given the constraints, Borda and Spar must have been spooked by the thought that after years of disruption and astronomical expense, New York might wind up with a hall not quite as fine as that of the eighth-largest city in Europe.
Over the years, Philharmonic–Avery Fisher–David Geffen Hall has been the Afghanistan of acousticians. Yet there's no reason all interventions must be doomed. Yes, the auditorium is long and narrow, but its dimensions (55 feet high by 85 feet wide by 126 feet long) are roughly in keeping with those of the celebrated Musikverein in Vienna (57 by 65 by 117) and Boston's Symphony Hall (61 by 75 by 128). The main difference is that Geffen Hall packs far more seats into nearly the same volume of air, deadening the sound with upholstery and bodies and crowding the resonating chamber near the ceiling with sound-blocking balconies. Also, the floor in Geffen slopes down towards the stage, which improves sightlines but prevents sound from traveling unimpeded to the rear of the house, where it could bounce off the back walls and soften that aggressive brass. By knocking out the upper balcony, cutting down the number of seats, moving the stage out into the room (as already happens for Mostly Mozart) and fitting out the interior with sound-diffusing finishes, Lincoln Center should be able to buy itself what matters most—deluxe acoustics —even if the rest of its wish list goes unmet. The Geffen Hall do-over was a fond, if lavish dream, but its end doesn't have to mean settling for mediocrity.