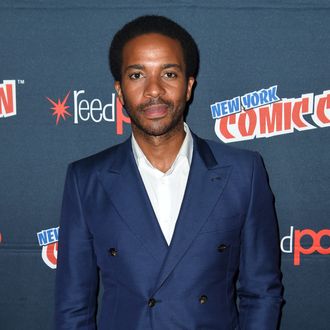 Photo: Nicholas Hunt/Getty Images
This afternoon, the highest-wattage stars of Warner Bros. TV's portfolio convened for the final panel of New York Comic Con, with the creators and casts of Blindspot, Castle Rock, and Gotham all in attendance. Naturally, there were reveals aplenty: Blindspot favorite Ashley Johnson confirmed that Special Agent Patterson's first name is Cherry (a nickname given to the actress by co-star Marianne Jean-Baptiste); and the Gotham discussion contained the amusing tidbit that star turned scribe Ben McKenzie was working on the script for the season premiere while on honeymoon with co-star and new bride Morena Baccarin.
But the most tantalizing tease came during the Castle Rock segment, in which the show — a macabre mashup of Stephen King story elements centered in a Maine hamlet of the author's creation — was revealed to involve a connection to one of the writer's most famed stories.
While the trailer includes a long list of King titles that could factor into Castle Rock, actor André Holland let slip that The Shawshank Redemption would play a prominent role. Holland plays a prodigal attorney who makes a long-past-due return to Castle Rock to work an "unusual" death-row case at the nearby Shawshank Penitentiary, the setting of the popular 1994 film chronicling the extraordinary life of Andy Dufresne. Whether the series will actually invoke the name of Dufresne or his mentor Red (Morgan Freeman) remains to be seen. Hulu, get busy releasing the episodes or … well, you see where we're going with that.