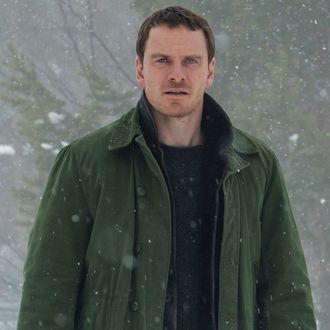 Michael Fassbender.
Photo: Jack English/Universal Pictures
Most directors are effusive when discussing their movies on a press our, but the director of The Snowman has been a little … icy. Tomas Alfredson, who previously directed Tinker Tailor Soldier Spy and Let the Right One In, seems pretty certain that his new crime thriller, which stars Michael Fassbender, isn't any good. (It's already opened to poor reviews abroad.) Instead of playing up the fact that the movie touts Martin Scorsese as an executive producer or simply stating that the movie is a good excuse to stare at Mr. Alicia Vikander for two hours, Alfredson has basically just been warning people about his adaptation of the Jo Nesbø novel. "Our shoot time in Norway was way too short. We didn't get the whole story with us and when we started cutting we discovered that a lot was missing," Alfredson told the Norwegian Broadcasting Corporation NRK.
After Scorsese switched from directing the movie to just executive-producing it, The Snowman had to start very quickly, perhaps before everything was ready. "It happened very abruptly, suddenly we got notice that we had the money and could start the shoot in London," Alfredson said. About 10 to 15 percent of the script wasn't filmed, he suggested, and even after reshoots, Alfredson didn't think the movie fully came together: "It's like when you're making a big jigsaw puzzle and a few pieces are missing so you don't see the whole picture." Maybe Mister Police can try again next winter.