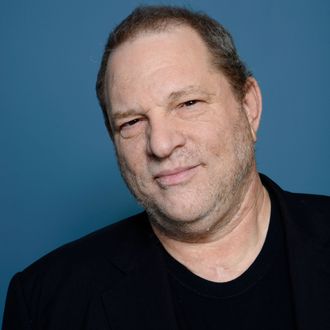 Harvey Weinstein.
Photo: Larry Busacca/Getty Images
The Wall Street Journal reported Friday that the board of the Weinstein Company is looking to sell the studio in its entirety, so that it could continue operating under new ownership. This decision comes after countless allegations that Harvey Weinstein sexually harassed and assaulted women over the course of decades, and subsequent news that the board of the Weinstein Company may have been aware of these allegations at least since 2015, and that Weinstein's contract with the company included a clause that essentially allowed him to commit sexual harassment. Originally, the company was planning on appointing co-chairman Bob Weinstein and president David Glasser to run the company, but with the company's reputation plummeting, this appears no longer to be a possibility.
If a full sale cannot be reached, the board will reportedly look to shut down the company and instead sell off its properties piece by piece. When reached for comment by The Wall Street Journal, the Weinstein Company was silent, which makes sense since — according to CNN Money — the company is in such disarray that there isn't even a spokesperson to reach. As the number of allegations, denouncements — from actors, directors, and industry members alike — divestments, and possible police investigations grow by the minute, it appears increasingly likely that there is absolutely no future for the Weinstein Company.
Update: In a press release, Bob Weinstein refuted the report that the studio was on the brink of collapse, saying, "Our banks, partners and shareholders are fully supportive of our company and it is untrue that the company or board is exploring a sale or shutdown of the company."
Update: In an interview with Deadline, David Glasser alleges that a recent Variety report linking him to a mafia-related money laundering scheme was written with information leaked from his TWC employee file. "They literally were reading it, verbatim, off of what I had written," Glasser claims. "I have my suspicions right now, as to what's going on. There was an incident in the offices last Friday that leads me to believe you will soon be something coming out about what exactly happened." Glasser also denies having any knowledge of Weinstein's history of alleged sexual misconduct, despite being his right hand man for years. Says Glasser,"I would never, ever, allow any employee to walk into the doors of this company, or a piece of talent to work with us, if I knew my boss was sexually assaulting women."