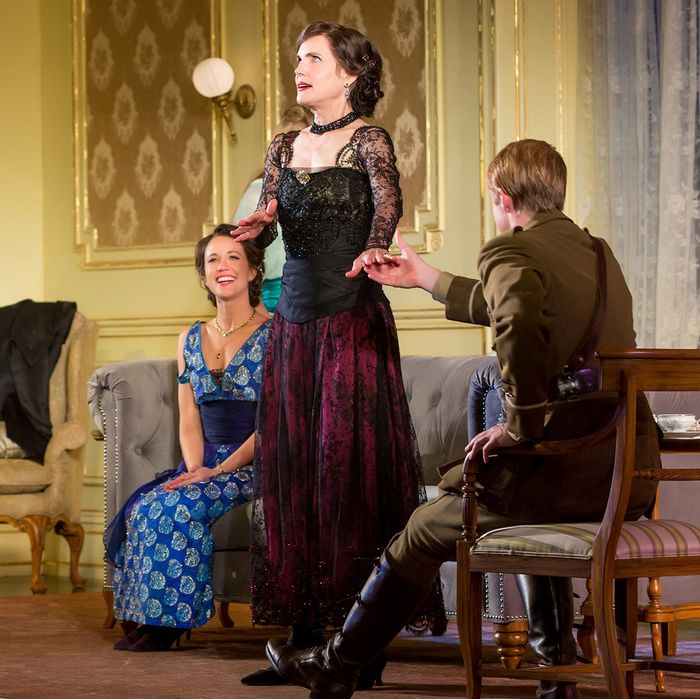 From J.B. Priestley's
Time and the Conways,
at the American Airlines.
Photo: Jeremy Danie
While watching the Roundabout Theatre Company production of J.B. Priestley's drawing-room dramedy Time and the Conways, directed by Rebecca Taichman at the American Airlines Theatre, I thought about a lot of things. Chekhov, the Dying Aristocracy Play, how much I hate the Broadway tradition of celebrity entrance applause, how Gabriel Ebert is just a damn fine actor, how I've seen several plays recently that surround a white central family or figure with tertiary characters played by non-white actors (as if we won't notice who's at the center), how American actors speaking in British accents tend to chew through the language with un-British exaggeration and deliberateness, perhaps out of fear we won't understand them … Chekhov again.
What this probably reveals is that I spent little time emotionally involved in the actual struggles of the play. Time and the Conways rarely pulled me in. Instead, it allowed me to sit comfortably — too comfortably — observing its highly polished exterior while my mind bounced around.
The play is one of a series of pieces Priestley wrote in the 1930s and '40s, each investigating a different theory of time, thus considered nowadays as his "Time Plays." Conways, written in 1937, dips into the concept of "serialism" as formulated by the Anglo-Irish engineer turned philosopher J.W. Dunne. In the play's second act, the diffident and retiring eldest Conway son, Alan (the aforementioned damn fine Gabriel Ebert), offers to lend his suffering sister Kay a book that he thinks might help to ease her existential distress. In Ebert's skilled hands, it's one of the production's most moving moments: "It's hard to explain," says Alan gently, "But the point is, now, at this moment, or any moment, we're only a cross-section of our real selves. What we really are is the whole stretch of ourselves, all our time, and when we come to the end of this life, all those selves, all our time, will be us — the real you, the real me. Time … is only another kind of dream."
The book in question is most likely Dunne's 1927 treatise An Experiment With Time, and Alan does a solid job of explaining its author's theory that linear time is an illusion created by our limited human consciousness — that in fact, every event of our lives is being played out simultaneously, as if on parallel planes. What most interests Dunne, and Priestley, is the idea that any of us might experience moments in which these planes suddenly become transparent — where we see through to another moment of our lives that hasn't yet happened, but is happening now, in a kind of precognitive vision.
Though Ebert and Charlotte Parry (as Kay) put up a good fight, it might in fact be Neil Patel's set that most compellingly illuminates this theory. Time and the Conways begins in 1919 on the (outwardly) jolly evening of Kay's 21st-birthday party. Its second act takes place on the same day, in the same room, in 1937, as the family finances are failing and Kay is turning 40. Its third act returns us to 1919 — now with a distinctly bitter taste in our mouths, having seen what is to come.
During the scenic transition between the play's first and second acts, I found my attention truly grabbed for the first time. It's a striking piece of engineering: As the youngest Conway daughter Carol (the bright, appealing Anna Baryshnikov) perches on the set's central sofa and stares out at us, the lavish Edwardian drawing room we've been looking at all this time starts to pull away. One massive diorama slides backward as another almost identical one descends in front of it. The play's brooding and sometimes brutal second act takes place in an exact copy of Act One's room — save that the walls are translucent, their architectural details drawn in two dimensions rather than rendered solidly in three. Behind the room of 1937 we always see a palimpsest of the room of 1919. We can also see Carol, who died young. When the Conways reunite in 1937, only her ghost is present. Poor Baryshnikov doesn't get an intermission: She has to hang out in the recesses of time (or upstage) for pretty much the rest of the play.
If only the play itself lived up to the extravagant — and admittedly powerful — visual metaphor that Patel and Taichman have created for it. But despite intermittent moving moments, the text often feels clunky, dated, and more than a bit sentimental. Taichman, whose work with her actors is sharper in the second act, overplays the first act's saccharine notes, and Paloma Young's costumes fall into the same trap: In 1937, they're crisp and evocative. In 1919, they feel like cotton candy — too sugary, too fluffy, too, well, costume-ish. With so many nails being hit squarely on the head, out in the audience it's easy to feel caught in one of Dunne's time-bending premonitions: We're constantly ahead of the events unfolding in front of us.
When the most sought-after Conway daughter, Hazel (Anna Camp), complains about the attentions of "that awful little man" Ernest Beevers (a taciturn and eventually chilling Steven Boyer), it hardly takes a gift for prophecy to know that the pair will end up together. As we witness the Act One antics of the youngest Conway son, Robin (Matthew James Thomas) — the family war hero and a preening party boy — it's all too clear that he'll end up the belligerent, wife-and-children-deserting sot of Act Two. "Don't be school-mistressy, Madge," says Hazel in 1919 to her earnest, socialist-leaning sister (Brooke Bloom, in an effectively fierce performance) — take a wild guess as to what 1937 Madge has become. And in the play's third act, the return to 1919, when Carol launches into an exuberant speech about all the things she's going to do with her life — from acting and painting to "sitting on top of mountains and going down rivers in canoes!" — the intended poignancy falls flat. She died. We know!
Taichman has referred to Time and the Conways as a profound critique of "a bourgeois class that is stuck in narcissism and greed" — but is such a critique what Roundabout is putting onstage, at $150 a ticket? Or is it in fact a canny attempt to cash in on the smash-hit popularity of Downton Abbey, complete with Elizabeth McGovern (née Cora Crawley, Countess of Grantham) as its star? As the Conway matriarch, McGovern herself turns in a credible and, at times, affecting performance (after she's settled into her accent). But her part is an unforgiving one — all vanity, delusion, and snappish cruelty. She's prone to picking obvious favorites among her children and dropping snark bombs like, "It's time the men were here! … Of course you're here, Alan. I was forgetting you. Or forgetting you were a man."
This is where my mind started to wander toward Chekhov. I thought of The Seagull's Arkadina, who shares Mrs. Conway's histrionic pretensions and her tendency for bullying her children. I thought of The Cherry Orchard's Ranevskaya, another willfully oblivious grande dame of a crumbling estate fated to be torn down. But where Chekhov's women are at once maddeningly flawed and breathtakingly human, Mrs. Conway comes off as one-dimensional, and her play ends up feeling like a Masterpiece Theatre Cherry Orchard — a little dumbed-down and a little dolled-up. Despite its play with time, the story is itself a product of it. While Chekhov's critique of bourgeois blindness was never stuck in 1904, Time and the Conways might be pretty thoroughly trapped in 1937.
Act Two takes place in 1937 (the year the play was written), which makes Kay 39. However, the play insists that she's 40. Perhaps she's simply gazing through another wrinkle in time to her actual 40th birthday? Perhaps Priestley was bad at math? It's a mystery.