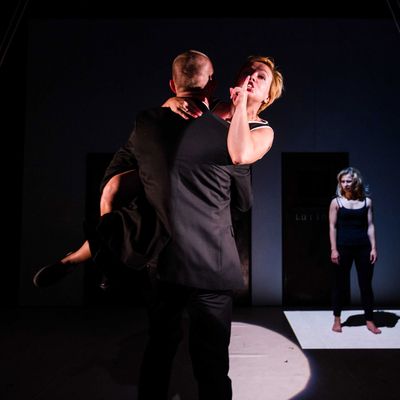 From
Burning Doors,
at La MaMa.
Photo: Alex Brenner/Belarus Free Theatre
Here are some names you might not know: Oleg Sentsov. Petr Pavlensky. Maria Alyokhina. Here's one you probably do know: Pussy Riot.
The world learned that one in 2012, when three members of the balaclava-wearing Russian feminist punk-rock group were sentenced to two years in prison on hooliganism charges following a performance inside the Cathedral of Christ the Savior in Moscow. (The performance, "Punk Prayer," began with the lyrics, "Virgin Mary, Mother of God, expel Putin!" and lasted for only a few minutes before the band members were arrested.) Among the three women sentenced was Maria Alyokhina. She served 21 months of her two-year sentence before the State Duma finally approved an amnesty in December 2013. Now she is appearing at La MaMa as a guest performer and collaborator with the Belarus Free Theatre on their harrowing soul-cry of a production, Burning Doors.
This is a smart, smoldering, physically brutal piece of theater. Its directors — the founding co–artistic directors of Belarus Free Theatre, Natalia Kaliada and Nicolai Khalezin — have been living in exile since 2011 as political refugees in the U.K. Along with their fearless company, they have created a slowly building, ultimately stunning exploration of the Russian regime's oppression of artists. For American audiences, Burning Doors is a kind of exposé — if you didn't know those names up top, you will after the show. It's also a demonstration of the artist's inextinguishable freedom in the face of a kind of tyranny that most of us sitting in the Ellen Stewart — despite our own nation's dire straits — have no real means to comprehend.
As devised by the ensemble and written by Khalezin, Burning Doors consists of original text combined with excerpts from Foucault and Dostoevsky, Russian and Belarusian folk songs, and statements by the three persecuted artists around whom the show is structured: Alyokhina, Pavlensky, and Sentsov. A company of seven virtuosic actors (plus Alyokhina herself) guides us through a series of scenes, recollections, verbatim testimonies, and punishing sequences of choreography — the show is a painful and purposeful test of its performers' endurance — that follow a kind of dream logic. Or rather, nightmare logic.
We begin with the story of Alyokhina's imprisonment, which lays bare the terrible abuses endured by Russian prisoners (Alyokhina herself is now an activist for prison reform in Russia). "I remember it all in great detail," she tells us flatly as we watch two performers (Maryia Sazonava and Maryna Yurevich) strip a third (Stanislava Shablinskaya) and force her to squat. "It'll be six months before I realize I can say 'no' when the guards say 'bend over' … A year for me to justify my 'no' with the use of Russian legislation." Alyokhina and the BFT ensemble members speak Russian and Belarusian as English subtitles appear on the set's back wall. The austere, effective scenic design — a square white playing space, white rigging ropes that often cruelly hoist the actors aloft, and a white wall with three heavy prison doors — is also by Khalezin.
Alyokhina's narrative leads us to that of Petr Pavlensky — a performance artist who began his public "actions" in protest of the Pussy Riot arrests, and who was himself arrested in 2015 for setting fire to the doors of the Russian Federal Security Service — and then to the story of Oleg Sentsov, a film director and one of a group of Ukrainian prisoners known as the Kremlin Hostages. Sentsov is currently 3 years into a 20-year prison sentence on trumped-up charges of terrorism — including the second of the arsonist acts that inspire the play's title: setting fire to the doors of the Russian Community in Crimea offices.
There aren't clear dividing lines between the three movements of Burning Doors, but each one is marked by a similar scene in which two bureaucrats discuss These Troublesome Artists with all the disinterested annoyance of a cow shaking off flies. The actors in these scenes (Pavel Haradnitski and Andrei Urazau in the first two, Kiryl Masheka and Siarhei Kvachonak in the third) are suck-your-breath-in funny, and the scenes themselves slyly reveal the secret impotence at the heart of the oppressive regime. These men aren't ideologues, they're capitalist kleptocrats: They'd rather get back to watching the soccer game from their presidential box seats, or concentrate on which yacht to buy, than waste time on a few artists — especially if they're going to get bad press for it. In the end, Pussy Riot will get an amnesty, and Pavlensky will be released with a fine (Sentsov, though, is still waiting). The regime only has power over the artist's body. It can imprison and it can torture, but it can't silence.
Moreover, as Burning Doors goes on, the piece implies that even torture is a hollow gesture to people who fashion themselves — as Sentsov wrote in a letter that was smuggled out of prison in 2016 — to be unbendable "nails in the coffin of a tyrant." Especially in the final Sentsov movement, the show is an unflinching meditation on torture. As we watch the actors repeat various grueling actions ad nauseam — shoving someone's head underwater, flinging someone to the floor, attempting to rise from lying stomach-down on the ground while bearing the weight of another actor — we start to recognize the banality of this state-sanctioned evil. Torture's representation isn't amped up to shock-and-awe levels designed to make audience members vomit (cf. Broadway's 1984). Instead, it's almost … boring. Kaliada, Khalezin, and their powerful performers are daring us to lose interest — and the truth is, we sometimes do. Minutes pass, our minds begin to wander, and then all at once we're brought back by the jarring realization that above all else, torture is repetition.
The climax of Burning Doors is among the most brutal physical sequences I have ever seen onstage. It leaves the performers gasping for breath, nearly weeping, their bodies piled in a heap, one hanging from the ropes above the stage in an appalling image of suffering and humiliation. But it's followed by a light in the darkness, literally and figuratively, as Maryna Yurevich enters swinging a single light bulb on a cord and recites verbatim from Oleg Sentsov's final testimony before his prison sentence.
In it, he quotes from Mikhail Bulgakov's novel The Master and Margarita — a book written in secret under Stalin's regime, a book that changed literature, Russia, and the world forever when it finally appeared in print in 1967. Sentsov references the words of Yeshua Ha-Nozri, Bulgakov's interpretation of the figure of Christ: "The worst sin on earth is cowardice." As Yurevich slowly swings her little ball of light, with the spent bodies of her fellow ensemble members sprawled at her feet, the words of three artists — herself, Sentsov, Bulgakov — land in the theater like dogged, unstoppable footsteps through time. Prison doors might, and will, be set ablaze, but Burning Doors is itself a potent expression of that other, most famous line from The Master and Margarita: "Manuscripts don't burn."