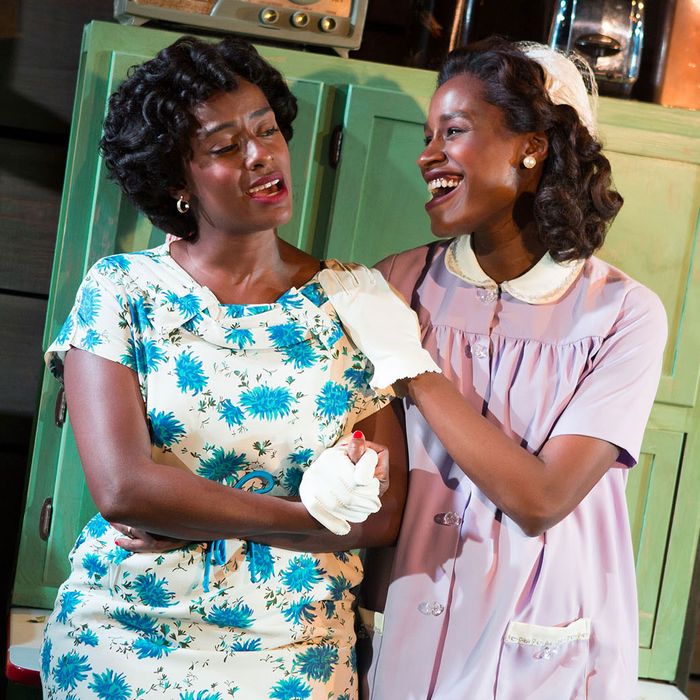 From
Too Heavy for Your Pocket,
at the Roundabout.
Photo: Jeremy Daniel
Jiréh Breon Holder's Too Heavy for Your Pocket — now under the brisk, elegant direction of Margot Bordelon at the Roundabout's Black Box Theatre — takes place during the summer of 1961 in Nashville, Tennessee, but it made me think of my hometown.
I was born in Charlottesville, Virginia. Less than two months ago, the world received an ugly introduction to the city that raised me, as white supremacists swarmed our streets and left one woman dead about a hundred feet from the shop where I used to get gelato on my lunch breaks. When Holder's protagonist, Bowzie Brandon, spoke of a future where his son "will ride a bus and sit wherever he wants to, not worrying if some men in sheets are gonna come put a bullet in his body," my breath caught in my throat.
Too Heavy for Your Pocket is Bowzie's story — pronounced "Boh-see" and given a playful and ultimately potent portrayal by Brandon Gill. Bowzie is 20 years old, married to a blues singer named Evelyn (Eboni Flowers, both sharp and passionate), and best friends with Sally-Mae Carter and her husband Tony. (The whole quartet is excellent — Hampton Fluker is effectively brooding as Tony, and Nneka Okafor's poised, pious, unbreakable Sally-Mae is the secret heart of the show.)
Bowzie and Tony have been friends since childhood. Bowzie's the brains of the operation, the too-smart-for-his-own-good jokester, and as Too Heavy begins, he's just been accepted at Fisk University on a full scholarship. Tony and Sally-Mae are as much his family as Evelyn is, and this family is ecstatic for him. He'll be "the first man in this whole neighborhood to go to college," exclaims Sally-Mae. For Bowzie, college isn't just an expected step on the path out of boyhood — he and those he loves had to grow up a long time ago. College is a kind of practical miracle, an opportunity to use his intelligence to provide for his family. Tony is a mechanic, but Evelyn supports the Brandons with her singing — Bowzie even jokes wryly at one point that he would have "been a terrible slave." It's a painful quip, and a powerful one: Bowzie's no good at manual labor, and a century after Emancipation, these are still the only jobs available to the vast majority of black men.
So — after only a month of the summer classes he has to take before starting at Fisk — when Bowzie falls in with a crowd of privileged, politically inclined students and eventually admits to Evelyn that he intends to give up his scholarship and join the Freedom Rides instead … Well, he's not exactly hailed as a hero. "He killing himself!" Evelyn tells Tony and Sally-Mae in a fury, "I married a fool of a niggah. Just killing himself … Why you just dangling your scrawny Black ass in front of the Klan? … Throwing your life away!"
Evelyn's anger — and the almost shamefaced manner in which Bowzie stands there announcing his intention to join the fight for civil rights — are the first of Too Heavy's smart revelations. Holder is putting his finger on something powerful, something that Fight for Freedom narratives — even exquisite ones like Ava DuVernay's film Selma — don't necessarily get at: Protesting is a privilege. The option to "join the movement" only exists in a serious way for those with money and education. People from Bowzie's world don't protest — they work. Indeed, earlier in the play, Bowzie has fended off a visit from James Lawson, a real-life activist with the Nashville Student Movement in the '60s: "I almost slammed the door in his face except he was a Negro and wearing a suit," Bowzie tells Tony, half laughing. "I told him, I'm married. And trying study my way to good job so I can feed my family. I ain't got time to be sitting at no diner counters. And ain't even eating!"
But now, the "uppity fools" and "school Negroes" — the students whose daddies are lawyers — have gotten under Bowzie's skin, and despite Evelyn's unapologetic rage, he's going to get on that bus to Jackson, Mississippi. And, in another smart turn by Holder, we're not going to follow him.
Too Heavy for Your Pocket has a cleverly limited geography, emphasized by Bordelon's staging and by Reid Thompson's beautiful scenic design, which wraps all around us and even underneath us in Roundabout's low-ceilinged Black Box Theatre. (Holder's stage directions read, "Grass everywhere. Even indoors," and Thompson complies — even the audience seating risers are verdant with textured turf.) The action we see takes place predominantly in Tony and Sally-Mae's small kitchen — all secondhand appliances and faded gingham — and in the nearby fields. While Bowzie also talks to us from several buses and from a prison cell, these scenes are defined almost exclusively by Jiyoun Chang's warm, saturated lighting (it really does feel like a southern summer in the theater): Physically, we never leave the Carters' kitchen, or the Nashville fields that are Bowzie's home.
It's refreshing to see Bordelon and her team resist the temptation to show us Bowzie's journey south with more literal scenic trappings. The choice to keep us rooted in one little corner of Nashville is an effective one. Though Bowzie goes, we stay — and Too Heavy for Your Pocket is as much the story of those that stay, of the home that's affected by a decision like Bowzie's, as it is a story of an individual's righteous quest. In fact, if the play's first act belongs to Bowzie and his choice, the second act belongs to the women, Evelyn and especially Sally-Mae. No buses for them, no way out of town, even if that way is dangerous.
When Sally-Mae — who has heretofore been all propriety and saintly patience, and who never takes the Lord's name in vain — finally turns to Evelyn and breaks out with, "You go out in the world all day. Everybody treat you like a dog there. And you come to your own house and get treat like a dog there … I want a goddamn Freedom Ride for me, Evelyn. Where's my goddamn freedom?" — you feel the words land like horrible, heavy stones. In other hands, moments like these might feel on the nose — Holder's prose does occasionally tip toward heavy-handedness. But it's a credit to Bordelon's deft touch and to Okafor's raw power that here the notes ring true.
"Breathe, girl," Bowzie tells Evelyn lightly near the play's beginning. Breath underscores Holder's play, which begins with Bowzie alone, drinking in the air of his home fields, tranquil and free. But of course, he's not free — none of these characters are. And as Too Heavy goes along, oxygen becomes something the characters fight for. (Will anyone who sees it avoid thinking of Eric Garner's "I can't breathe?") In Too Heavy for Your Pocket, we feel our own chests contract and expand with those of the actors. As they struggle for air, so do we. Inhaling and exhaling in a room together: It's the simplest reality of theater and sometimes the most important.
A few blocks from the park in my hometown, the one that was filled with armed men (some actually in sheets) on August 12, stands the theater where I used to work. I hope Holder soon makes his play available for productions all over the country, in spaces of every size. I know at least one town that's struggling to breathe, and at least one theater that needs Too Heavy for Your Pocket.