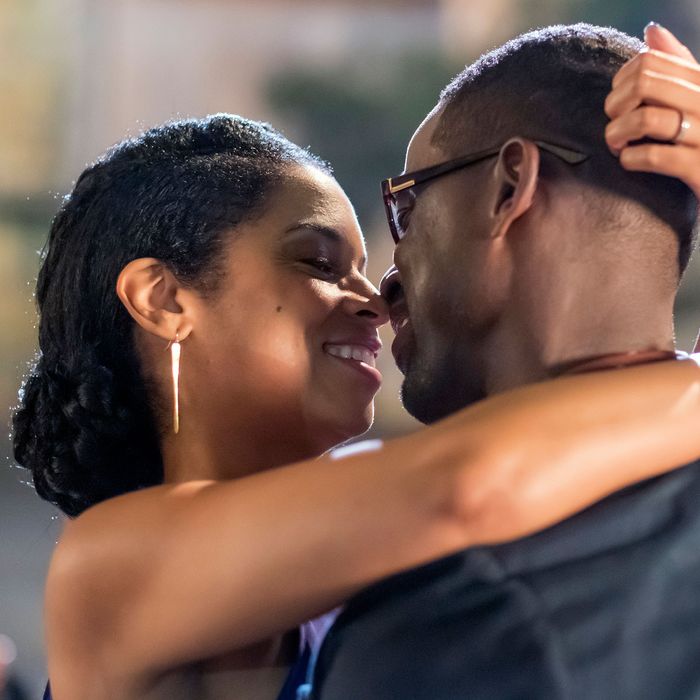 Susan Kelechi Watson as Beth Pearson, and Sterling K. Brown as Randall Pearson.
Photo: Ron Batzdorff/NBC
The Big Three who? This Is Us asks us to follow the adult versions of Kevin, Kate, and Randall Pearson, but from very early on, Beth Pearson has been the real MVP of the show's present-day timeline. Beth is the kind of character who could easily fall into the "supportive spouse" trope that's littered all over TV dramas, but thanks to Susan Kelechi Watson's layered performance, her insane chemistry with Sterling K. Brown (who plays her TV husband, Randall), and the writers' good sense to give Beth some real standout moments, she has become a fan favorite and a scene-stealer.
Beth is one half of one of TV's best marriages, but she can also stand on her own. She is loving, loyal, self-assured, smart, gorgeous, and she's even got some jokes. Beth is the best. As This Is Us continues to explore its world in season two, here's hoping that we learn more about Beth outside of her marriage. Until then, let's celebrate the gloriousness that is Beth Pearson with a look back at her best moments on This Is Us so far. Honestly, she's always great no matter how big or small her role in an episode, but here are 15 of Beth's greatest hits. Dare I say, this is Beth.
15. When Beth Brings Randall to William's Favorite Park (Season 2, Episode 1)
In case we needed more evidence to prove why Beth is better than all of us, she tells Randall that the only way she can get onboard with his desire to adopt is if they take in an older child, someone who no one else will help. After all, that's the best way to honor both of Randall's fathers. The scene does two things: It shows us how Beth makes Randall better, and it suggests that the people behind This Is Us realized what a gift they have with Beth, so they're (finally) beginning to fill out her character. She's more than just a support system for Randall and William. Baby steps!
14. When Beth Calls Out Randall's "Cool Guy Shirt" (Season 1, Episode 14)
Yes, this moment is about Beth needing Randall to be her teammate at a time when Randall is, well, Randall-ing out about pressures at work and William's failing health. However, the real standout part is Beth's ability to take a hilariously specific dig at Randall's fashion choice while still infusing the moment with both frustration and concern. "It wasn't cool on Sisqó in 2001, it's not cool now." We were already in love with Beth by this time, but the savage cut to both Randall and Sisqó solidifies it.
13. When Beth Smokes an Imaginary Cigarette (Season 2, Episode 1)
It looks like a real cigarette!
12. When Beth Doesn't Know How to Do That "Who Has Two Thumbs" Thing (Season 1, Episode 5)
Okay, this speech is more about how Beth is ready to be her own person again and how a pregnancy might ruin all the plans she had for herself, but how adorable is it when she messes up the "who has two thumbs" speech by saying "who has two hands?" Also, who among us has not gotten heated in the middle of a New York City convenience store? If only we all had the insanely perfect side-eye that Beth gives Randall when he asks for some Altoids in addition to purchasing a pregnancy test. I want to be Beth Pearson when I grow up.
11. When Beth Has a "Hot Minute for Some Yogurt" (Season 1, Episode 13)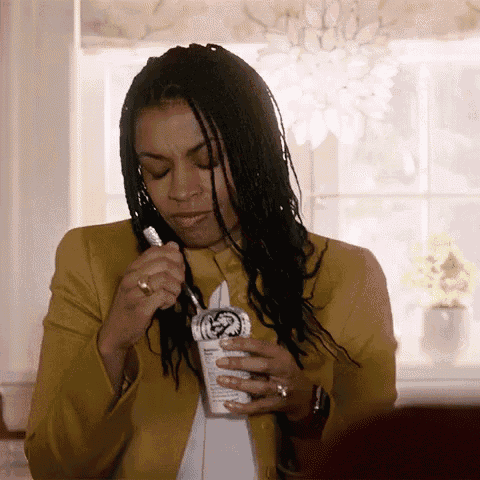 Randall may be too busy and stressed for breakfast, but Beth Pearson understands the importance of a good dairy base in the morning.
10. When Beth "Gets a Little Hot" (Season 1, Episode 16)
The scene in which Beth tries to explain to Randall's psychiatrist why he shouldn't go on a road trip with William days after his paralyzing stress incident is one of the best examples of the chemistry between Watson and Brown, but it also showcases one of Beth's most endearing qualities: her self-awareness. When she does get heated, she's the first one to call herself out on it. In short, Beth is light years ahead of the other Pearsons when it comes to emotional maturity. This is why we need Beth. I mean, that and the pot brownies.
9. TIE: When Beth Has No Time for Pearson Family Antics (Season 1, Episodes 5 and 10)
It must be hard to be the one sister-in-law among a set of triplets — especially such a codependent, angsty, damaged set of triplets — but Beth handles it better than most probably could. She loves those crazy Pearsons, but she also has no time for their nonsense. Susan Kelechi Watson's line reading of "When you leavin'?" as Beth step up to ask Kevin about the length of his surprise stay is filled with so much restrained frustration that it basically changed the meaning of the phrase forever. When Kate and Toby "take a tour" of Beth and Randall's house on Christmas Eve and come back downstairs all hot and bothered, Beth won't embarrass them by ratting them out, but she will most definitely let them know that she knows they just had sex somewhere on the second floor of her home. Hopefully not Tess or Annie's rooms. Beth deals with her in-laws the best way possible: with love, kindness, and a more than sufficient amount of eye rolls.
7. When Beth Stands Up to Rebecca (Season 1, Episode 8)
Rebecca is a very intimidating mother-in-law. Not only does she look like Mandy Moore, but Rebecca and Randall have an extremely special mother-son bond. It's a lot. So when Beth discovers that Rebecca has been lying to Randall his entire life about his biological father, it takes a lot of courage for Beth to stand up and tell the Pearson matriarch to do the right thing. From the moment Beth says, "I don't know how things work in your marriage …" you know Beth isn't messing around. She is Randall's fiercest protector and she will always fight for her husband, whether he knows about it or not and no matter who the opponent is. Even if her opponent looks like an aged-up version of that really pretty person from that one Nicholas Sparks movie.
6. When Beth Stomps on Randall's Aquatic Adventure Dreams (Season 1, Episode 10)
"This boat is not a boat, Randall. This boat is sadness." It's one of the best lines of the entire series, said by a wife to her husband who is clearly not coping with his mother's betrayal very well. Beth has an enormous amount of sympathy for what Randall is going through, but her sympathy is not infinite, and impetuously buying a boat from a co-worker is where that sympathy ends. The line is so good, I'd like to have it embroidered on some dish towels and kept in my home. Why? Because we all need to be reminded that, sometimes, a boat is not a boat.
5. When Beth Tells Randall That They Are Unstoppable (Season 2, Episode 2)
It takes a surprisingly lovely pep talk from Kevin, but after Beth watches her husband begin to spiral out under the pressures of adopting a child with some hard-to-solve problems, she knows she is the only one who can talk him down. Randall is scared, and after Beth gets over her frustrations, she literally runs into his arms, plants a big ol' kiss on the guy, and tells him that they can do anything together. It's romantic without being overly saccharine, which is a real feat for a run-into-his-arms-and-kiss moment. That's our girl.
4. When Beth and William Get High Together (Season 1, Episode 7)
Do you even need me to go further on this? Beth. And. William. Get. High. Together. Honestly, if you could pick any two characters on This Is Us to get high with, would you choose any differently than this pair? Thanks to Beth's secret pot stash and an (apparently) glorious pot brownie recipe, she and her buddy giggle and look up at the stars and recite poetry. Poetry! They also expose life-changing secrets about William and Rebecca's relationship, but let's focus on the poetry!
3. When Beth Gets Real With Randall (Season 1, Episode 3)
We'd all be lost without Beth, but most especially Randall. She is his anchor. When Randall learns definitively that William is dying and there's nothing to be done, he's understandably upset. He says that he's angry he let his daughters fall in love with a man they're only going to lose, but Beth knows this is really about Randall. Her husband is crushed, but she reminds him that he only has a fleeting amount of time with William, and so far, he hasn't done anything to really get to know his father. He'll regret it if he doesn't. Then Beth wipes away Randall's tears, holds his face, and they touch foreheads. THEY TOUCH FOREHEADS. It's a short scene, but man is it emotionally damaging in the best way.
2. When Beth Deals With William's Death (Season 1, Episode 17)
Randall is right: When it comes to William, Beth was the one who was really "in it" with him every day. Randall loses a father when William passes, but so does Beth. And, as she mentions, she loses a friend, too. It's tough to pick out one moment from Beth's attempts to cope with losing William — her staring at all of his meds, the loss actually hitting her, her heartbreakingly lovely toast about their lives being split into "Before William" and "After William," or that small moment when she finally receives the good-bye from him that she'd been missing in the form of a postcard. They're all moving and they all make me want to wrap Beth up in a big hug. Except, obviously, she'd be the one hugging me because that's just who she is. Damn it, Beth!
1. When Beth Confronts William (Season 1, Episode 2)
Randall unilaterally decides to bring William, a stranger, into his house with no plan as to how things will work at all. That does not sit well with Beth. When Randall can't answer her simple inquiry — "How long is your crack-addict biological daddy gonna be sleeping in our 6-year-old daughter's bedroom?" — Beth goes right to the source. She sits with William, tells him about Randall's innate goodness, explains how that goodness and desire to always be better can cripple him, and she finally asks the hard questions. Of course, William is not up to anything shady, but rather is simply taking care of his cat (that he doesn't want to bring into the house because Annie has asthma), which, Beth admits, makes her "feel like a bitch." Not only is it Beth and William's first real moment, but it is the first example of Beth protecting her husband. Even though it happens in the show's second-ever episode, Watson fills the moment with such emotion and her speech is informed by such a sense of history, it was clear that Beth Pearson is more than just a milquetoast-wife trope. Beth is the real deal.