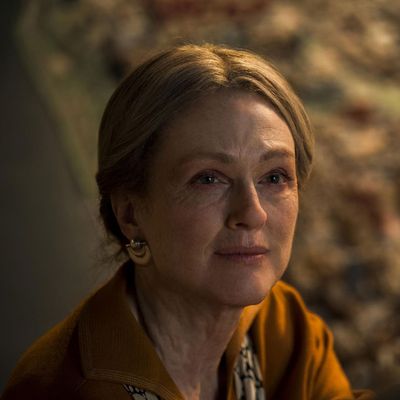 Wonderstruck.
Photo: Amazon Studios
It's hard not to be excited about Todd Haynes' Wonderstruck. A story almost entirely seen through the eyes of child characters in various periods of 20th-century America, it's just the right combination of zig and zag for a director whose lush visual emotionality has brought what would have otherwise been interior, adult stories into dazzling cinematic scope. But children have their limitations — they have to do stuff. It's harder for us to be held rapt by their moods, or a heavy gaze out of a rainy window. And the beautiful but very busy Wonderstruck reflects that: For the first time in memory, Haynes is working with a story whose plot outweighs its concept, as lovely as that concept often is.
Based on the young-adult book by Brian Selznick, who adapted the screenplay, the two narratives belong to Rose (Millicent Simmonds) and Ben (Oakes Fegley), 12-year-old children living in 1927 and 1977, respectively. Rose is deaf and living unhappily in New Jersey with her strict father (James Urbaniak), and spends most of her time going to the cinema and collecting photos of her favorite movie star (Julianne Moore). Ben lives in Minnesota, has recently lost his mother (Michelle Williams), and is consumed with curiosity about his father, whom he never knew. After a freak accident leaves Ben deaf, he and Rose both embark on parallel journeys to New York City, in search of their idol/missing parent (though it seems there's ultimately not much of a difference). Though they don't exactly find what they were looking for, their fates intersect around a certain "cabinet of curiosities," and they find other sympathetic souls along the way.
Both children are initially drawn to New York to find important adults in their lives, but their journeys echo those of countless others who have come to find some missing part of themselves in the city's bustling streets. The film hinges on that kind of mundane magic of common paths, the multitudes of human histories that can haunt a single place. When we see Rose and Ben run their hands over the same meteor, 50 years apart, we're also thinking of the millions of others who have passed through that same moment, bringing their own hopes and wishes to it.
The film ultimately suffers from an abundance of these little narrative baubles; it's an overstuffed cabinet of visual themes. The film opens with wolves; shooting stars, movie stars, and Ziggy Stardust are used interchangeably; paper boats float in and out before being forgotten; paper models are kind of a thing before becoming very much a thing in the film's stunning stop-motion finale. Wonderstruck gestures at a lot, especially between the two narratives, which Haynes flips between with such rapidity that the film isn't able to find a tonal groove until well past its halfway point. Even the score by the otherwise brilliant Carter Burwell is affected by the whiplash.
But despite its shortcomings, the film benefits from every frame of Simmonds, a young deaf actress from Utah. It's hard to say whether she's destined for stardom, Hollywood opportunities being what they are. But she's a strikingly open presence onscreen, sweet and watchful and lonesome. When Rose sees her movie theater announcing the coming sound revolution, you feel her wistfulness layered with your own: There's still so much that can be done with just a face.