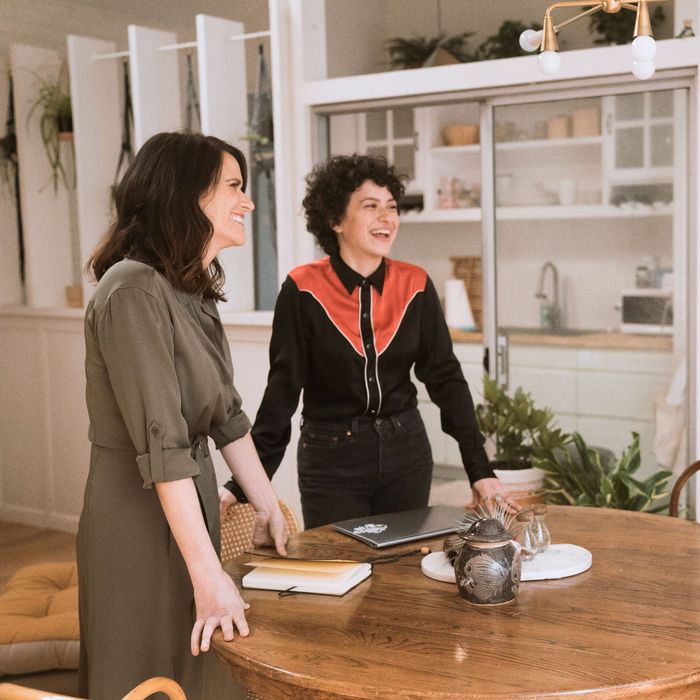 Photo: Jennifer Clasen/Amazon Prime Video
So far this season, the most interesting stories are the stories about Maura and Ali, which means the best material is the material set outside California. "Born Again" doesn't offer much of that: Moshe shows up at Maura and Ali's hotel, inviting the whole family to Israel so they can get to know each other, and that's about it.
The bulk of the episode is set in California, and most of it takes place in the '80s. We get one thread from Maura's life as Mort, struggling to understand herself and completely lacking in any kind of framework for who she is and what she wants. A therapist, who seems to be well meaning, tries to tell her to just accept being gay. Gayness, apparently, is a tolerable disorder, and the therapist suggests that finally resigning herself to this fact will allow Maura to exorcise the less tolerable perversion of dressing as a woman. She is flustered. She clearly wants to feel better about herself and her life, but is obviously (and rightfully) dubious about the therapist's suggestion.
These flashback scenes are strong, as they almost always are on Transparent. They lack the wrenching and often nearly disorienting dizziness of some of the show's earlier flashbacks, which tended to prioritize affect and emotion over instant legibility. All the emotion is there, and the choice to flip back and forth between an outwardly male-identifying Mort and a vision of Maura is a lovely way to put pressure on this closeted life. It's not that there's a choice being made, and it's not like Maura is just experimenting. She's sitting there just beneath the surface. We only see her in brief, blinking frames, but she's undeniably, constantly present.
Maura's unquestionable existence makes Mort's hospital deal all the more painful. Staring at baby Ali lying in an incubator, Mort asks God if this is punishment for thinking those thoughts, for desiring those things, for dressing as a woman. Mort promises to stifle Maura forever if only Ali can live. It's a terrible thing to trade, because we can see the reflection of Maura standing off to the side, gazing at her infant daughter. Much though Mort might want to make that deal, and want to imagine it's a deal he can stick to, there's no stifling Maura. She just is.
The other line of flashbacks in "Born Again" follows a young Davina trying to navigate the world of queer life in the '80s. She's flying without a net, relying entirely on the mercurial whims of an older male lover and the kindness she receives from other drag queens. For want of somewhere to live, she flirts with letting her HIV-positive lover have sex with her. For want of any other safe place to be herself, she lives for her brief time at the Queen Mary, where she can dress in drag and imagine herself performing as a trans woman.
Like the Mort/Maura flashbacks, Davina's story is beautiful and very sad. It's made all the more so because in spite of their parallels — in spite of Maura and Davina both trying to reach for a version of themselves they don't know how to achieve in a time when there was so little cultural understanding or support — the obstacles in their past timelines are still reflected in the present. Where Young Davina had no safe, reliable home, no set income, and no resources to help her find a stable future, Young Maura was a college professor in a graceful home in the Palisades. And now? They're both trans women in a world where they have to fight tooth and nail for acceptance and equality. But Maura is economically stable, fairly healthy, and generally safe. Davina is still getting kicked out of a man's home, trying to manage her meds, and burdened with the same disadvantages and insecurities she's always had to deal with.
Davina's life has changed in some ways since that early, heady, desperate time. She has friends. She has a chosen family. And when she was young, she tells us, she also made a deal with God: If God wanted her to live, he wouldn't infect her. And if he wanted her to die…
Davina's experiences are an important story to tell, and I'm always glad when Transparent weaves in other trans perspectives and integrates other trans lives. The flashback scenes themselves are lovely, especially the ones backstage at the Queen Mary, where Davina's friend tries to cheer her up, alternating between tough love and comfort, all mixed together with advice about implants and how to style a wig. (If this little glimpse into early drag clubs is interesting to you and you haven't seen Paris Is Burning, please remedy that immediately.)
I'm also always happy to see Davina, and to see Transparent try to find space for Davina's story inside the Pfefferman saga. But it just doesn't always seem to work. Within the rest of the season, there's no real reason for this lovely little narrative to be here. Where Maura's flashbacks and earlier family stories are often treated as experimental and oblique, the Davina flashbacks are heavily, overtly signaled. There is an unnecessary voice over that narrates along the way. Transparent trusts us to get launched into the middle of a party in '30s Berlin with no explanation and no connection to the main characters at all, but this relatively straightforward memory from a familiar character seems to require extensive hand-holding. It's clunky.
And further, Davina's presence in this episode underlines one of the core discomforts of this series, something I don't know that the show can ever escape: It's a series about a trans life, and the person at the center of the narrative is a relatively privileged white trans woman, who's portrayed by a cisgender man. Transparent still lives with its origin story, even after its creator has spoken about wishing it could've been otherwise: Jill Soloway has been clear that while it may have been necessary to cast Jeffrey Tambor as Maura in order to get this show made, she'd never want to cast a cisgender person in a trans role again.
Would it have been possible to make a show like Transparent, one of Amazon's very first notable original series, without casting a known name like Tambor in the role? Maybe not. Maybe the show would not have been produced. But because it is a show so rooted in Maura, and in the Pfefferman family, it also cannot escape that foundation. Not even when it might like to.
This, in retrospect, is the deal Transparent made: It would be one of the first TV shows about trans life to break through to a mainstream audience, but in order to do so, it'd be Maura's story as told by Jeffrey Tambor, not Davina's story as told by Alexandra Billings. In an episode like this one, you can feel Transparent trying to have its cake and eat it too. It just doesn't satisfy the way you'd want.
It looks as though the next episodes will be more Pfefferman-centric, and likely more focused in Israel. Len and Sarah had one last farewell ménage à trois with Lila, Bryna said good-bye to her useless son,and Josh is begging Shelly to leave Mario at home. They're on the plane. Meanwhile, Davina is still couch surfing at Maura's house in the Palisades, remembering the things she had to do to survive.