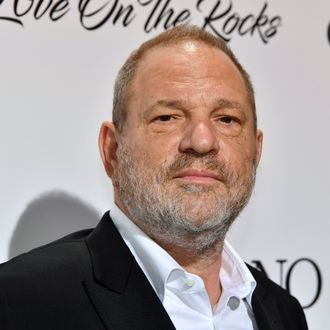 Photo: YANN COATSALIOU/AFP/Getty Images
One day after a New York Times report revealed decades of sexual-harassment accusations made by women against the Weinstein Company's Harvey Weinstein — including but not limited to "appearing nearly or fully naked in front of them, requiring them to be present while he bathed or repeatedly asking for a massage or initiating one himself" — Fox News reporter Lauren Sivan has gone on the record with the Huffington Post to make a similarly distressing allegation.
In a story told to HuffPo's Yashar Ali, Sivan, then a local news anchor for News 12 Long Island, recalls meeting Weinstein at New York's Cipriani restaurant in 2007. She and a friend later went with Weinstein and others to the club Socialista, where the studio head offered to give her a tour of the club's restaurant, which by then was closed to the public. Once the pair were alone, she says Weinstein physically cornered her and attempted to kiss her in a hallway. According to Sivan, once she rebuffed his advances, Weinstein told her, "Well, can you just stand there and shut up" and began masturbating in front of her. The incident only ended when he allegedly "ejaculated quickly into a potted plant that was in the vestibule and then proceeded to zip up his pants and they walked back into the kitchen." Sivan's friend, who opted not to reveal her name in the Huffington Post article, confirms Sivan told her what happened as soon as the two women left the restaurant. The next day Weinstein called Sivan to ask her out, telling her he "had a great time last night." She turned him down, but did not report the bizarre encounter because "she was in a long-term relationship and fearful of the power that Weinstein wielded in the media."
Weinstein's attorney Lisa Bloom told the Huffington Post that the producer was not available for an interview about the allegations, and a Weinstein Company publicist reportedly did not reply to questions. The Weinstein Company confirmed on Friday that the studio head would be taking "an indefinite leave of absence" starting immediately.