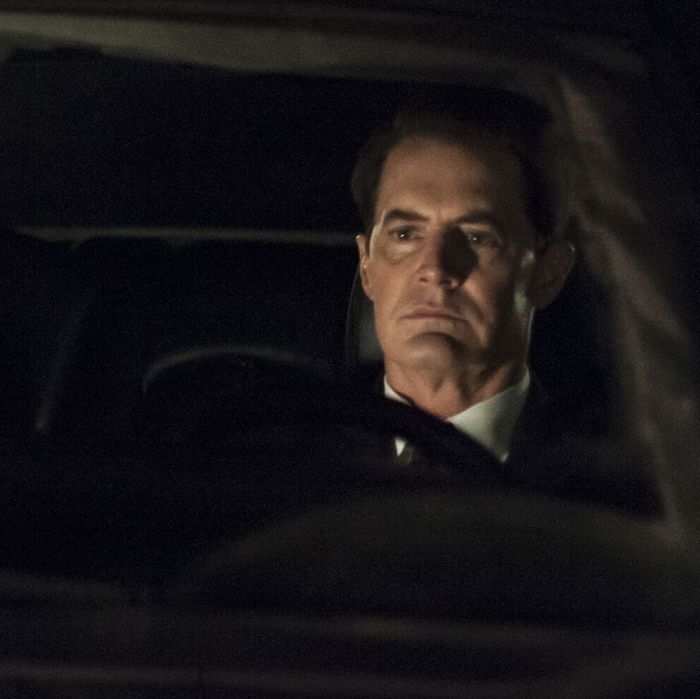 Photo: Suzanne Tenner/Showtime
It was the scream heard around the world — or in the Twin Peaks metropolitan area, at the very least.
Fans have been speculating about the last few spooky minutes of the Twin Peaks:The Return finale since it aired in September. Let us set the scene: Agent Dale Cooper (or is it Richard?) retrieves a woman physically resembling Laura Palmer but referred to as "Carrie Page" from Odessa, Texas, and drives her to Twin Peaks to reunite with her mother after 25 years. However, in true Lynchian form, all hell breaks loose when they arrive. Mrs. Palmer doesn't live in the house. In fact, she never did. Cooper, dumbfounded by what is transpiring, tries to make sense of everything by asking, "What year is this?" Meanwhile, Carrie, hearing the voice of her mother in the air whispering "Lauraaaaaa," has a sudden realization and lets out one of the most terrifying screams in television history. The house's lights turn off. Fade to black.
So what happened? The most common theory about this unsettling conclusion — and there are a lot of theories — is that Cooper and his secretary Diane Evans crossed into an alternative dimension in their car in the hopes that Cooper could save Laura from her original, grisly fate. Unfortunately, Judy, the all-powerful entity who thrives on electricity, saw through his plan, and stuck the duo in alternative dimensions for the rest of their lives with no chance of returning to the "real" Twin Peaks ever again. With flashbacks earlier in the finale, it was also implied that when Cooper traveled back in time to rescue Laura in the woods before she arrived at the train car for her certain death, his interference actually prevented her from dying. Co-creator Mark Frost's new book, Twin Peaks: The Finale Dossier, confirms that is indeed true.
The novel, which is a part of the show's canon, is told in the form of classified FBI files, and the last chapter picks up immediately after the events of the finale. Agent Tammy Preston stayed in town for a few days to cover the aftermath for the FBI and perused old editions of the Twin Peaks Post to aid her research. What she discovered while reading articles confirms that history was rewritten for Laura Palmer's story.
You know what else I discovered, Chief, in that same article, a few sentences later? This:




"Agent Cooper had come to town for a few months earlier, to aid in the investigation into the disappearance, still unsolved, of local teenage beauty queen, Laura Palmer."




Let me repeat that phrase for you: "still unsolved." No mention of "murder," "wrapped in plastic," or "father arrested for shocking crime eventually dies in police custody of self-inflicted wounds."




It's right there on the front page: Laura Palmer did not die. So, fairly certain I've not misplaced my own mind, I go back and check the corresponding police records. They tell me this: Laura Palmer disappeared from Twin Peaks without a trace — on the very same night when, in the world we thought we knew, it used to be said she died — but the police never found the girl or, if she had been killed elsewhere, her body or made a single arrest.
Agent Preston continues by saying that when she went to speak to the employees at the sheriff's station about Laura, "they all got a slightly dazed and confused expression on their faces when I brought it up, as if they were lost in a fog." Soon enough, they all responded with the exact same sentence: "Yeah, that sounds right. That's how I remember it." Laura's case, to this day, is listed as open and pending investigation, with Ronette Pulaski confirming she never emerged from the woods to get to the train car. Her disappearance began to fade from the news after a few weeks since there were no substantial leads. Leland Palmer eventually killed himself out of grief a year later. Laura's mother, meanwhile, went into a deep depression and battled alcoholism and prescription drug addiction ever since.
And with that, Carrie Page's life in Odessa began.