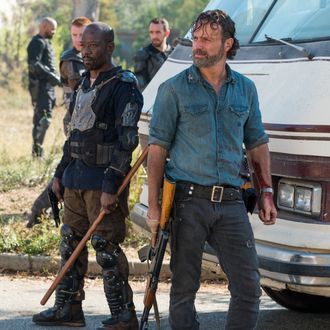 Photo: Gene Page/AMC/© AMC Film Holdings LLC. All Rights Reserved.
The Walking Dead and Fear the Walking Dead's shared universe is going to get cozier. Creator Robert Kirkman revealed at New York Comic Con on Saturday evening that a crossover is in the works for the two AMC series. "There is one character that is going to go from one show that I will not name, to another show that I will not name," he teased.
Ever since The Walking Dead's spinoff prequel debuted in 2015, viewers have speculated that at least one character would outlive the zombies long enough — and travel far enough from the West Coast or Mexico to the American South — to appear in the flagship series. Kirkman refused to say which character it would be, or which show he or she had debuted on, but did confirm it would happen next year.