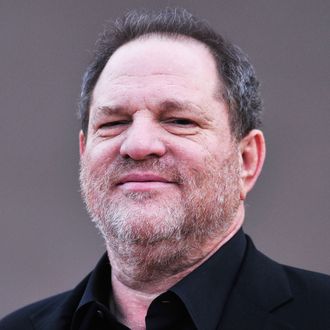 Weinstein.
Photo: Carl Court/AFP/Getty Images
One of the earliest known incidents of sexual misconduct by Hollywood mogul Harvey Weinstein has come to light. Paula Wachowiak, a 62-year-old woman from Buffalo, tells the Buffalo News that Weinstein exposed himself to her in 1980 while she was an intern on his first film, The Burning. Though she'd applied to intern for his concert promotion company Harvey & Corky, Weinstein instead offered her a production assistant internship on the film in Buffalo that involved her working with the film's auditor. One day, she says that auditor asked her to bring a manila folder of checks to Weinstein's hotel room to have them signed. When she arrived, Wachowiak claims Weinstein was wearing nothing but a small towel that he then dropped to expose himself when she handed him the folder, eventually covering himself with only the folder. She recalls that, like with many of his other accusers, he asked her to give him a massage, which she refused. "That's not in my job description," she told him point-blank, though she remembers wanting to "run out of the room screaming."
She says Weinstein persisted, reminding her "what a fantastic opportunity" the internship was. "I told him that I was happy to be part of the project but I would not touch him," she says. Eventually, he signed the checks and let her go. But at a later time on the set of the film, Wachowiak says Weinstein approached her and said, "So, was seeing me naked the highlight of your internship?" She responded, "Actually, Harvey, you disgust me."
Wachowiak says she notified both the production supervisor and the accountant of what happened; neither responded to the Buffalo News for comment. In a separate Washington Post report, a woman at a Buffalo radio station said that around the time of the incident with Wachowiak, there was an unwritten rule in the Buffalo music scene: "If you're a young woman, don't be alone with Harvey Weinstein." Wachowiak now says she's not surprised at the latest allegations and came forward to tell her story after learning of them in the New York Times and New Yorker investigations.