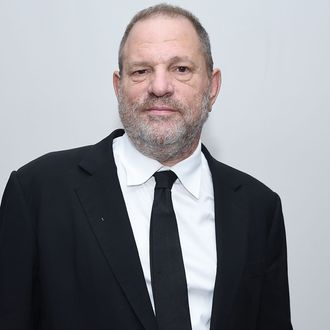 Photo: Dimitrios Kambouris/Getty Images
Following the frenzy of sexual-harassment and sexual-assault allegations surrounding Harvey Weinstein, as reported in the New York Times and The New Yorker, the Weinstein Company issued a statement on Tuesday promising to assist in any further investigations into misconduct. "We are committed to assisting with our full energies in all criminal or other investigations of these alleged acts, while pursuing justice for the victims and a full and independent investigation of our own," the company pledged.
The film studio also got ahead of the unsubstantiated rumors, allegedly pushed by Harvey Weinstein or people close to him, that the company, or at least his brother Bob Weinstein, were aware of the accusations prior to the articles being published:
The Weinstein Company's Board of Representatives - Bob Weinstein, Lance Maerov, Richard Koenigsberg and Tarak Ben Ammar - are shocked and dismayed by the recently emerged allegations of extreme sexual misconduct and sexual assault by Harvey Weinstein. These alleged actions are antithetical to human decency. These allegations come as an utter surprise to the Board. Any suggestion that the Board had knowledge of this conduct is false.