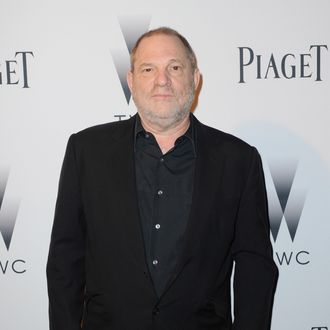 Photo: Joshua Blanchard/Getty Images for The Weinstein Company
Though the Weinstein Company has been adamant in recent days that the sexual-harassment allegations against co-founder Harvey Weinstein "come as an utter surprise to the Board," a new report from the New York Times suggests otherwise. According to the Times, various interviews and internal documents offer proof that the board knew about at least some of the Weinstein payouts.
A lawyer for Weinstein confirmed that during his client's 2015 contract renewal the board was "made aware at the time of three or four confidential settlements with women." However, Lance Maerov, the board member who led contract negotiations, claims that he believed at the time that the settlements were being used to cover up extramarital consensual affairs. Since lawyers assured him that none of the company's money was used in the settlements and that there was no pending litigation, Maerov approved the contract.
The negotiations came shortly after Ambra Battilana brought accusations against Weinstein to the New York Police Department. The Italian model had taped the producer confessing to groping her, but the Manhattan District Attorney did not press charges. The Times reports Weinstein insisted the case was a "setup" and refused to let the board directly review his personnel file, so the company hired an outside lawyer. That lawyer, in turn, told the board it was legally safe to retain Weinstein.
Since the scandal broke last week, the board has seen several members resign. The Weinstein Co. fired Harvey on Sunday, and is rumored to be considering a name change.