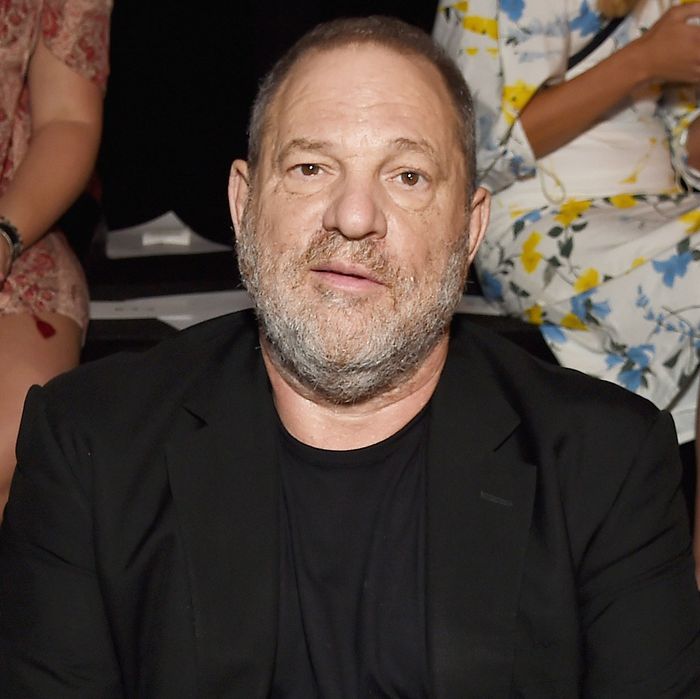 Photo: Nicholas Hunt/Getty Images For NYFW: The Shows
Even the halls of Harvard Law School aren't immune from Harvey Weinstein news creep. At the school's bicentennial celebration in Cambridge, Massachusetts, this weekend, which was kicked off by a round table of six Supreme Court justices and featured speakers like former Ambassador Samantha Power and her husband Cass Sunstein, the ongoing scandal reared its head at an entertainment-law panel Friday morning. The Weinstein Company's lawyer Bertram "Bert" Fields candidly discussed the future of the floundering company.
Fields said he anticipates at least a dozen more lawsuits from victims as he worked to distance the company from its "disgusting" co-founder, who was accused of rape by yet another woman Friday. "It's no secret that Harvey Weinstein committed very, very bad acts," he told an audience of Harvard Law students and alumni. "I represent the company, not Harvey. We're trying to keep the company alive and afloat. It's not easy because the name has become toxic. If we change the name, is that going to make people want to see Weinstein movies? If we called it Pathfinder Films? I don't know."
Harvey Weinstein's spokesperson, Sallie Hofmeister, has repeatedly denied allegations of sexual assault, stating, "Mr. Weinstein unequivocally denies any allegations of non-consensual sex."
"We have a first lawsuit from a woman who is suing the company for negligence in not restraining Harvey in doing the things that he did, which is unique. I think we're going to get maybe 15, 20 of those lawsuits," Fields continued. "It raises a lot of interesting issues. This woman for example, voluntarily, according to her own story, went up to Harvey's hotel room and there engaged in sexual acts voluntarily. She doesn't say he forced her. She does say that he told her that he would help her career. So she is suing the company for not restraining Harvey from doing this kind of thing."
Fields cited the complicated precedent that could be set by a ruling in favor of women who participated in consensual quid pro quo sexual activity with Weinstein — "If we go down that road, a lot of companies are going to be liable for a lot of things that they really didn't expect to be liable for" — while acknowledging that the unreported nature of the studio chief's serial behavior makes an already murky legal situation far more complex. "The theory is an interesting one — that is, she couldn't know to bring a negligence lawsuit because she didn't know this was a repetitious act; that there were all these other women doing this. She thought she was the only one. Now she knows, so the statute [of limitations] shouldn't run against her. I don't know the answer, but I'm certainly going to argue that it ran."
As the conversation turned to one of Harvey Weinstein's lawyers, noted litigator Patricia "Patty" Glaser, Fields said, "I want to see her complaint that sues us, claiming that this is wrongful termination. I mean, if ever somebody had a ground to fire a guy, it seems like it's the Weinstein Company."
Following the discussion of Weinstein, Fields — who has represented the Beatles, Tom Cruise, James Cameron, and various Hollywood studios — brought up another controversial former client.
"A notable one in my background is our president, Donald Trump, who was a client and whom I proudly fired," he said. "He did something that was absolutely disgusting, and morally depraved and I fortunately wrote him a letter saying, 'I can no longer represent you in anything.' He said, 'Please don't do that.' His partners said, 'Don't do that.' I said, 'I won't come near this man ever again.'"
Two years later, Donald Trump published a book. According to Fields, Trump wrote: "This fellow Bert Fields, supposedly a legend, he's no good. I fired him."
The 88-year-old Fields, whose cease-and-desist letters are legendary, said he went after the publisher. "Fortunately I had the letter, so they took it out of the book. The point I was making is that every once in awhile, you come to the point where you just have to fire a client. They've done something wrong, and you just can't cover it up, there's nothing you can do." When Fields then quipped, "That's your president, folks!" he got a big laugh — from that hall full of lawyers.