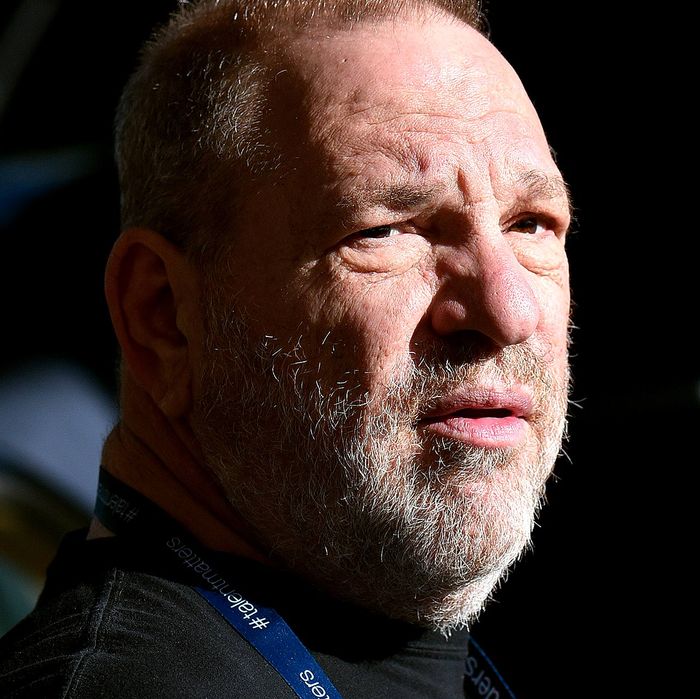 Photo: Jacopo Raule/GC Images
On the heels of Thursday's bombshell New York Times exposé, which details numerous accusations of sexual harassment and other too-nauseating-to-even-contemplate abuses of power and station by Weinstein Company co-chairman Harvey Weinstein, the hard-charging, Oscar-winning studio mogul has become toxic in Hollywood. His public dressing-down has drawn the tweeted opprobrium of (among others) Rose McGowan and Ashley Judd — actresses who reportedly personally endured Weinstein's sexual misconduct — and now, as a direct result, the Academy Award rainmaker is getting mentioned almost invariably in the same breath as Roger Ailes and Bill Cosby around town.
Taking a leave of absence from TWC a day ahead of an emergency board of directors meeting scheduled for Friday evening, Weinstein's continuing ability to lead the company he co-founded with brother Bob in 2005 remains a subject of intense debate for studio executives, producers, talent agents, and filmmakers.
We spoke to three people who all worked with the 65-year-old studio chief in some capacity: a filmmaker, a producer, and an agent. And their thinking at this breaking-news-scramble stage of the Weinstein scandal falls into two distinct categories: "Harvey will be fine" and "Harvey won't be fine."
In terms of the latter, a producer who has made films for TWC and has been in regular contact with studio executives before and while the scandal broke had this to say: "He was asked to take a leave of absence for a couple of weeks. Usually you don't come back from that situation. The board of directors doesn't like the situation one bit. And [Weinstein Company COO/president] David Glasser has been angling to run that company for a long time. He steps in right now. Honestly, I don't see how Harvey comes back from this."
In the "Harvey will be fine" camp? "They may say, 'Fuck you, Harvey' for a while," says a filmmaker who has written several films for Weinstein and who asked to remain anonymous to maintain his business relationship with the mini-major studio. "But even if the board votes him out, he'll be back. He's a carnival barker. Don't look to Hollywood to be so morally righteous. I think for the same reason Mel Gibson is starring in Daddy's Home 2 — after they have him on tape with his ex-wife saying, 'I hope you get raped by a pack of n-words' and all the other anti-Semitic crap he's on record as saying — they're just going to keep doing what they're doing. In Hollywood, there's no morality. No one cares, no one remembers."
At both ends of the spectrum, however, the sources contacted by Vulture agreed that Weinstein's reputation as one of indie cinema's most prominent purveyors of prestige fare has suffered an existential wound due to the allegations that he lured actresses and female studio employees to hotel suites, requesting massages or that the women "watch him shower," among other forms of sexual harassment. "He can't go to the women who he needs for these Academy movies," says our producer. "Nicole Kidman, who he repeatedly goes back to — people like her — I think they're going to stand by the sisterhood."
(Weinstein, for his part, has accused the New York Times of "reckless reporting" and indicated he plans to sue the newspaper for $50 million. His lawyer Lisa Bloom said in a statement: "He denies many of the statements as patently false … He is an old dinosaur learning new ways. He wants to reach out to any of the women who may have issues with him in a respectful, peaceful way, with me present if that is acceptable to them.")
According to a top talent agent who has brokered deals for the sale of films to Weinstein for many years, allegations surrounding the mogul's sexual conduct belie the studio's overarching cash-flow problems.
"People have been thinking the Weinstein Company is going to go under for a while. He was having a hard time raising the money," the agent says. "His head of distribution left the company, his head of marketing left the company. There's no one that works there that you've ever really heard of anymore. Glasser left and then came back. The infrastructure isn't there anymore."
What's more, Weinstein's legendarily combative nature makes it hard to sympathize with his plight. "Nobody has anything good to say about the guy," the agent continues. "You have this raging lunatic asshole who's incredibly fucking successful. And the minute his star starts to go down, everyone starts to come out of the closet. Because they just want to kill him."
But in an era when Woody Allen has withstood sustained accusations from his own family members that he sexually assaulted his adopted daughter Dylan, but continued to attract Hollywood's crème de la acting crème to appear in his films, our filmmaker predicts Weinstein will enlist A-list pals such as Quentin Tarantino and Gwyneth Paltrow to publicly rally support — effectively running a For Your Consideration campaign to resurrect his own reputation.
"Ben Affleck, Matt Damon? Why wouldn't you call in those favors? They're all going to say 'Harvey's the man.' Just like Robert Downey Jr. and Jodie Foster came out in favor of Gibson at the height of his controversy," he says.
He pauses before adding: "So the head of a studio made some improper advances? To me, it's much ado about nothing. It seemed like he never crossed the rape line. Not one of those people said he slipped something in their drink or penetrated them or forced them to do a sexual act against their will. None of that's there."
"He asked for a few massages? Waaah! Welcome to Hollywood!"