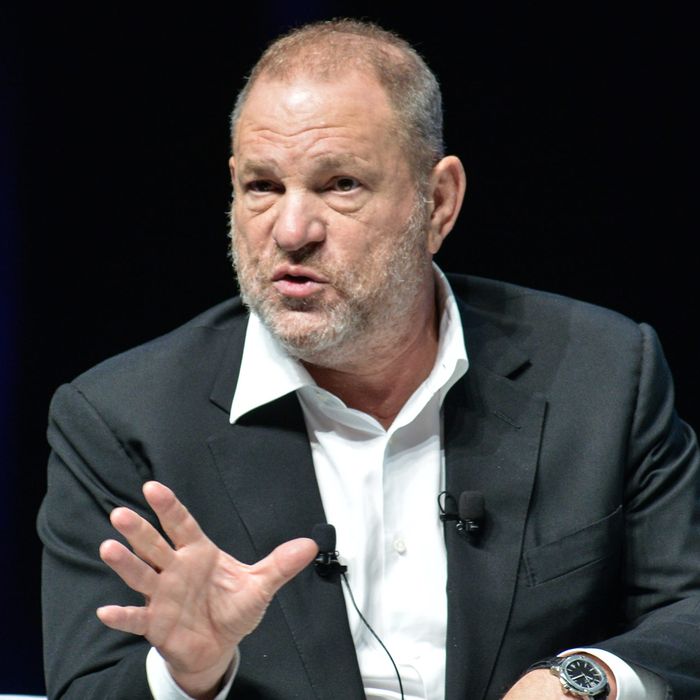 Photo: Christian Alminana/Getty Images
Over the last few days, allegations that Harvey Weinstein subjected scores of women to a grotesque roundelay of unwanted sexual behavior have staggered into public view like skeletons from a very deep, very dark showbiz closet. There are accounts that he groped some of the women, exposed himself and masturbated in front of others; received or performed oral sex on yet more; and even reportedly committed rape.
His latest accusers? A Who's Who of A-list, aspiring, and foreign actresses whose recounted traumas date from the mid-1990s to 2015. In a devastating, long-in-the-works investigative piece by Ronan Farrow, posted online Tuesday by The New Yorker, Italian actress-filmmaker Asia Argento, for one, claims the studio mogul forcibly performed oral sex on her and then broke her will to resist his advances through his sexual aggression and sheer force of will. "When I see him, it makes me feel little and stupid and weak," Argento is quoted as saying. "After the rape, he won."
In a separate article published by the New York Times Tuesday, Gwyneth Paltrow, Angelina Jolie, and Rosanna Arquette (among others) all shared startlingly consistent recollections of Weinstein's unwelcome sexual come-ons — always initiated under the auspices of a professional relationship, almost always proposing a sex-for-stardom quid pro quo, sometimes threatening career ruination if he was rejected, but always, always taking place in luxury hotel suites. "I was a kid, I was signed up, I was petrified," said Paltrow, who was 22 at the time of the alleged incident and eventually won a best actress Oscar appearing in the Weinstein-distributed Shakespeare in Love. "I thought he was going to fire me."
Arriving just days after Weinstein was unceremoniously fired from the Weinstein Company, the mini-major studio he co-founded in 2005, this new suite of accusations — as well as recent disclosures in a previous New York Times story about Weinstein's legal threats, confidentiality agreements, and payment of hush money to keep the women's stories out of the headlines — has cemented his reputation as one of the most prolific sexual predators ever to prowl Hollywood's corridors of power.
According to prominent attorneys with decades of experience litigating sexual-harassment cases in Los Angeles and New York (where most of Weinstein's alleged sexual misconduct took place), though, the news also opens the former studio chief up to potential lawsuits ranging from indecent exposure (see: French actress Emma de Caunes's story about Weinstein entering a room "naked with an erection") and committing a lewd act to charges of rape.
But criminal cases of first-degree sexual assault, in this scenario, would necessarily depend on aggressive prosecution and would buck the trend of what has come to be known as "rape denialism" — the kind of blame-the-victim legal proceedings in which a rape-case plaintiff is raked across the coals about their own sexual and personal history, stacking the burden of proof against the accuser. Any civil cases against Weinstein, meanwhile, would be dependent on the statute of limitation in the state in which the alleged incident(s) occurred.
Below, we break down several legal outcomes that the 65-year-old Weinstein could face in light of the new allegations against him:
The potential for criminal charges
"In California, it's sexual battery if it's touching of the buttocks or sexual organs or breasts," says Los Angeles lawyer Karl Gerber, who has litigated more than 600 sexual-harassment cases over the last quarter century. "So that kind of stuff, somebody could be criminally prosecuted for. But it's very, very rare that they go after these people criminally. I've had a lot of oral copulation cases, rape cases, I've never seen them get prosecuted. I've represented a lot of women that have been raped and they don't even pursue that if it's a workplace thing."
Why? "It just doesn't seem to be a priority. Because it happened in a work environment, it [can be perceived to be] less of a crime than if it happened in a bar, or a parking lot or if a stranger did it. There is an issue of consent that gets murkier: Did they know this person? Did they have a relationship with this person? Which all of these women did."
However, New York attorney Lawrence Pearson, who has litigated sexual-harassment and assault cases involving high-profile Wall Street bankers (and who was part of a team of attorneys representing the New York chambermaid Nafissatou Diallo, who sued French politician and economist Dominique Strauss-Kahn for attempted rape in 2011), cautions, "If there is a large amount of corroborating evidence that shows he had a pattern of conduct, then a prosecutor who is more willing to be aggressive could very well bring a case. Or if new DNA evidence is discovered, that may be more willing to prosecute." (Exhibit A: what's happening right now with Bill Cosby's criminal case for the alleged 2004 rape of Andrea Constand.)
The potential for civil charges
Then there are the statutes of limitations governing Weinstein's alleged sexual trespasses — which may have run out long ago.
In Tuesday's New York Times report, Weinstein is described as having asked Arquette to visit him at the Beverly Hills Hotel in the mid-'90s to pick up a script for a film role. Once there, he reportedly asked her for a massage, grabbed her hand and pulled it toward his genitals (she says she immediately drew it away). In a similar incident chronicled in The New Yorker, actress Mira Sorvino recalled that during the 1995 Toronto International Film Festival — where she was promoting her co-starring role in the Woody Allen film Mighty Aphrodite — the actress found herself in a hotel room with Weinstein who "started massaging my shoulders, which made me very uncomfortable, and then tried to get more physical, sort of chasing me around."
Horrifying, yes. But did it happen too long ago to be prosecutable? "The stuff in the '90s — I don't think anyone could bring a civil suit," says Gerber. "The statute of limitation can be extended when they're minors. But these people were not minors."
As Pearson points out, "a lawsuit becomes more difficult the farther away the act occurred."
"A civil suit by an adult who is bringing claims of sexual assault or rape against somebody, is typically going to be subject to that relatively short statute of limitations of one or two years," Pearson says.
However, New York law imposes no statute of limitation for criminal rape charges. And by finally coming forward to speak their respective truths, actresses such as Paltrow and Jolie could be laying the groundwork for future harassment lawsuits against Weinstein. "Women who say a person engages in serial sexual assaults on women and has a particular modus operandi, or pattern — that information can be used as evidence in the case of women whose attacks happened more recently," Pearson says. "There is a lot of value to someone coming out and saying what happened to them. It can help the prosecution."
(In a statement Tuesday, Weinstein's spokesperson Sallie Hofmeister said: "Any allegations of non-consensual sex are unequivocally denied by Mr. Weinstein. Mr. Weinstein has further confirmed that there were never any acts of retaliation against women for refusing his advances.")
The potential for charges against TWC
Even while Weinstein Company board members are reportedly discussing changing the name for the studio, TWC could find itself in the legal hot seat for the "culture of complicity" — "with numerous people throughout the companies fully aware of [Weinstein's] behavior but either abetting it or looking the other way" — described in Farrow's story.
"He's liable individually for sexual harassment; he's liable individually for assault and sexual battery; the company is liable for all of this," says Gerber. "And they're liable for punitive damages. Because he's not a low-level person there. He's the principal. He's an officer. The fact that other people knew — I don't even think that matters civilly. He's top dog."
A statement released TWC's board of directors late Tuesday seemed to address such allegations head on: "The Weinstein Company's Board of Representatives — Bob Weinstein, Lance Maerov, Richard Koenigsberg, and Tarak Ben Ammar — are shocked and dismayed by the recently emerged allegations of extreme sexual misconduct and sexual assault by Harvey Weinstein. These alleged actions are antithetical to human decency. These allegations come as an utter surprise to the Board. Any suggestion that the Board had knowledge of this conduct is false."
In the end, just because someone can sue TWC, does that mean they will?
"I'm sure they will," Gerber tells me. "They're going to argue that by firing him, they made a statement that they don't condone this, and they're trying to take acts to make this less reprehensible. And these are factors a jury should consider if the question of punitive damages is coming up."