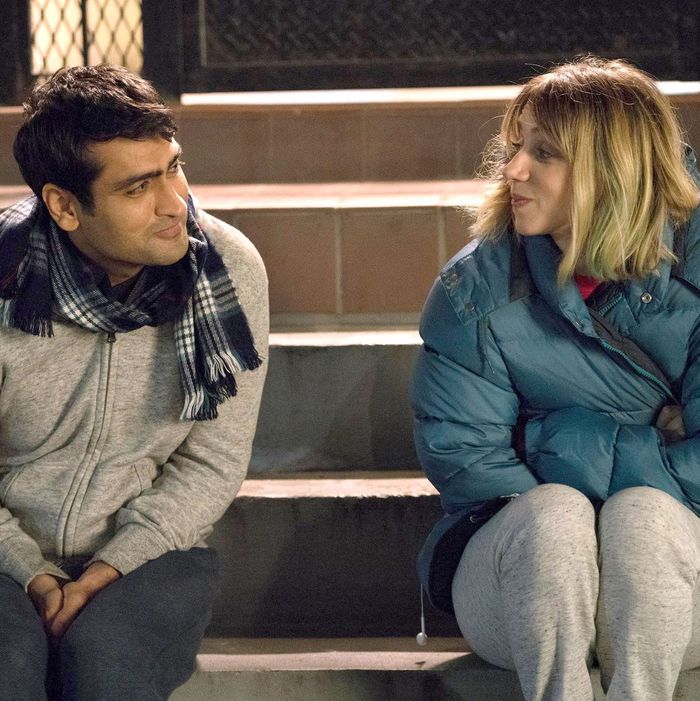 At the beginning of (and during) every month, Amazon Prime adds new movies and TV shows to its library. Below, you'll find our recommendations for November 2017. For more comprehensive coverage of the best titles available on Amazon and elsewhere, check out Vulture's What to Stream Now hub, which is updated throughout the month.
Available November 24
If you're looking for a great rom-com: The Big Sick
It's weird to call a movie about a medically induced coma one of the most delightful films of the year, but The Big Sick contains multitudes. Based on the real-life romance of star Kumail Nanjiani and writer Emily V. Gordon, the story is about Kumail (playing himself) and Emily (played by Zoe Kazan), who fall in love only to break up over his Pakistani family's expectation that he'll have an arranged marriage. And then she's put into a medically induced coma. Despite its somewhat bleak premise, The Big Sick goes for huge laughs, heavy catharsis, deep pathos, and knocks all of it out of the park. And man, Ray Romano and Holly Hunt are really that good. Available November 24.
Available November 17
If you loved Obvious Child: Landline
It's still weird to think of Amazon as a film studio, given the company's increasingly inescapable presence in just about every facet of our lives, but hey, the movies they pick are good so far! Take, for example, Landline. Director Gillian Robespierre's follow-up to Obvious Child, Landline is set in '90s New York City, where a close family is thrown into manic chaos when two sisters (Jenny Slate and Abby Quinn) discover their father is having an affair. Add it to the list of other small personal crises that the sisters have to navigate — a pending marriage, deciding where to go to college — and things just get messier from there. And funnier, of course. Available November 17.
Available November 29
For the Gilmore Girls fans: The Marvelous Mrs. Maisel
Amy Sherman-Palladino's newest series takes us back to 1958 and a woman who has everything she should want — a family, a great New York City apartment, and a pretty bougie lifestyle, as Migos would say. But then her husband leaves her and upends everything, and in the ensuing chaos, she discovers she's extremely funny. Like, stand-up comedian funny. The '50s weren't a time terribly ready for a bawdy, funny women behind a microphone — which actually works out for the show, because it means lots of scenes of lawyers and judges and cops trying to describe the stuff she says in her act with a straight face, and that gag never gets old. It's hard to imagine a better premise for Sherman-Palladino's talents, so The Marvelous Mrs. Maisel is bound to explore some fascinating places. Available November 29.
Available November 1
• A Knight's Tale
• A View to Kill
• Airplane II: The Sequel
• Airplane!
• Altar Egos
• Bad Boys
• Beauty Factory
• Bram Stoker's Dracula
• Chasing the Star
• Crocodile Dundee
• Crocodile Dundee II
• Dances With Wolves
• Diamonds Are Forever
• Die Another Day
• Dirty Work
• Dr. No
• For Your Eyes Only
• From Russia With Love
• GoldenEye
• Goldfinger
• Kiss Kiss Bang Bang
• Legally Blondes
• License to Kill
• Live and Let Die
• Moonraker
• Never Say Never Again
• Nowhere to Run
• No Way to Live
• Octopussy
• On Her Majesty's Secret Service
• Redeemer
• Speed Racer
• St. Elmo's Fire
• The Beautiful Ones
• The Cell
• The Departed
• The Little Tin Man
• The Living Daylights
• The Man With the Golden Gun
• The Peacemaker
• The Pursuit of Happyness
• The Spy Who Loved Me
• The World Is Not Enough
• Thunderball
• Tomorrow Never Dies
• Unforgettable
• Up in the Air
• You Only Live Twice
Available November 3
• The Only Living Boy in New York
• Falling Water Season 1
Available November 4
• Tyler Perry's Boo! A Madea Halloween
Available November 5
• Life on the Line
• The Lovers
Available November 6
• Among Us
• Pearly Gates
Available November 7
• Home Fires Season 2
• If You Give a Mouse a Cookie Season 1
• Fifty Shades of Black
Available November 9
• Thursday Night Football: Seahawks vs. Cardinals
• Armed Response
Available November 10
• Allied
Available November 13
• Baby Steps
• Broken Mile
• Orion
• The Patent Scam
Available November 16
• Thursday Night Football: Titans vs. Steelers
• Shot Caller
Available November 17
• Landline
Available November 19
• Man Down
Available November 20
• Before the Sun Explodes
• Blood Ransom
Available November 21
• Dark Angel Season 1
Available November 23
• Home Remedy Season 1
• The Stinky and Dirty Show Season 2
Available November 24
• Fences
• The Big Sick
Available November 28
• Click Clack Moo Holiday (Special)
Available November 29
• The Marvelous Mrs. Maisel Season 1
Available November 30
• Thursday Night Football: Redskins vs. Cowboys