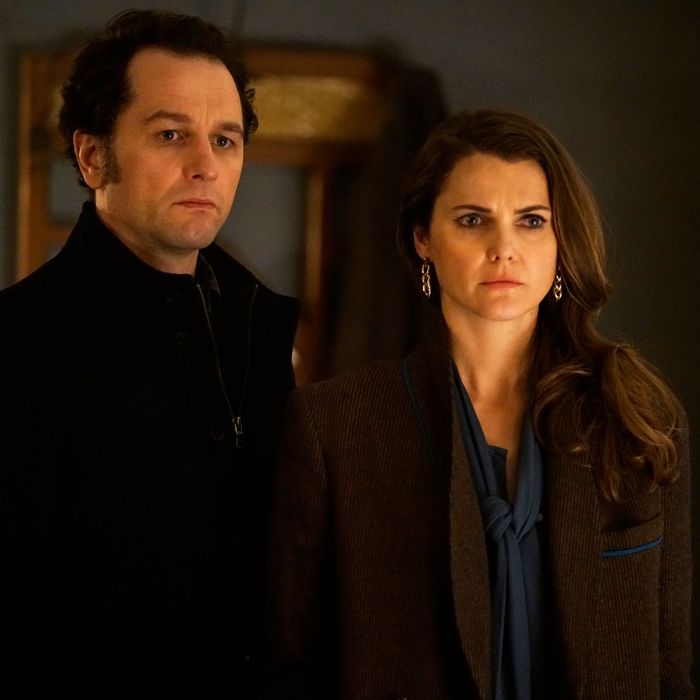 At the beginning of (and during) every month, Amazon Prime adds new movies and TV shows to its library. Below, you'll find our recommendations for October 2017. For more comprehensive coverage of the best titles available on Amazon Prime and elsewhere, check out Vulture's What to Stream Now hub, which is updated throughout the month.
Available October 5
Because it's one of the best shows on TV: The Americans
While a bit more meandering than usual, the fifth season of The Americans still defends its reputation for being among TV's very best shows. As Phillip and Elizabeth Jennings start to contemplate whether or not spies are the sort of people who get to retire, the show's endgame starts to take shape, and the screws all start to get a bit tighter. Since the sixth season will be its last, catching up on The Americans isn't just a good idea — it's a priority. Available October 5.
Available October 20
Because John Cena made a surprisingly great movie: The Wall
Directed by Doug Liman of The Bourne Identity and Edge of Tomorrow fame, The Wall is a spare thriller with a simple, tense premise: Two American soldiers (Aaron Taylor-Johnson and John Cena) are trapped in the desert under the scope of an Iraqi sniper, with nothing but a small, crumbling wall protecting them — and one of them (Cena) is already shot. Small and spare, The Wall takes war movies and scales them down to an excruciating battle of wits between three men and a radio, all waiting for someone else to make a stupid decision first. Available October 20.
Available October 1
If you want to see Christian Bale at his most intense: The Machinist
Right now, Christian Bale is busy eating pies for work. The actor's commitment to putting on and losing weight for roles — he's going to portray Dick Cheney in a forthcoming Adam McKay biopic — but it's The Machinist that put Bale on the map as a diet stunt queen. A creepy, unsettling psychological thriller about an insomniac machinist whose exhaustion causes a workplace injury, Bale plays a man losing time and himself, both figuratively and literally. There's a bit of disturbing imagery in The Machinist, but none of it is unsettling as Bale's starved frame, which is shocking every time you see it. Of course, his performance lives up to the physical extreme the role is famous for, and The Machinist's oppressive and relentlessly ominous tone makes for a great Halloween watch. Available October 1.
TV Shows
Available October 2
• Beauty and the Baker: Season 1
Available October 3
• American Horror Story: Cult
Available October 5
• The Americans: Season 5
Available October 6
• The Fashion Hero: Season 1
Available October 9
• Inside Edge: Season 1 (Amazon Original)
Available October 13
• Lore: Season 1 (Amazon Original)
• Sigmund and the Sea Monster: Season 1 (Amazon Original)
Available October 20
• Red Oaks: Season 3 (Amazon Original)
Movies
Available October 1
• Abandoned Mine
• Alcoholist
• Apartment 1303
• Bunker of the Dead
• Clueless
• Election
• Escape from L.A.
• Fargo
• Ghost World
• Ghoulies
• Ghoulies II
• I Believe in Unicorns
• Invasion of the Body Snatchers (1987)
• Jug Face
• Margot at the Wedding
• Needlestick
• Pet Sematary
• Pet Sematary Two
• Pi
• Queens and Cowboys
• Scareycrows
• Snake Eyes
• Texas Chainsaw Massacre II
• The Machinist
• The Whistleblower
• Unlimited
Available October 2
• Song to Song
Available October 4
• Blood Hunters
• Save My Seoul
Available October 7
• Blair Witch
• Megan Leavey
Available October 11
• 5150
Available October 13
• City of Ghosts (Amazon Original)
Available October 14
• Jack Reacher: Never Go Back
Available October 15
• The Other Dream Team
• The Whole Truth
Available October 18
• Fight for Space
Available October 20
• The Wall (Amazon Original)
Available October 25
• Awaken the Shadowman
• The Liberators
Available October 28
• Arrival
Available October 29
• Priceless