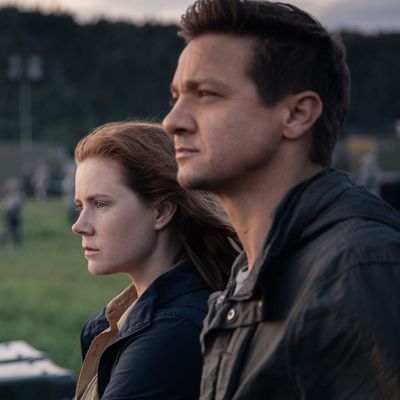 Photo: Paramount Pictures
At the beginning of (and during) every month, Hulu adds new movies and TV shows to its library. Below, you'll find our recommendations for October 2017. For more comprehensive coverage of the best titles available on Hulu and elsewhere, check out Vulture's What to Stream Now hub, which is updated throughout the month.
Available October 28
If you're feeling those Blade Runner 2049 vibes: Arrival
Denis Villeneuve's last film before Blade Runner 2049 is another movie that you might remember for having a pretty substantial twist, but it's also a movie that pulls off the rare feat of having a twist that makes the movie better once you know it. With that in mind, it's a good opportunity to watch Arrival if you haven't seen it since it came out (or if you haven't seen it at all), which is the furthest thing from a chore imaginable. Arrival is a gorgeous, meticulous, absorbing film, the sort that, like Sicario before it, dazzles in its complete and utter competence. Available October 28.
Available October 4
Because it's one of the year's best surprises: Colossal
You should really see Colossal cold, as it's built around a premise that's tremendously fun to see play out without any foreknowledge. But even if you know Colossal's premise and haven't seen it yet, the movie still has plenty of surprises, ostensibly about one thing and then slyly revealing itself to be about something else entirely. Colossal is a terrific delight of a movie, one you should take some time to enjoy as we dive into the fall's prestige fare. Available October 4.
Available October 1
Because it's Halloween, man: Halloween H2O
You should definitely watch a horror movie this month, and Hulu's got a lot to choose from: Most are schlocky gore fests, but a few nostalgic hits are there too. Among them, the one most worth revisiting might be Halloween H20. Admittedly, it'll probably catch your eye due to the recent news that Jamie Lee Curtis will return to the franchise next year — so why not take the time to appreciate the first time she reprised the role? As far as long-running horror franchises go, H20 isn't that bad a ride. Available October 1.
TV Shows
Available October 1
• 30 Rock: Season 1-7 (NBC)
• 60 Days In: Seasons 1-2 (A&E)
• Alone: Seasons 1-2 (History)
• American Pickers: Seasons 1 & 11 (History)
• Ancient Aliens: Season 11 (History)
• Ax Men: Seasons 1 & 9 (History)
• Born This Way: Seasons 1-2 (A&E)
• Bring It!: Seasons 1-3 (Lifetime)
• Chopped: Seasons 14-16 (Food Network)
• Counting Cars: Season 1 (History)
• The Curse of Oak Island: Season 1 (History)
• Dance Moms: Seasons 1 & 6 (Lifetime)
• Escaping Polygamy: Seasons 1-2 (A&E)
• The First 48: Seasons 6, 16-17 (A&E)
• Forged in Fire: Seasons 1-3 (History)
• Hoarders: Season 4 (A&E)
• House Hunters: Season 7 (HGTV)
• Hunting Hitler: Seasons 1-2 (History)
• Prison Break: Seasons 1-5 (FOX)
• Property Brothers: Season 5 (HGTV)
• The Rap Game: Seasons 1-2 (Lifetime)
• Saving Hope: Season 5 (eOne)
• Tiny House Hunters: Seasons 1-2 (HGTV)
• Worst Cooks in America: Season 4 (Food Network)
Available October 2
• Bob's Burgers: Season 8 Premiere (FOX)
• Family Guy: Season 16 Premiere (FOX)
• Ghosted: Series Premiere (FOX)
• The Last Man on Earth: Season 4 Premiere (FOX)
• Shark Tank: Season 9 Premiere (ABC)
• The Simpsons: Season 29 Premiere (FOX)
• Ten Days in the Valley: Series Premiere (ABC)
• The Toy Box: Season 2 Premiere (ABC)
Available October 3
• American Horror Story: Roanoke (FX)
• The Gifted: Series Premiere (FOX)
• Lucifer: Season 3 Premiere (FOX)
Available October 4
• Black-ish: Season 4 Premiere (ABC)
• Fresh Off the Boat: Season 4 Premiere (ABC)
• Kevin (Probably) Saves the World: Series Premiere (ABC)
• The Mayor: Series Premiere (ABC)
• The Middle: Season 9 Premiere (ABC)
Available October 6
• Scandal: Season 7 Premiere (ABC)
Available October 7
• Once Upon a Time: Season 7 Premiere (ABC)
Available October 9
• America's Funniest Home Videos: Season 28 Premiere (ABC)
Available October 11
• Chance: Season 2 Premiere (Hulu original)
Available October 12
• I Love You, America: Series Premiere (Hulu original)
Available October 18
• Freakish: Season 2 (Hulu original)
Available October 21
• Adventure Time: Season 9 (Cartoon Network)
Available October 26
• Neon Joe: Season 2 (Adult Swim)
Available October 28
• Blindspot: Season 3 Premiere (NBC)
Available October 29
• Catfish: Season 6 (MTV)
Movies
Available October 1
• 1492: Conquest of Paradise
• 50 First Dates
• 6 Dead Souls
• A Fistful of Dollars
• A Long Walk Home
• Abduction of Jennifer Grayson
• Across the Great Divide
• Across the Universe
• The Adventures of Panda Warrior
• Alice
• The Amityville Horror
• Another 9 ½ Weeks
• Arlo: The Burping Pig
• Arthur's Missing Pal
• Asylum of Darkness
• Bananas
• Bethany
• Blood Ransom
• Blue Chips
• The Bounty
• Broadway Danny Rose
• Broken Mile
• Brotherhood of Justice
• Bubba the Redneck Werewolf
• Butterfly Girl
• Cabin Fear
• Cabin Fever
• Care Bears: Friends Forever
• Care Bears: Magical Adventures
• Carrie
• Carrie 2: The Rage
• Clueless
• The Confession
• Congo
• Covenant
• The Creature Below
• The Crying Game
• Curious George: A Halloween Boo Fest
• The Cutting Edge
• Deliver Us from Evil
• Deuces Wild
• The Devil's Advocate
• The Devil's Double
• The Disappearance of Alice Creed
• The Disembodied
• Election
• Elephant Kingdom
• End of a Gun
• Enemy at the Gate
• Escape From Alcatraz
• Escape From L.A.
• Everything or Nothing: The Untold Story of 007
• The Faculty
• Fall Time
• Fargo
• Ferris Bueller's Day Off
• Fierce People
• The Final Cut
• Fire in the Sky
• A Fistful of Dollars
• Fly Me to the Moon
• Frances
• Frog Kingdom
• From Dusk till Dawn
• Gandhi
• The Ghost and the Darkness
• Ghost World
• Ghosts of Darkness
• Ghoulies
• Ghoulies II
• The Glass Coffin
• Godzilla
• Godzilla 2000
• Godzilla Against Mechagodzilla
• Godzilla Vs. Destroyah
• Godzilla Vs. King Ghidorah
• Godzilla Vs. Mechagodzilla II
• Godzilla Vs. Megaguirus: The G Annihilation Strategy
• Godzilla Vs. Mothra
• Godzilla Vs. Spacegodzilla
• Godzilla, Mothra, And King Ghidorah: Giant Monsters All-Out Attack
• Godzilla: Final Wars
• Godzilla: Tokyo S.O.S.
• Grease 2
• Guess Who
• Halloween H20: 20 Years Later
• Hatchet
• Heaven Can Wait
• Hellboy
• Hemingway's Garden of Eden
• High Tension
• The Holiday
• Hostel
• Hostel 2
• Hot Pursuit
• The Human Stain
• The Hunted
• Hunting Grounds
• Invasion of the Body Snatchers
• Jesus's Son
• Kalifornia
• Kill Bill: Volume 1
• Kill Bill: Volume 2
• Little Shop of Horrors
• A Long Walk Home
• Love Finds You in Valentine
• Love Hurts
• The Maddening
• The Madness of King George
• March of the Penguins
• Mousehunt
• New Year's Evil
• Ninja III: The Domination
• The One
• Oogieloves: The Big Balloon Adventure
• Out of Time
• Paulie
• Pet Sematary
• Philadelphia
• Pi
• Pieces of April
• Postcards From the Edge
• Pride
• The Punisher
• Rancher, Farmer, Fisherman
• Reds
• Rent
• Road House
• Scream at the Devil
• Snake Eyes
• Southwest of Salem
• Space Guardians
• Species III
• Spy Kids 2: The Island of Lost Dreams
• Spy Kids 3-D: Game Over
• The Station Agent
• Swingers
• Teenage Ghost Punk
• This Binary Universe
• The Uninvited
• Under Siege
• U.S. vs. John Lennon
• The Velveteen Rabbit
• Volver
• Warpath
• Wes Craven Presents: Dracula 2000
• What Lies Beneath
• The Whistleblower
• Yellowbird
Available October 4
• Bad Frank
• Colossal
• Frontera
• Rapture-Palooza
• The Reagan Show
Available October 5
• The Fog
Available October 7
• Blair Witch
Available October 9
• A Long Way Down
Available October 10
• Brotherhood of Blades
Available October 11
• Folk Hero & Funny Guy
• The Lookalike
Available October 12
• Blind
• I Love You Both
Available October 14
• Jack Reacher: Never Go Back
Available October 15
• Bounce
• Cruel and Unusual
• The Crying Game
• The Fly Room
• Get Rich or Die Tryin'
• Jersey Girl
• Like Water for Chocolate
• Mamaboy
• The Other Dream Team
• Orthodox
• This Is Meg
• Undisputed
• Unzipped
• The Whole Truth
Available October 18
• Arctic Adventure: On Frozen Pond
• In the Radiant City
• Isolation
• No Way to Live
• Phoenix Forgotten
• Skating to New York
Available October 21
• Too Funny to Fail (Hulu Original Documentary)
Available October 22
• 2:22
Available October 28
• Arrival
Available October 29
• Priceless
• That Sugar Film
Available October 31
• Midnight Express