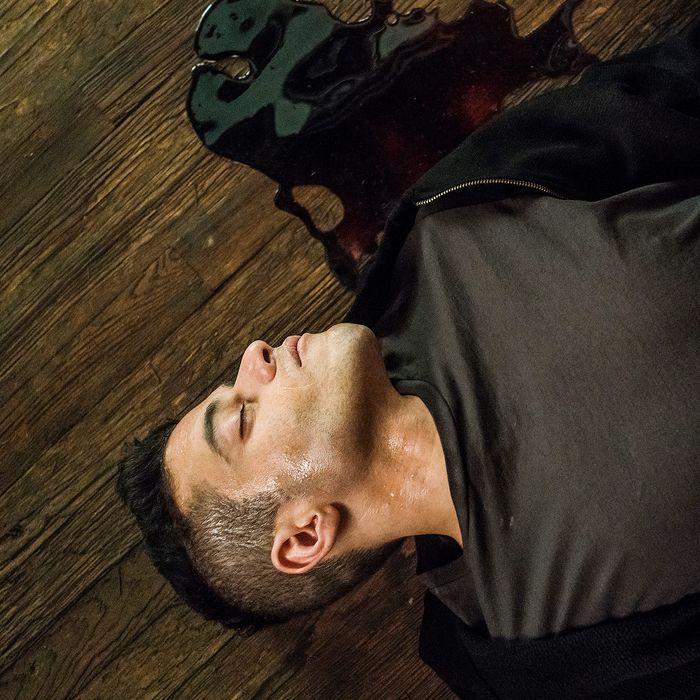 If any TV show wrestles with the nuances of reality versus perception, it's USA's cyberpunk saga Mr. Robot. Still, it had to be jarring for creator Sam Esmail when season two was met with relatively muted enthusiasm. Such is the burden of anticipation. With some of that pressure eased, perhaps season three can hack through the thicket of fall TV and once again decrypt what makes our compulsive viewing habits tick. But regardless of how much you enjoyed Elliot's misadventures with the Dark Army and his darkest self, a breakdown of season two is needed ahead of season three, which premieres on October 11. Before all anarchy breaks loose with fsociety, Whiterose, Tyrell, and the FBI once again, here's how Mr. Robot brought everything crashing down last year.
Elliot Alderson
Our poor anti-hero really is losing his marbles by season's end, which is saying something. Freed from prison (and the completely deluded reality he created to cope with it) after serving time for hacking his therapist's ex-boyfriend, Elliot is reunited with Tyrell, who beams with pride that their plan — blow up E Corp HQ to destroy their physical database, even if it means sacrificing countless human lives — has almost come to fruition. Elliot isn't so thrilled. He's horrified, in fact, at the realization that this carnage was his idea, and tries to pull the plug. (He's also somewhat emboldened by helping take down a Silk Road–style dark-web portal while behind bars, but that's another story.) Tyrell, respecting Elliot's earlier wishes to stop anyone who gets in their way, shoots his idol in the gut, although he doesn't quite kill him. "I love him," he cries on the phone to Angela, who races over to be the first face her childhood BFF sees upon waking up. The big question: Will Elliot be on the hook for not only the virtual attacks of Five/Nine, but outright domestic terror as well?
Angela Moss
Angela isn't in Kansas anymore — or Washington Township, New Jersey, as the case may be. After being kidnapped and subjected to a very bizarre bit of performance art as psych evaluation (only after infiltrating E Corp and helping old pal Elliot and fsociety with their master hack), Angela at last meets her captor, Whiterose. "You, like an annoying penny, keep turning up," Whiterose muses, before seemingly brainwashing Angela into dropping her litigious aims against E Corp and enlisting in the Dark Army. Next thing you know, she's coldly dumping her attorney, slipping into the night, and emerging to help Tyrell orchestrate the next stage of Operation Destroy E Corp and Phillip Price at all costs.
E Corp and Phillip Price
Price took advantage of Five/Nine by strong-arming the Treasury into permitting widespread ECoin loans, ostensibly exploiting a national tragedy for E Corp's gain. This is unwelcome news for China and Whiterose, who leads a double life as Zhang, China's minister of state security, and just helped facilitate the United States' epic financial bailout. Price's plan is to undermine Asian-controlled cryptocurrencies, rebuild E Corp's user base, and usurp the federal government's oversight of how currency and consumerism are derived and data-mined. He'd no doubt be furious to discover that Angela — whom he'd been manipulating all season — has been recruited by Whiterose, who's in cahoots with fsociety to end E Corp for good and bend the world to China's will. It might be enough to make Price wish Whiterose's assassins never murdered his predecessor in the first place.
Darlene Alderson
Elliot's sister need not worry about being in his shadow any longer. During his prison stint, Darlene's high-profile stunts as de facto leader of fsociety (removing the balls from Wall Street's "Charging Bull" sculpture), not to mention her personal loss of composure (killing E Corp attorney Susan Jacobs, who once snickered in the courtroom amid their victory over plaintiffs, including the Alderson family) and panicked oversight (leaving evidence of her connection to fsociety at Jacobs's house), have got her in the crosshairs of FBI Agent Dom DiPierro. Her boyfriend Cisco was offed by the Dark Army, so she's got very few allies left, including her brother, who she now knows is the bureau's second-most-wanted suspect for Five/Nine. The goodish news? The FBI still thinks Tyrell is the architect, so Darlene and her family may not be destroyed just yet.
Dom DiPierro and the FBI
The Dark Army slaughtered a bunch of FBI agents while Dom & Co. were in China visiting Minister Zhang — a trip during which Zhang, a.k.a. Whiterose, curiously tipped her hand to Dom about her obsession with time. Unfortunately for them, they have little wiggle room to cry foul because the rival superpower just rescued the U.S. from insolvency. Not unrelated, the bureau served up potentially key witness Cisco as Dark Army bait after splashing his face across TV screens. Consequently, if they want to get anything out of grieving Darlene, they've got little choice but to loop her in on the Project Berenstain dragnet that threatens her brother's newly won freedom. That, and lean heavily on fragile insomniac Dom, who stands the best chance at outmaneuvering warring geopolitical factions.
Trenton Biswas and Mobley Markesh
Spooked by Romero's death (which, unlike everything else in this series, turned out to be random happenstance) and the rightful fear of FBI agents knocking down their doors, Trenton and Mobley make haste for the middle of nowhere and start new lives as miserable roommates and retail employees. Well, Trenton is unhappy at least, and she's convinced she can reverse engineer the damage of their hack — an altruism that should eventually have her joining forces with Elliot. Ever-timid Mobley is content to ride out their incognito lives. But the arrival of Dark Army operative Leon, fresh off of helping save Elliot in jail, suggests this pair might be joining Angela and Tyrell under Whiterose's sway soon enough.
Joanna Wellick
It was a tough period for Mrs. Wellick after her husband, now thought to be the country's most infamous domestic terrorist, went missing. But a series of phantom phone calls and doorstep gifts gave her hope. Alas, that was all mind games courtesy of vengeful E Corp CTO Scott Knowles, who's still rightly convinced that Tyrell murdered his pregnant wife. Joanna's response? Taunt a weeping Knowles with withering insults until he beats her half to death, then use her battered face as leverage to manipulate boy toy Derek into telling the cops it was Scott who choked his own wife to death. The scene was a brutal actualization of Joanna's typical psychosexual role-play, and poor Derek is one of many pawns in Mr. Robot's chess game for nothing less than absolute power.
Mr. Robot
Is Elliot's alternate personality winning the battle for his mind? That's a debatable point. Elliot didn't exactly squint Mr. Robot out of existence with his elaborate self-delusion during that prison stay. On the other hand, Elliot demonstrates an act of relatively lucid defiance when Tyrell whips out that gun and Mr. Robot pleads with him to go along with the plan and blow E Corp to bits. At season's end, Christian Slater's likeness literally flickers out as Elliot takes that bullet and his most essential hardware malfunctions. We know our deeply disturbed would-be protagonist will reboot, but we don't know whether Mr. Robot will reanimate. If and when he does, how will he try to overwrite whatever neural software is pushing Elliot to undo all the damage he's wrought?