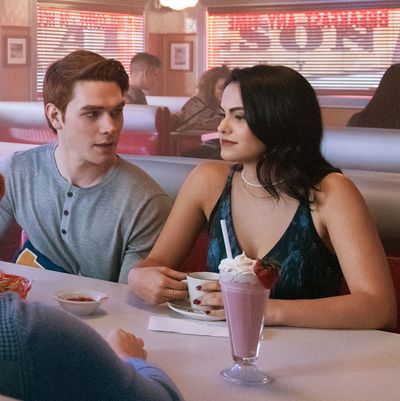 Photo: Dean Buscher/The CW
On its surface, Riverdale is a simple enough teen drama, but look closely and there's all kinds of chaos. Did you remember the part about a maple-syrup business covering up for a heroin ring? Or Betty Cooper's long-lost brother? Or the tertiary character who got shipped off to San Junipero? Before Riverdale returns to the CW on Wednesday night, here's a refresher on where we left off with every major character: Which teens are in relationships? Which teen recently burned down a house? Which teens (and adults) are dead? Study up!
Archie Andrews
Our dumb, bottle-redhead hero finished out Riverdale's first season in shock after his father, Fred (Luke Perry), was shot by a man in a ski mask. We know from Riverdale's showrunner Roberto Aguirre-Sacasa that Fred will be around for the season-two premiere, so it seems that gunshot won't be fatal, though Archie will definitely be dealing with trauma. We hope it doesn't affect his rigorous workout schedule. Elsewhere in Archiekins news, the young ballader broke his hand while smashing through the ice to save Cheryl (K.J. Apa really did break his hand), and went public with his relationship with Veronica, after which the two hooked up while Imagine Dragons played in the background. You know, normal teen stuff.
Betty Cooper
As the first season ended, Betty was dealing with four major shocks: 1) Realizing that the Blossom and Cooper families are, in fact, related by blood, which means that her sister Polly and the late Jason Blossom were third cousins. 2) Learning that her imperious mother Alice gave away her first child, a boy, to a convent after getting pregnant as a teen. (True to Riverdale form, that boy will appear this season and he will have cheekbones.) 3) Seeing her boyfriend, Jughead, accept a jacket (and thus a symbol of protection) from the Southside Serpents, Riverdale's local leather-enthusiast gang. 4) Having rude teens write, "GO TO HELL SERPENT SLUT" on her locker after she wrote an article claiming that F.P. Jones was innocent. Things are not looking good for Betty, which means things are looking good for anyone who wants Dark Betty to come back.
Veronica Lodge
As the last season ended, Veronica was glad she could take things public with Archie, though a bit worried about fallout from her rival turned friend Betty. Mostly, though, she's nervous about the arrival of her father, the shady businessman Hiram Lodge, who's just getting out of prison and will be played by Mark Consuelos. Hermione is also pressuring Veronica to get Archie to get Fred Andrews out of a real-estate-development project, since he and Hiram have beef — Fred and Hermione dated in high school and have recently started flirting again — and Hiram secretly invested in the development project. Veronica refuses, Fred stays in the project, Hiram is coming back, Veronica's rich ex from The Good Wife is coming to town, and we're clutching our pearls wondering how this will all play out.
Jughead Jones
In case you haven't noticed, Jughead is weird and only got weirder over the course of the first season. During the season finale, the Southside Serpents interrupted the show's resident hamburger fan mid-hook-up with Betty to offer him a jacket and induct him into their crew, after his father refused to name Serpent names after his arrest for Jason's murder. Sent to live with foster parents, Jughead has enrolled in Southside High, which is on the wrong side of the tracks, but is otherwise a pretty chill place where Jughead seems to make a few friends. Maybe they'll appreciate his nifty new jacket!
Cheryl Blossom
Poor little rich Cheryl took a note from Mad Men's Joan and lit her family estate of Thornhill during Riverdale's season finale after discovering her family's dark secrets. Specifically, that her father shot her brother and used the Serpents to cover the evidence, because the Serpents were also helping with his maple-syrup business, which was really a front for smuggling in heroin from Canada. Before resorting to the fire cleanse, Cheryl had resigned from her role as head of the Riverdale Vixens and tried to drown herself in a frozen lake before being saved by Archie and friends. Cheryl and Penelope appear to make it out of Thornhill relatively singe-free, which means Cheryl's going to spend a lot of this season rising out of the ashes.
Kevin Keller
The sheriff's son will be a series regular in season two, but he's been pretty boring so far. Kevin just hasn't had much to do since hooking up with the closeted Moose and having a romance with his first-ever boyfriend, Joaquin, a Southside Serpent who ended up getting shipped off to San Junipero. (Say hi to Gugu Mbatha-Raw for us, Joaquin!
Alice, Hal, and Polly Cooper
Like all troubled WASPs, Betty's parents are doing their best to pretend that nothing much has happened at all. This ignores the fact that they just rescued their pregnant daughter Polly out of the Blossom family's clutches, and that Polly's baby is the product of sex with her third cousin Jason Blossom ("Nothing could be more purely Blossom than those babies," sneered Penelope), or that Hal and Alice gave away a son whom nobody wants to talk about.
Hermione Lodge
The Lodge family matriarch got her power back thanks to some shady business dealings with her husband, Hiram. Also back: her husband Hiram! Ahead of season two, Hermione is stuck in the SoDale development venture with both Hiram and her ex turned current flame Fred Andrews. Plus, she keeps trying to get her daughter to use her sexuality to influence Archie to get Fred to do things. Not cool, Hermione.
Fred Andrews
Things are looking bad for Fred, primarily because he was shot by an unidentified masked man and might die, secondarily because his construction firm is involved in a shady development deal with Hermione and Hiram Lodge. To make matters worse, his wife, Mary, is divorcing him and split town for Chicago. Maybe Riverdale will convince Molly Ringwald to reappear in future episodes?
F.P. Jones
Jughead's dad is in jail after refusing to name the Serpents involved in Jason Blossom's murder, which preserves his reputation around town … but still leaves him in jail. Also, remember how Sheriff Keller got F.P. to confess to killing Jason even though all he did was help hide the evidence for Clifford Blossom? Yeah, everyone in town still hates him for that, and they're looking to blame the Serpents for Riverdale's new drug problem.
Josie McCoy and the Pussycats
Josie will reportedly get more to do in Riverdale's second season, which hopefully means she and her friends Valerie Brown and Melody Valentine won't just sing at every local event and occasionally allow random friends to join their band. Other than that, all you need to remember about Josie is that her mother is very intense and that her father doesn't like pop music.
Mayor Sierra McCoy
Mayor McCoy hates corruption and she pushes Sheriff Keller to crack down on it. But also she accepted secret campaign contributions from Hermione Lodge in exchange for a real-estate deal, so she's really more of a "do as I say, not as I do" kind of person.
Reggie Mantle
Formerly played by 13 Reasons Why star Ross Butler, the role of Reggie was recast for actor Charles Melton this season. Will he still be a weirdly intense jock? Yep! Will he have more to do? Hopefully!
Jason Blossom
Still dead.