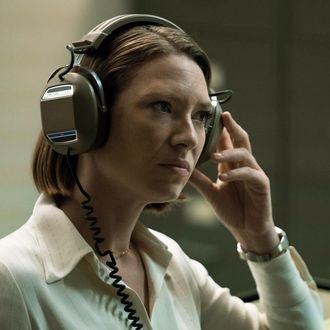 Anna Torv.
Photo: Patrick Harbron/Netflix
The hard-core and forever-loyal fans of FOX's Fringe are already screaming at their phones at the question in the headline above, but Anna Torv was a new face to a lot of TV viewers when they started watching Netflix's Mindhunter this month. There was enough confusion about exactly who was playing Dr. Wendy Carr that a great deal of the internet mixed her up with Carrie Coon, star of The Leftovers and Fargo. The physical resemblance, as well as the speaking pattern Torv chose for Carr, is undeniably familiar, to the degree that Coon even updated her Twitter profile to make it clear that she's not on Mindhunter.
So who is Anna Torv, the actress you thought was Carrie Coon? Though you'd never know it from hearing her speak on Mindhunter, Torv is an Australian-born actress with a surprising name on her family tree — her aunt is Anna Murdoch Mann, who was married to Rupert Murdoch for over three decades. She went to the National Institute of Dramatic Art in Australia (famous alumni include Cate Blanchett, who she's also been confused for), where she graduated in 2001. Before she broke out in the States, Torv appeared in stage productions in Australia and on an acclaimed TV drama called The Secret Life of Us.
Her U.S. breakthrough came in 2008 when she was cast in a new FOX show from J.J. Abrams called Fringe. While Fringe never quite became the cultural touchstone of some of Abrams's biggest hits, it has one of the most remarkably loyal TV fan bases of the new century. Torv was the center of the show as FBI Special Agent Olivia Dunham, a role that clearly built the foundation for Mindhunter's Dr. Carr. If you like what you've seen of her on Mindhunter, go back and check out Fringe. You won't be disappointed.