This piece originally appeared in New York's 50th anniversary issue, My New York – a special edition that attempts to capture the city's voice through first-person stories, spoken and written, about how our disparate lives intertwine. Read them all here.
Whoopi Goldberg lived in the Chelsea-Elliot Houses, where Maria Cortes now lives.
Whoopi Goldberg: I lived there my whole life until I moved to California after I got married. Back then, they were newer projects, or they felt newer. My room was in the back, just a bed and a bureau and windows. When I was a kid, the High Line was still being used to transport things through the city, usually at night. That's what I looked out on. It's a great place to grow up, because we were outside 98 percent of the time, winter and summer. We all were poor, and we all knew it, but it somehow didn't really stop us from doing anything.
Maria Cortes: A neighbor said to me that a lady that is in a television show grew up here and that she became famous and that she took her mom from the projects and bought her a house. I believe the lady next to me knew Whoopi since she was little.
WG: Everybody's parents looked out for everybody's kids, so if you were in the stairway making out, your mom would know before you got finished, you know? You couldn't do shit. And my mom was a Head Start teacher at the Hudson Guild, which was literally downstairs, so I couldn't screw around a lot.
MC: I was 17 when I left Ecuador. I arrived by chance at this apartment in 2004. I lived through domestic violence, and the police took me out of my old apartment. To be honest, I don't like it here.
WG: In my day, you weren't allowed to have air-conditioning, and you couldn't have animals. I thought how funny it would be to call my brother and say, "Dude, they got dogs now!" We had parakeets. My mother thought, If these kids tell me one more time they want an animal, I'm gonna … So she bought birds, and it was great until they heard we had birds.
I haven't been back in almost 40 years. It was hard, because I miss my mom and brother, who are no longer with us. I wish the federal government would take better care of the projects. I think the difference is we never felt warehoused, and I think people are warehoused in these buildings. Just because you're poor doesn't mean you don't want the best for your family.
—Translation by Daise Bedolla.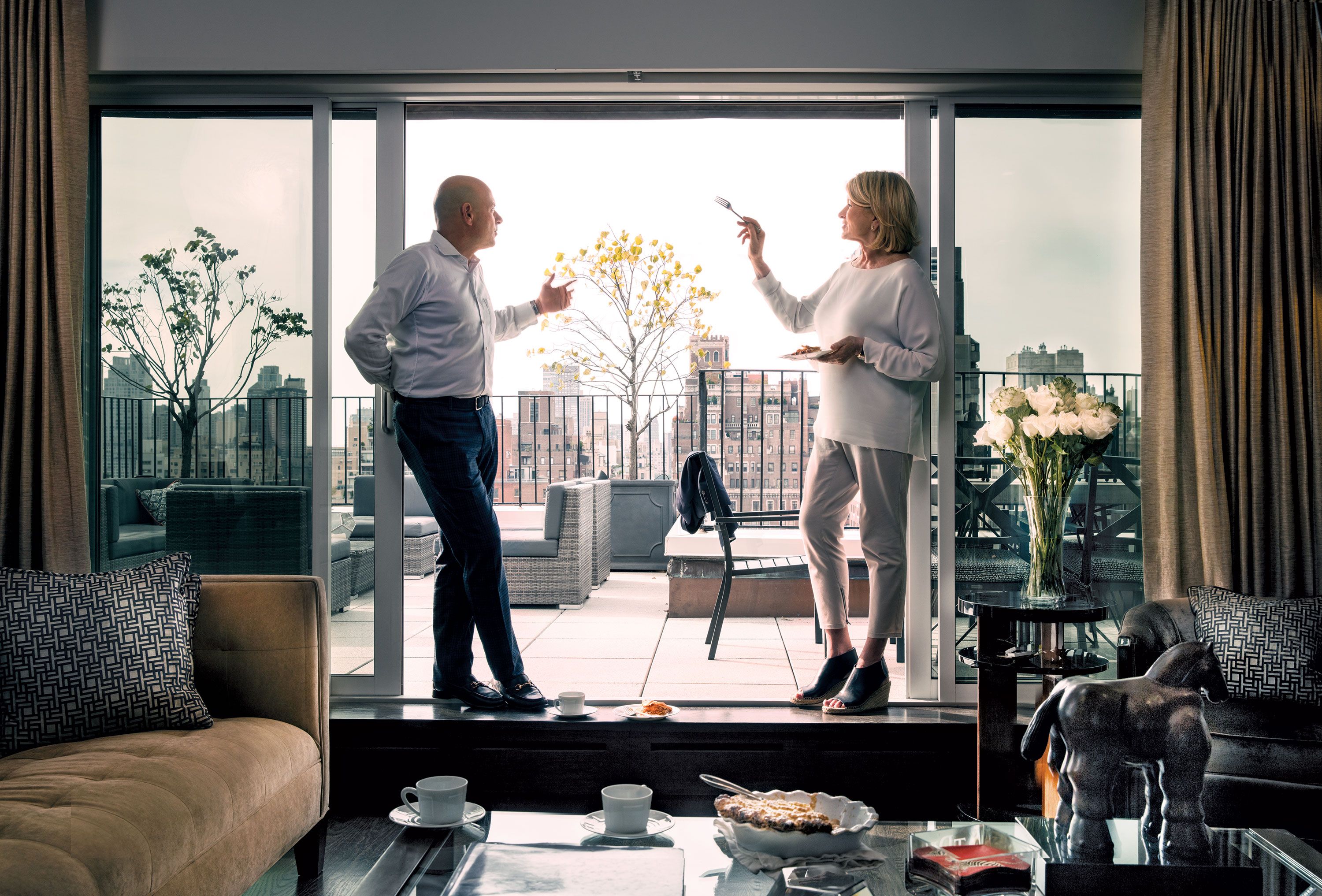 Martha Stewart visits her old Upper East Side apartment, now inhabited by an ex–Real Househusband.
Martha Stewart: That was my first apartment after getting married. I was 19, a student at Barnard College, and my husband [Andrew Stewart] was at Yale Law School. We had the penthouse, on the 21st floor, for a few months. It was pretty classy for a little girl from Nutley, New Jersey! It was quite extraordinary to be so high, with a wraparound terrace; plus it was built as a luxury East Side co-op. It was owned by one of my husband's friends' fathers, who was a honcho at Time, Inc. I think it was $125 a month.
Tom D'Agostino Jr.: I bought the apartment in 2011 and did a full gut renovation that took about two years. Mid-century–slash–Deco décor. Raised the ceiling, changed the terrace around, expanded the footprint of the apartment to make the dining room and the kitchen bigger. Added a second bath.
MS: That apartment was very beautiful and light-filled and airy — and all white, the way it was meant to be. Now it's much more enclosed and dark! Now it has hedges blocking the views, because the views now look into other buildings. And it's more masculine-looking. I mean, he's now a bachelor, isn't he? It's not my style anymore. I was a little taken aback.
TD: Martha baked me a beautiful apple pie with apples she had picked on her own farm, so we had coffee and pie together and spent an afternoon talking. She said the apartment was totally different and remarked what a wonderful renovation.
MS: I knew Tom was on The Real Housewives [of New York City]. That's not my cup of tea, but I know some of the housewives. I think he liked the fact that I brought him an apple pie. He still hasn't returned my dish, though.
New York: Martha, that's my fault.
MS: If you could remind someone to give me back my dish, it would be nice. It's my favorite apple-pie dish.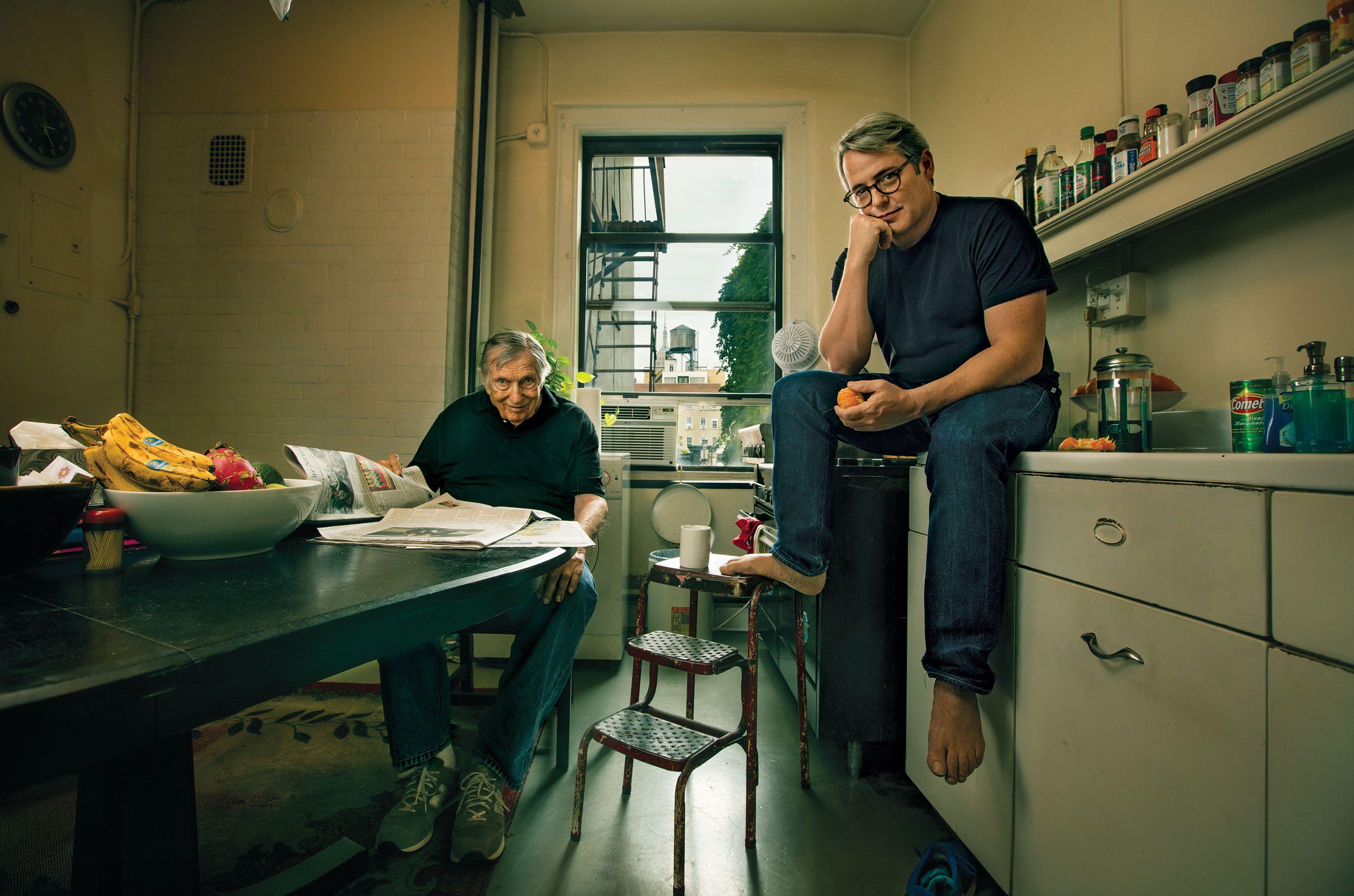 Matthew Broderick lived in this Washington Square apartment, where John Wesley lives now.
Matthew Broderick: We moved there from a few blocks away on Fifth Avenue when I was 4. I lived there until I got my first apartment on my own, in my early 20s. The living room faced the park, so it was all trees and no high buildings. So I watched the Twin Towers go up out of the living-room window. Washington Square Park was a very different place. You used to hear bongos basically all day through the windows in that house. You could not walk through the park once you were a teenager without being offered pot … which was actually, I found, not pot very often. Oregano or mattress filling, like sort of foam. I think I maybe got a teeny bit of pot in that park once, out of about nine tries.
My parents got robbed in the apartment once. A man broke in with a knife and made them get their valuables. There were two fires while I was there. One was my friend's apartment who lived next door to us. The other was on the third floor, below us, where Uta Hagen lived. And I remember that, because my father refused to leave the apartment. He didn't feel it was going to spread, so he decided to stay. I think there was a ball game on.
After my dad died, my mom lived in that apartment with the artist John Wesley. I hadn't seen Jack in about ten years, and he was much older than I thought. I'm glad I saw him. He was her beau for the last several years of her life, and then she died and he stayed, which was a very nice thing for the building to let him do, because the rent would be insane now. When my mom died [in 2003], the rent was still around $800 or $900 because of rent control, and it was four bedrooms with a big living room and an eat-in kitchen.
The kitchen is pretty much exactly the same. I remember every screaming fight. I remember Thanksgivings in that kitchen. I had every first there. I had my first girlfriend there, my first play I was paid for. It's weird that eventually some other family will live in it and that will be that. The house I live in with my family now, it's from 1870, and I'm like, I wonder what happened in here?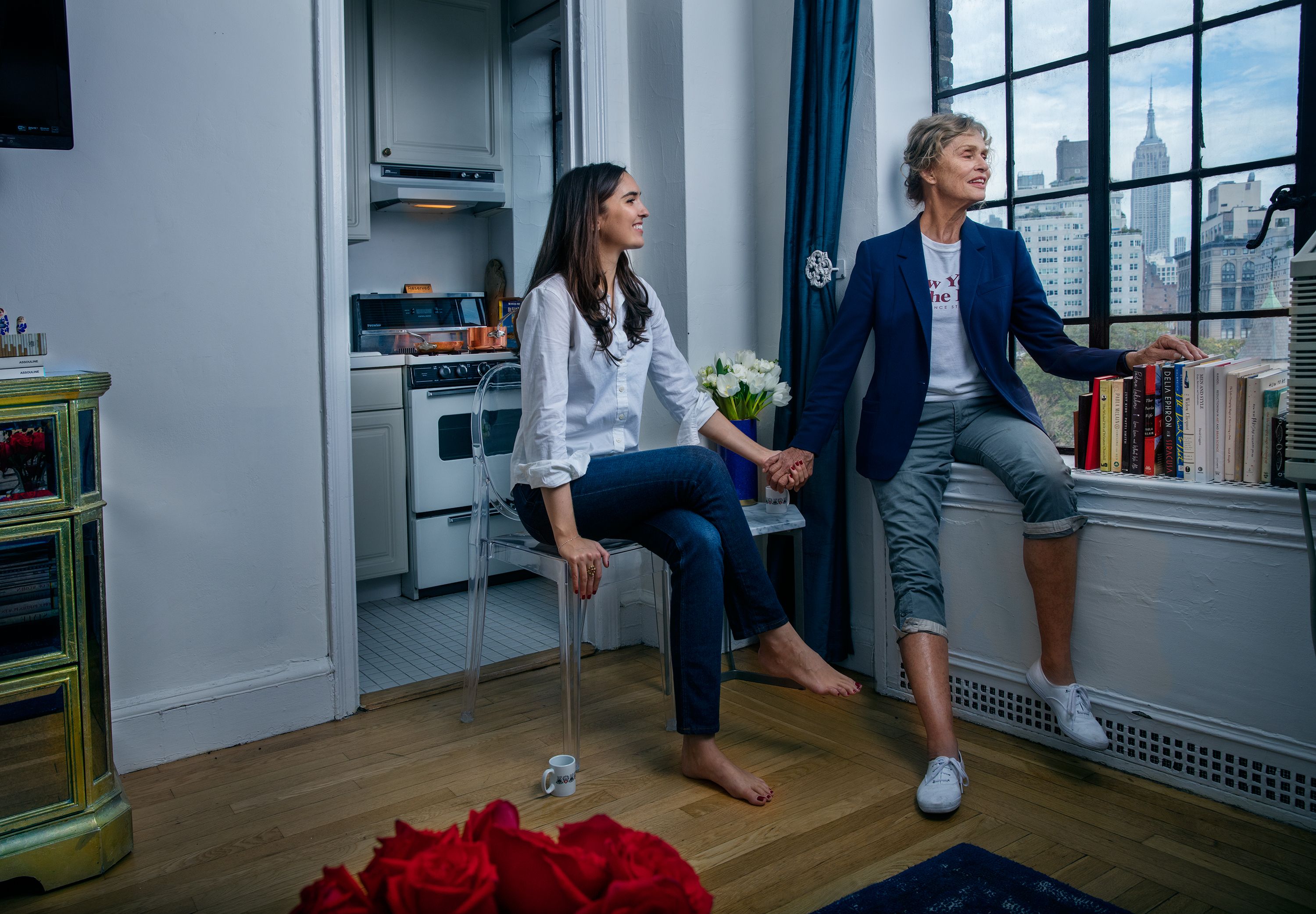 Lauren Hutton meets Lauren Taylor in her old Greenwich Village apartment building.
Lauren Hutton: I was 21, 22, and new to New York, and I wanted to be in the Village so I could see a sky, because I'm a country girl from the South and I couldn't breathe above 14th Street. So I saw an ad and came down. The first apartment I had was in this building with five girls in a three-room apartment and none spoke to me. I had a small daybed under the window in the living room. I got a table and two chairs because I heard from some new people I'd met that you could go to Park Avenue and pick up furniture from the street. Different chairs from different garbage piles up on Park. Then I got this studio apartment upstairs from my old apartment, with a Murphy bed. I made $50 a week, and I was paying $75.
Lauren Taylor: I wish it was still that price! I grew up in Houston, moved to New York six years ago; I work for Bumble the dating app. This my fourth apartment in the city. It's a millennial thing. We move around jobs, we move around apartments.
LH: Across the street was a jail.
LT: It was the only women's jail, I think, in New York.
LH: A woman's house of detention, they called it. It was mostly people who couldn't protect themselves and didn't have lawyers. Their pimps would come by on Saturdays and Sundays. There was a tremendous amount of action. A couple fights you'd see on the sidewalk, but it was amazing.
Another thing that happened around here was there were some brave boys who would wear pink rollers in their long hair. They were called drag queens in those days. But I think it was just brave guys who liked other guys. They were the biggest traffic on Christopher Street, and I would sit in that window a lot and look out and they'd wave up and I'd yell down. It was nice.
Oh, and I lived on pot pies. At the beginning of the week, I would buy six or seven Morton's chicken pot pies that were 27 cents a pot pie. I could cook. I mean, I knew how to take it out of the freezer and put it in the oven and, boy, I was happy.
LT: Were you modeling then?
LH: I was working at Christian Dior as a house model. They had a modeling room on, I think, 36th and Seventh Avenue, and it was just me and another model who was much older than me. She was almost 30, which is weird. Who knew a 30-year-old woman? And she was always trying to get me to go out with her and her executive boyfriend, who I think was married.
LT: Did you have a first boyfriend here?
LH: The first love of my life, and he had, it turns out, a lot of people who thought he was the love of their life.