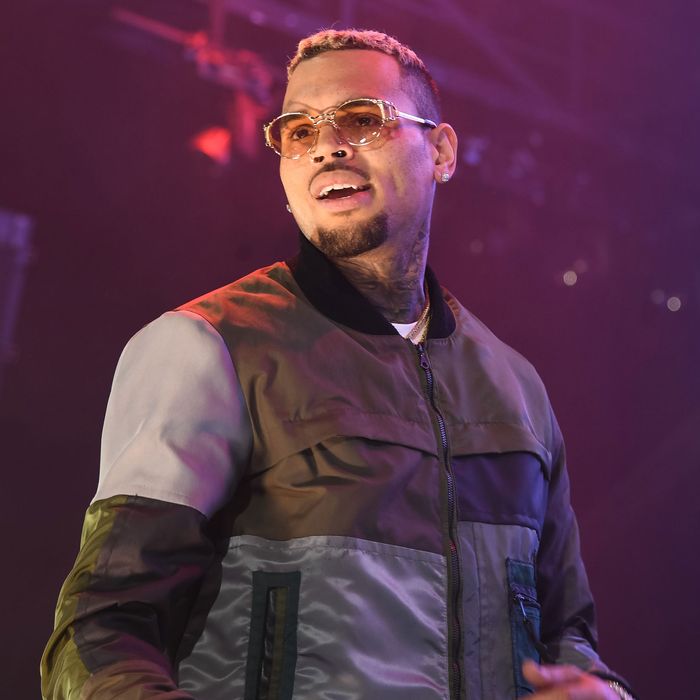 It has 45 songs, but why?
Photo: Dave Kotinsky/Getty Images
Chris Brown is begging you to stream his new album. But at 45 songs, clocking in at over two-and-a-half hours, it's a big ask. You could stream a few episodes of Stranger Things 2 in that time. You could do laundry. You could watch Titanic up until just before Jack dies. You could brunch. Hell, you could even listen to two other albums in the time it would take to finish Brown's Heartbreak on a Full Moon front to back. But it's possible that Brown did not mastermind this double album (his eighth) — or its stunt-marketing strategy — with the intent for anyone to listen to it all in one sitting. The day before its release, he instructed his fans how best to stream some of it so that he can be rewarded for their minimal effort. Why, then, make the album so bloated?
To game the system
Overstuffing albums has become a trick of the music-industry trade in recent years, ever since streaming started driving chart numbers. In 2014, Billboard began counting streaming and downloads toward its album chart, introducing new music currency like the "track equivalent album" (TEA) and "streaming equivalent album" (SEA) to the business. Now, ten downloads equal one album sale, and 1,500 song streams from an album also count for one album sale, even if they come from a streaming service's free tier. Under those new guidelines, mathematically, an album containing more songs has a better chance of "selling" based on streams. (That's especially true if it includes a previously high-streamed single, as was thought to be the sly reason Drake stuck "Hotline Bling" on the end of his 20-song album Views, which broke streaming records.) The RIAA, which awards gold and platinum designations to high-selling albums, adapted the same rules last year. It, too, now counts 1,500 streams as a full album sale; when the rule change went into effect, dozens of albums instantly got their plaques.
Record labels have pounced on the loophole: It's common practice, particularly in rap and R&B (two of the most-streamed genres that also have a long history of long albums), for a track listing to run long. Drake's More Life got up to 22 tracks, while even Zayn's debut had 18. Chris Brown isn't alone in crowding his album even just this month: Ty Dolla $ign's Beach House 3 spans 20, and BIG K.R.I.T.'s 4eva Is a Mighty Long Time is 22. It's possible that without these streaming metrics, these albums would have been this long, but at 45 tracks, Brown's album is the most glaring exploitation of the new system yet.
With this à la carte steaming plan in mind, Brown has opted for a digital release first — in the middle of the chart-tracking week, no less — with a physical copy to follow on Friday. (Brown appears to have badly misunderstood Billboard's chart cycle week, which tracks sales Friday through Thursday.) which He's commanded fans not to listen to the album on iTunes, but stream the hell out of it elsewhere. His Instragram has encouraged fans to sign up for Spotify's free tier and take advantage of Apple Music and Tidal's trial periods for his benefit (and cancel it later on, if you choose). "Stream multiple times and leave the album on repeat," his team writes. Pleading a step further, Brown requests that those suckers who do buy the album "be extra" about it. To "buy multiple copies" but also don't purchase them all on one receipt because his team believes it will only count as a single sale. A sale is apparently all Brown cares about. (That thinking might also be why Billboard has announced plans to more fairly measure the value of streams.)
A career comeback
Chris Brown's last No. 1 album was 2012's Fortune, and it's clear he'd like another. He isn't telling fans to stream this album because he'd appreciate being heard; he wants to pull in the streaming figures that would lift it to No. 1. He says it plainly: "We only have 3 days tracking after release for its debut on the Billboard 200, so no messing around." (Only one of the album's five singles, "Party," previously cracked the Top 40.) Days before the album, in a long statement warning his peers that he'd be more selective about singing their hooks, Brown wrote, "YALL BETTTER [sic] START SHOWING SOME F**KING RESPECT AND ACT RIGHT! I MAKE MUSIC FOR PEOPLE WHO LIKE MY S**T!!!" He continued, "I been here before a lot y'all n****s even knew about real music!" This idea that Brown is still owed something, regardless of his violent history, past accolades, and massively successful career, comes up again in his instructions to stream his album: "We aren't playing nice, we are here to get Chris the recognition and success he deserves." It appears he's cushioned that thirst for redemption with 45 songs.
It's a creative decision
Making 45 songs, after all, is probably not easy, though the habit of recruiting dozens of songwriters and producers for a sole project has created a culture of artists slipping into autopilot. It's possible Brown just could not condense whatever he has to say and, because streaming has very few restrictions, now we're left with this thing. The album format is still in flux: Just last year, Kanye West explored the idea of the "living album" by continuously tinkering with The Life of Pablo after its release. Frank Ocean put out two albums, one that still exists only inside its companion short film. Drake recently made an album, but called it a playlist. Music has always been freewheeling, from trance mixes lasting hours to songs consisting of pure silence, but streaming in particular — and what better artists than Brown have done with it — makes offering up a two-and-a-half hour album feel trite by comparison.