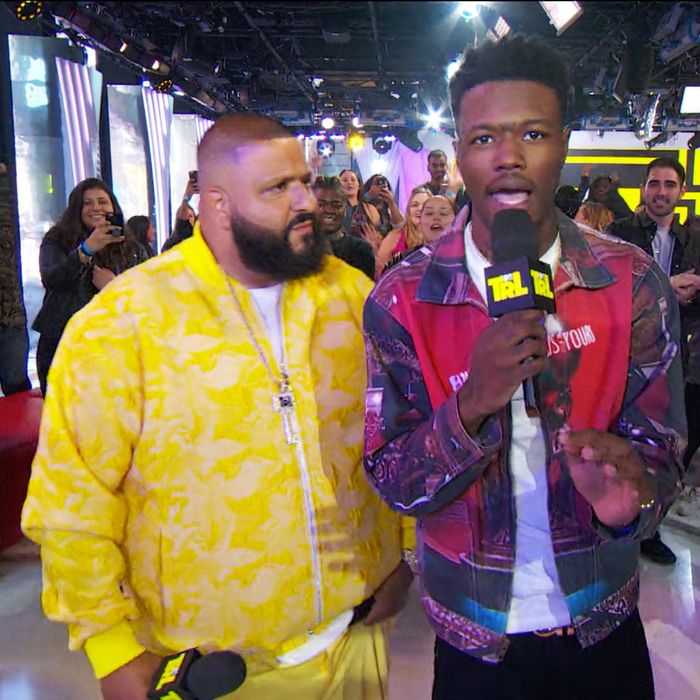 What fresh hell?
Photo: TRL/MTV
On Monday afternoon, right on cue with the school day's final bell, MTV resurrected a show you'd be forgiven for assuming dead: its cornerstone franchise Total Request Live. The show, which broke music news, ignited boy band and female pop star feuds, premiered the biggest music videos of its era, and became the mecca for artists who wanted to matter to the last monoculture, debuted in 1998 as a simple countdown show. Fans would call (call!) in and vote for their favorite artists whose videos they wanted to see at No. 1; in other words, TRL shaped the foundation for the modern fandom economy. But shortly after Y2K, the magic fizzled out.
Its premier host (or VJ, rather) Carson Daly left in 2003, around the time the internet and the changing of the guard in pop, rock, and rap rendered the format obsolete. TRL slogged on for a few more years with a few more hosts until it got the ax a decade after it began. Now, another decade removed from the digital culture that effectively killed the show, MTV has brought TRL back — but it appears to have only taken the L with it. We watched the reboot's premiere so you didn't have to, and we emerged from the experience with nine big questions.
Why does this show exist?
It's fair to argue that MTV knows it forgot about the 'M' in its name, and is therefore making up for lost time. But that would imply that the TRL reboot has anything to do with music. No, the new TRL is music-adjacent: There are musicians and sometimes music gets performed and briefly played by a DJ, but that's where the similarities stop. Not a single music video was shown during the reboot's debut. MTV said that TRL will air the occasional video exclusive, but apparently none were secured in time for the premiere. But what use would such exclusives be when videos go straight to YouTube, Vevo, or Tidal at an artist's discretion? The industry gatekeepers who once made TRL appointment television lost their keys the second videos became directly accessible to anyone with Wi-Fi. And if the incentive is the promise of exclusive interviews, social media will make it so you never have to tune in to see them. TRL in its current form, then, serves no purpose.
Who is this show for?
In its original run, TRL pandered to tweens by airing as they arrived home from school. This was back when most households still paid for cable, kids weren't expected to juggle a dozen extracurricular activities, and millennials got their news from MTV. You had to watch, or else you'd risk being left out of the lunchtime gossip. The new TRL airs at 3:30 p.m. ET, just as it did then. But there is no longer a universally followed schedule that drives kids to the TV. The new TRL also livestreams, so the afternoon crowd might just watch it on their phones. And any viral moment that happens on TRL will be shared on Twitter without MTV ever seeing a single view. MTV has insisted ratings aren't the endgame, but it's still a television network in a digital game.
The new TRL also isn't meant for the now-adult audience who used to watch. Its hosts and contributors are a literal who's who of internet personalities like the Dolan Twins and Gigi Gorgeous, alongside other aspiring VJs, and the musical guests include post-boy-band boy bands and teens like Noah Cyrus. The younger audience might have a general understanding of TRL's significance, but it's not interesting enough to watch when you're growing up with Power 105.1's The Breakfast Club and Complex's Everyday Struggle — not to mention every YouTube star.
Where is the countdown?
Aside from the initial news that it was getting rebooted, MTV hasn't made nostalgia a major selling point for TRL. They so badly want you to know this is not your millennial's TRL that they've done away with the very thing that made it TRL: the countdown. Since there are no videos, there's nothing to count. But it's a shame to pretend as though the medium is dead. There's no need to rank videos the old way — the views already count toward Billboard's charts — but a changing rotation of the best videos might bring back that 'M' people say they miss.
What are we even supposed to request?
With no countdown, there's also nothing to request. In the reboot's premiere, one host mentioned that people can instead request topics to be discussed. (Because looking at Twitter and seeing what everyone's already talking about would be too much of an extra step.) This didn't happen in the premiere, mostly because the show is new and the Las Vegas shooting was news enough. Ed Sheeran requested a song from an up-and-coming artist for the DJ to play, which I don't think we ever actually heard; Migos requested themselves.
Will it always have this much bleeping?
Migos's performance was the show's first, and it's possible that ten words of "Too Hotty" made it onto the air. Censoring rappers on live TV is nothing new, but a better solution would be to ask them to perform an edited clean version so bleeping is limited. This is the only music you're getting on the show — let it actually be heard.
Why do they talk about Carson Daly like he's dead?
Since leaving TRL, Carson Daly has landed a talk show, holiday hosting gigs, and The Voice, the last of which probably makes him known to tweens. Curiously, however, the new TRL seems to think either Daly's career is dead or he is. At one point, the hosts put up a photo of Daly and asked Migos if they know who he is. Since they're each old enough to remember the original TRL, Migos ID'd him immediately. Later, a host admired the fancy new studio, noting "Carson Daly would be impressed." Which just sounds like MTV's way of intimating that Daly wants nothing to do with this reboot.
How will this show handle serious news?
One of the premiere's many missteps was its inability to deal with breaking news. MTV used to have a stable of music journalists — Kurt Loder, Gideon Yago, Serena Altschul, Sway, and more, plus Daly himself — who knew how to handle everything from Aaliyah's untimely death to 9/11. The new TRL had its first major test right out of the gate with the Las Vegas shooting occurring the previous night, and it faltered. The show cold-opened with a vague call to action to visit a website for information about gun violence, when it could've spent the hour doing that very informing. Later, there was brief moment of silence for the victims while producers audibly scrambled to find DJ Khaled's mic; he then gave America a pep talk. The show ended with a twerk challenge (as if MTV didn't nearly kill twerking in 2013), which segued into more boilerplate messaging about the attack. Meanwhile, TRL's showrunner issued an open invitation to have Donald Trump on the show. TRL once championed Rock the Vote (and still does), while the network just last year held a town hall on police brutality. Not wanting to be politically divisive in its first episode makes business sense; adopting a neutral tone on day one doesn't.
Is the audience filled with actors?
Just as it's unclear who is supposed to watch this show, it's even more unclear who would actually show up to see it live in person. Tickets to TRL used to be a hot commodity; young girls would wait in the cold for a glimpse of the Backstreet Boys. Although it's possible Taylor Swift fans would skip school to go see her perform, it wouldn't be to see her on TRL — they'd do it just to see her. Times Square is hell, but there's no way TRL found two (!) people with Ed Sheeran tattoos to be in the middle of it on Monday. (One of whom was absolutely not scripted to say, "My phone autocorrects 'god' to 'Ed Sheeran.'")
How long will it pretend the internet doesn't exist?
TRL was of its moment, but the reboot feels set in an alternate reality void of the internet. Its hosts are social-media stars, tweets are mentioned, and yes, clips from the show are available online, but to watch it presented in real time is a surreal step into the past. Questions lobbed at Ed Sheeran suggesting he's not as famous in America as he is in the U.K., as though the internet doesn't bridge regional gaps, felt out of touch. There's a game even called "Follow, Heart, Block" that treats Twitter like it's newer than it is. And as much as conversations about television happen online, after TRL has already aired, there's little need for it to happen live, or at all.