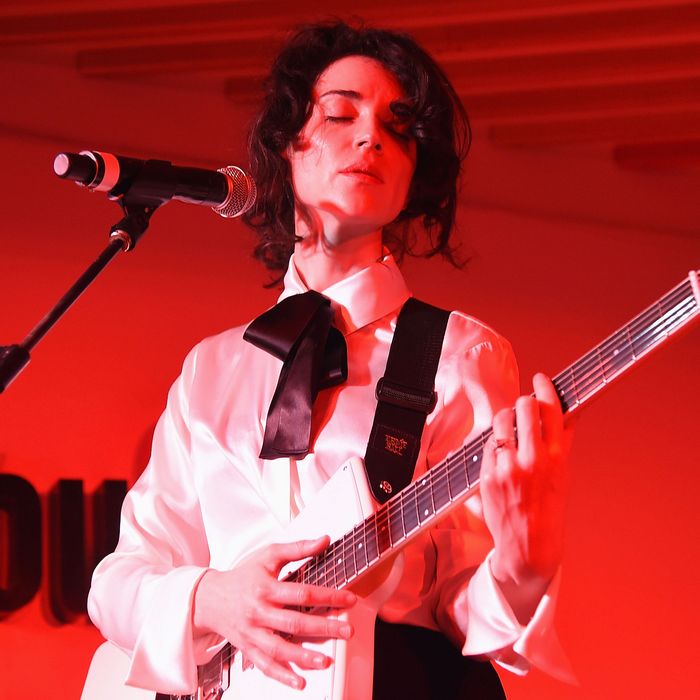 Photo: Michael Loccisano/Getty Images
Classical mythology is malleable. Take the origin of Athena. Was it Prometheus, Ares, or Hephaestus who cleaved open Zeus's head, thus allowing the patron goddess of Athens and future inventor of the flute to spring forth? As usual, it depends on who's telling the tale.
Annie Clark, best known as the rock musician St. Vincent, lacks all the fantastical origins of a Homeric goddess. But the parallels exist, not least in the simple fact that Clark is often placed on the same pedestal that Athena once stood on (i.e., Clark as "art rock goddess," "alt rock goddess," "indie rock goddess," etc.). Like tales of mythology, there's a pliability to Clark and the work she produces. She's an artist with a talent for shifting and shaping a vast array of sounds, effects, and textures. Her last record, the self-titled St. Vincent, featured crunchy chords and bold choruses, with Clark on the cover wearing a shimmering dress and sporting poufy purple-white hair. Meanwhile, her newest effort, Masseduction, does a guitar 180, relying on sparser melodies and cleaner tones.
Clark has been praised as a deft songwriter and arranger, and for having a keen eye in translating her music into a grand visual experience on stage, as she did at the Red Bull Music Academy, where she showcased the new record in full, along with an accompanying array of absurdist body imagery (an ass in a hot pink leotard, floating legs, duct-taped breasts). It's an embarrassment of riches from just one artist. Unfortunately, it also means that her most potent superpower risks getting lost in the lights. Because if you're going to actually refer to St. Vincent as an alt-rock goddess or indie-rock goddess or whatever type of goddess, the least you can do is credit her as one of the most innovative guitar players of our era.
Clark's history with the instrument itself includes a wholesome backstory. She became fascinated with the guitar at an early age after she saw it in the movie La Bamba, and soon began to draw it repeatedly. She would pick up the real thing at 12, and took to it quickly. "The first time I saw her perform — she must've been 15, maybe 14 — she got up in a club in Dallas, sat in with her guitar teacher's band, played 'The Wind Cries Mary' and just blew everybody away," her uncle, Tuck Andress, told the New York Times in 2009. Andress, best known as half of the jazz duo Tuck & Patti, was an important figure during Clark's formative years. Having recognized his niece's talent early on, he invited her on the road as a tour manager and later an opening act. Andress's picking techniques also rubbed off on the young Clark, who at that point was just beginning to formulate her own technique. Years later, she would hone her skills as part of the Polyphonic Spree, and while touring with Sufjan Stevens, experiences that — combined with an appreciation for artists including Marc Ribot and Steely Dan, as well as a love of genres like hair metal and grunge — would provide her with an interest in exploring the outer reaches of what a guitar should sound like.
"In some ways I feel very reverent about guitar. I love it so much," Clark told NPR's Ann Powers at SXSW in 2014. "But I also don't care about it being a guitar or sounding like a guitar." Sufjan confirmed as much in a recent New Yorker profile on his former bandmate: "At that time, there were a dozen musicians touring in my band, and there was always a moment in the set where people could 'take a solo,'" he said. "All the men usually just played a lot of notes really fast. But, when Annie's turn came, she refused to do the obvious white-male masturbatory thing on the guitar. Instead, she played her effects pedals. She made such weird sounds. It was like the Loch Ness monster giving birth inside a silo."
Those freakish notes would soon work their way into Clark's solo material, in songs like "Birth in Reverse," which kicks off with a noise rock chord that she strums on the opposite side of the fretboard; "Surgeon," where she overlays a jazz riff with another guitar section that sounds like she's bending a rubber band; and "Your Lips Are Red," where her guitar is distorted beyond recognition, sounding closer to a power tool than an actual instrument. Frank Zappa's son Dweezil would go on to compare St. Vincent's use of syncopation and distortion effects to that of his late father. "The first thing I saw her do was a version of 'I Dig a Pony' on YouTube – she had two different microphones to create a special vocal effect and the guitar style was really quirky in its phrasing," he said. "She played similar fuzz-tone guitar like on Freak Out! and on [my father's] earlier recordings."
Clark doesn't play the guitar exactly like Zappa or Hendrix or Cobain reincarnated — she's her own amalgamation of disparate genres and artists — but it is telling that we aren't talking about her skills as much as other guitarists seem to be. A lot of that is due to the sheer number of catchy lyrics, synth grooves, and shiny objects she throws our way, but it's also rooted in a history of the music industry at large sweeping female musicians under the rug. As recently as 2010, Rolling Stone included only two women on their 100 Greatest Guitarists of All Time list. Spin's own 100 Best Guitarists roundup from 2012 featured a total of ten women, so perhaps recognition has improved at least marginally since then.
And if it has, Clark would be the reason for it. Eight years and four solo records in, she continues to challenge herself as a musician, as a visual artist, and as a guitar player, providing a shining light for a new generation of both male and female players. "A guitar can be so many things," she said while introducing her first signature guitar in 2016. "For me in my life, it's been a shield, it's been a weapon."