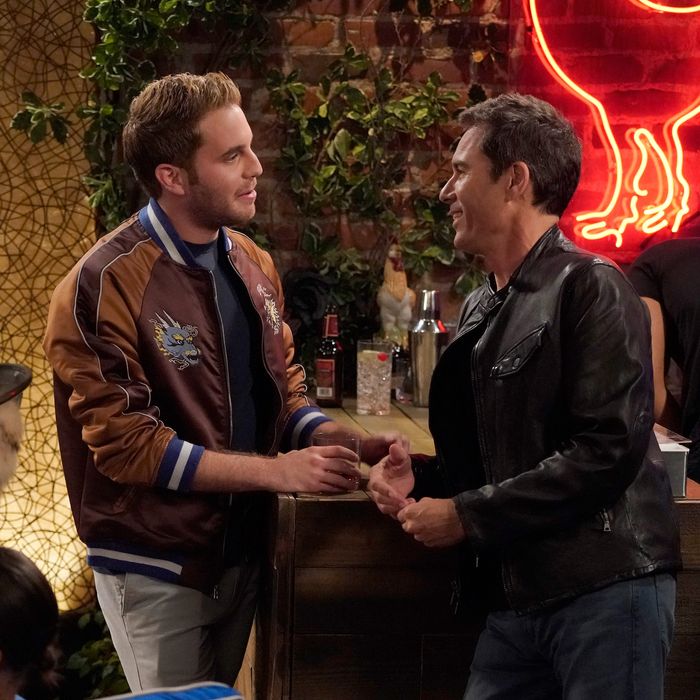 Ben Platt's Blake hits it off with Will.
Photo: NBC/Chris Haston/NBC
After its big return to TV with a very special episode about Donald Trump, Will & Grace feels a lot more loose and lighthearted in its second week. "Who's Your Daddy," in which Will and Jack reckon with their newly discovered status as older gay men, allows the sitcom to simply be itself again. It still lobs plenty of jokes about its modern-day setting, including several about the dynamics of being a daddy, but they work specifically because they develop out of the characters' experiences. Rather than try to be what Will & Grace once was — or what some expected it to be — "Who's Your Daddy" wears its age on its sleeve.
The main plot of the episode finds Will hitting it off with Blake, a 23-year-old played by Dear Evan Hansen wunderkind Ben Platt, who happens to be attracted to Will's anchorman-like good looks and tendency to be overdramatic. Blake, a gentle parody of a coddled millennial gay guy, references E! True Hollywood stories, FaceTimes his friend while on a date with Will, unironically says "Throwback Thursday," and, unforgivably, disparages Madonna. He's a classic one-episode counterpart to Will, who's both flattered by the attention of a younger guy and mystified by his blind spots. It's a solid, old-fashioned W&G structure: Will and Blake give the episode some ballast, while Jack tries kookier methods of seducing younger guys that serve Sean Hayes's talent for physical comedy. (Meanwhile, Grace and Karen get trapped in a shower. You can't win 'em all.)
As much as "Who's Your Daddy" is a comforting return to form, it also finds a surprising amount of material in Will and Blake's fling. The surface jokes about their age difference are funny, but they also offer thematic fuel about the differences between generations of gay men. Will's coming-out story involved his mom crying and his dad drinking (and unrelatedly, his grandmother getting rabies). Blake's divorced parents both threw him coming-out parties on the same weekends, a story so sweet it's irritating. "It's so nice it's practically abuse," Will grumbles. "How's it supposed to get better if it's always fine?"
Blake, as it turns out, isn't even aware of Stonewall, which leads Will to forgo a hookup in favor of a big old lecture about how hard previous generations worked in order to get him the freedoms he has today. While the speech is delivered with a series of sitcom-y jokes, including Will's line about the gays stealing Halloween back from children, there is also a sense of urgency to it. Blake doesn't understand his history. He missed out on crucial gay cultural touchstones. If Will & Grace existed in the world of Will & Grace, he probably wouldn't have watched it.
It's a savvy observation that raises a question about the show itself: How crucial is Will & Grace to gay cultural history, anyway? It did feature network TV's first gay male kiss, but that was only an unromantic peck between Will and Jack. It taught millions of viewers to accept gay characters into their homes, but those characters were generally respectable, cisgender, and white. Will, a well-off, non-flamboyant lawyer, was never portrayed as a radical ready to march in the streets. Even as he tells Blake to respect his elders, we're given room to wonder how much he (and by extension, Will & Grace) really accomplished.
That question has also become part of the larger narrative surrounding W&G's return. In a profile of the show's star quartet, New York Times reporter Brooks Barnes wondered if its "portrait of gay life" would hold up. During the press tour, creators David Kohan and Max Mutchnick promised that the revival would be "woke." Last week's premiere — a kind of political fantasia that ended with a "Make America Gay Again" hat — felt like a heavy-handed way to approach that idea, one which felt out of character for the tone of such a lighthearted sitcom. "Who's Your Daddy" uses that blind spot to its advantage, rather than try to fill it in. Will & Grace's limited perspective matches Will's (and Grace's and Jack's, though not really Karen's), which means the show can mine their confrontations with a changing world for both humor and pathos. If they're now a part of history, as Will points out, history still has something to teach them. Even if it is just about appreciating Madonna.