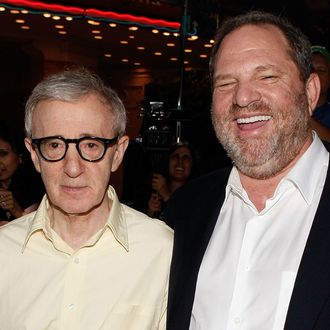 Allen, Weinstein.
Photo: Kevin Winter/Getty Images
Woody Allen's estranged son, Ronan Farrow, has played a pivotal role in bringing to light the decades of sexual harassment and assault allegedly perpetrated by former studio head Harvey Weinstein; his New Yorker piece, published this past week, included allegations of rape from three women and audio of Weinstein coercing one of his accusers, Ambra Battilana Gutierrez, into his hotel room. Now Allen himself is weighing in on the disgraced producer's fast fall from grace, most recently manifested in a revocation of Weinstein's membership from the Academy of Motion Picture Arts and Sciences. "No one ever came to me or told me horror stories with any real seriousness," the Wonder Wheel director told BBC News. "And they wouldn't, because you are not interested in it. You are interested in making your movie."
However, like many longtime Hollywood players, Allen admits he had heard whispers about Weinstein's alleged predatory behavior. "But you do hear a million fanciful rumours all the time. And some turn out to be true and some — many — are just stories about this actress, or that actor," he explains. "The whole Harvey Weinstein thing is very sad for everybody involved," he added. "Tragic for the poor women that were involved, sad for Harvey that is life is so messed up. There's no winners in that, it's just very, very sad and tragic for those poor women that had to go through that."
Allen also expressed concern that the flood of accusations against Weinstein might signal a potential cause for concern for men in general. "You also don't want it to lead to a witch hunt atmosphere, a Salem atmosphere, where every guy in an office who winks at a woman is suddenly having to call a lawyer to defend himself," Allen remarks. "That's not right either. But sure, you hope that something like this could be transformed into a benefit for people rather than just a sad or tragic situation." In 2016, Ronan Farrow published an essay in The Hollywood Reporter revisiting sexual-molestation allegations leveled at Allen by Mia Farrow's adopted daughter Dylan Farrow.
Update, October 16: Woody Allen has clarified his statement about Harvey Weinstein, saying that he doesn't actually feel sorry for the mogul producer. "When I said I felt sad for Harvey Weinstein I thought it was clear the meaning was because he is a sad, sick man," Allen wrote in a statement to Variety. "I was surprised it was treated differently. Lest there be any ambiguity, this statement clarifies my intention and feelings."