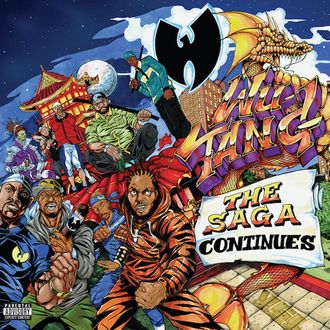 Of all the great ensembles in rap music, the nearly quarter-century-long career of a group of MCs and DJs from Staten Island and Brooklyn called the Wu-Tang Clan has proven to be the most vibrant, entertaining and perplexing. Like the midlife revivals of rappers like Jay-Z and Nas, their continuing relevance also upends the theory that hip-hop has no truck with longevity.
The group's latest album, The Saga Continues, returns the MCs to the same mold as its 1993 debut, Enter the Wu-Tang (36 Chambers). It also marks the first time RZA has relinquished full control to another producer; in this case, Mathematics, the group's longtime DJ. RZA's understudy first emerged in the late '90s, on albums by second-tier affiliates like Killarmy and Cappadonna (who would go on to have a much more prominent place in Wu-Tang's legacy). In the years since, and on solo albums by Raekwon, Ghostface Killah, and GZA, he has produced the kind of bullish solo tracks associated with the group's early days, and proven himself to be a worthy custodian of their brash style, as RZA's production ventured into more experimental, esoteric places. For The Saga Continues, Mathematics went back to the source. He drew inspiration from Enter the Wu-Tang.
The last Wu-Tang group album, 2014's A Better Tomorrow, only occasionally touched on the core ingredients — lyrical wizardry, propulsive crime sagas, and Eastern mysticism — that initially made them so distinctive. It was not overly reverent of the group's history, but it didn't push their sound in new directions either. In short, it wasn't clear why it existed. On The Saga Continues, Mathematics skews deliberately toward the group's founding principles of soul samples, martial-arts dialogue, distorted beats, and criminology. It bristles with the kind of tall tales which characterize their earliest and most poetic work.
Like much of the group's most celebrated albums, The Saga Continues owes little to the year in which it was created. It exists in a bubble, outside of the current trends in hip-hop. Wu-Tang Clan have been around long enough that just adhering to the sound they helped pioneer is a genre in itself.
For the most part, the album is also a reminder to the group's early adopters that the last two and half decades have provided periods of frequently astonishing music. After an initial burst of critically and financially successful group albums, and intricate RZA-helmed solo albums by Ol' Dirty Bastard, Method Man, Raekwon, Ghostface Killah, and GZA, the producer began to outsource beats to producers like Puff Daddy and in-house trainees like Goldfingaz. Method Man's Tical 2000: Judgement Day, released in 1998, featured only three songs produced by RZA, and he was entirely absent from Cappadonna's 2013 album, Eyrth, Wynd & Fyre.
Yet as RZA moved to filmmaking and collaborated with groups outside hip-hop, the Wu-Tang Clan's rappers have proven to be wise stewards of their legacy, occasionally voicing their displeasure at their leader's absences, while steadily releasing albums which tack closely to his original vision.
The Saga Continues is no different: On the most accomplished tracks on the album, Mathematics has created a mosaic of '70s-inspired soul music, and taps each MC to perform on key. The rappers, for the most part, deliver their verses with a mixture of world-weary knowledge and renewed energy. On the intro, over moody strings, RZA croaks: "Check it out, Zig-Zag, 2017, continue like Buck Rogers in the 21st century and we still gotta duck the fucking coppers?" All of this is communicated in a kind of cross-pollinated slang which, nearly 25 years after Enter the Wu-Tang was released, can still leave listeners scratching their heads. As with all Wu-Tang Clan albums, those entrants unfamiliar with the Wu universe might have a steep learning curve ahead of them.
Though The Saga Continues is a strong, cohesive return to form for the group, it also speaks to hip-hop individualism. Each member was able to embark on a distinctive, mostly successful solo career, but when they reunited it was always apparent — even if they faltered — that their creativity was ignited by their unique collaborative relationship. In the Wu-Tang Clan, RZA has assembled a hip-hop orchestra, but it's clear that, decades after their blockbuster debut, they're still accomplished soloists.