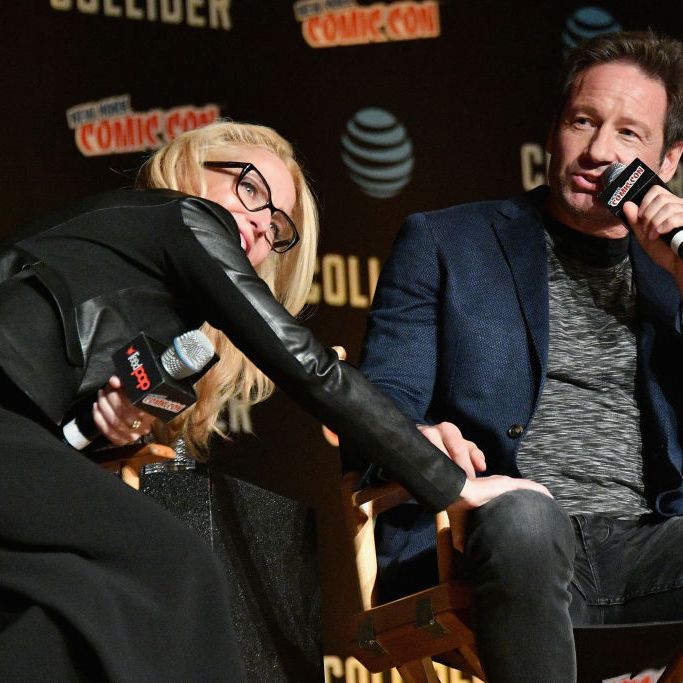 Photo: Dia Dipasupil/Getty Images
Things don't look good for Mulder and Scully in the first trailer for the new season of X-Files, which is set to premiere in January. And yet, all is not lost, since a make-out seems imminent: According to X-Files creator Chris Carter, Mulder and Scully get "kissing close." That news delighted the screaming fans at New York Comic Con, where Carter took part in a panel alongside cast members Gillian Anderson, David Duchovny, and Mitch Pileggi.
For the most part, the group was extremely tight-lipped, even as fans pleaded to give away a couple of spoilers. "You can rage against the machine all you want," Carter said, laughing. "Hang in there!"
But that didn't stop them from teasing. So, in addition to the news about Scully and Mulder smooching, here's what we learned about X-Files' return.
1. Mulder and Scully's son, William, is set to play a "pivotal role." As his parents grow closer, his relationship with them is explored. "It's well-done," said Pileggi, while everyone else was all smiles and darting eyes.
2. The Cigarette Smoking Man is back, though in younger form.
3. Pileggi's return as Walter Skinner, the assistant FBI director who often testosterone-clashed with Mulder, will play a much bigger role than in the previous season. Carter teased an episode dedicated to Skinner's backstory, in which we'll see a younger version of the agent. But "he's still bald!" Anderson dished.
4. Five episodes have been shot so far, but even the show's stars have no idea how the season will end — except of course there will be a cliff-hanger. "Knowing how much [Carter] loves cliff-hangers, I'm surprised we don't have a character called Special Agent Cliff-hanger," Duchovny joked.
5. Don't stop believing — another X-Files movie is a possibility. "Never say never," Carter winked. There was no discussion about another audiobook.
6. Anderson did not dye her hair to get that Scully shade of red. She was surprised at how fans fumed after she wore a wig in the previous season and that it was a lighter hue than the signature Scully red. She's still wearing a wig this season, "but it's redder." Good enough?
7. Manage your expectations as you will, but Carter hinted that this won't be the final final season: "I think there is still a lot of life left in the show."