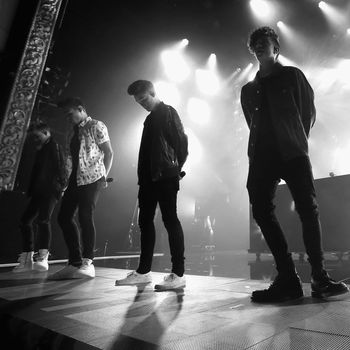 Why Don't We
Photo: Tommaso Boddi/Getty Images for MTV
Ladies and gentlemen, we are about to enter a golden age: a triumphant musical revolution full of screaming fans, earworm melodies, and harmonizing. Lots of harmonizing. A generational rite of passage since the days of Beatlemania and continuing into the '80s with New Kids on the Block, the '90s with the Backstreet Boys and 'N Sync, and more recently, the multi-pronged One Direction phenomenon, the stars are aligning and singles are rising to signal another burst of American boy bands to soothe a weary world. "It just feels like the right time," points out producer Savan Kotecha, a self-described 39-year-old-in-a-teenage-girl's-body. Kotecha, who came of age during the glory days of Backstreet Boys, has been at the forefront of the niche genre for the past decade. (Most notably, he helped turn One Direction into a global musical force in 2009 after co-writing their debut smash "What Makes You Beautiful.") "Not to generalize too much, but teenage girls are teenage girls," Kotecha notes. "One generation has their heartthrobs, and then they grow up. When the next one comes along, they get theirs as well."
Kotecha, like most of the music industry, had lately been resistant to boy bands, going so far as to swear off working with them until One Direction godfather Simon Cowell introduced him to PRETTYMUCH, a band who would later be at the forefront of the burgeoning surge of American bands. But like a dormant volcano, inconspicuously waiting for the perfect time to blow its top, the industry has finally given way to a lava flow bubbling with teenage emotion and saccharine melodies. "The current pop landscape is the perfect breeding ground for the return of boy bands," says Arjan Timmermans, who currently serves as Apple Music's head of pop and points to the current US radio landscape as one reason for the renaissance. "We live in a time that is dominated by introverted pop that in many ways is a reflection of our current political and cultural climate. Boy-band pop is immune to that. It's the perfect antidote for those who want to escape." That particular escape not only continues the boy-band trends of the past, but expands on them as the genre has evolved along with the culture at large. Kotecha says it plainly: "Everything in music is very cool now and I think you need some fun guilty pleasures. Music needs a bit of a shake-up."
PRETTYMUCH
Best described as: 'N Sync, but with early-'90s vibes.
Listen to: "Would You Mind"
Backstory: Spearheaded by music svengali Simon Cowell, the five guys who make up PRETTYMUCH lured a skeptical Kotecha to foster another boy band after spending years in the trenches with One Direction. "I told Simon that if he found guys I'd at least meet them, but I had every intention of not doing it," says Kotecha, who secretly first brought the members to his home in lieu of a studio, where he was working alongside Justin Timberlake and the Weeknd. "I didn't want to bring a boy band in while they were there because I didn't want to lose cool points," he said. However, the guys immediately reminded him of One Direction. "They can bust out a capella song and just kill it, and then I saw them dancing and thought that the world needed this right now. We need real entertainers and they make me think of why I love music in the first place."
Reception: After memorable appearances on the debut episode of the TRL reboot, the Teen Choice Awards and the Video Music Awards pre-show, PRETTYMUCH is leading the boy-band resurgence, thanks to their throwback vibes that bridge the gap between boy-band fans of the past and the current generation. "They perfectly encapsulate the new era," says Timmermans, who's been proactively including debut single "Would You Mind" on Apple's litany of playlists. "It's a tightly produced song with an instantly catchy hook that is driven by pitch-perfect vocal harmonies, intricate dance moves, and just the right amount of swagger."
Why Don't We
Best described as: If teen superstar Cameron Dallas was every Backstreet Boy.
Listen to: "These Girls"
Backstory: For a perfect example of how social media is fueling the genre, and vice versa, look no further than Why Don't We. Their partnership with YouTube star Logan Paul helped catapult the group's slickly produced videos to viral status, with hundreds of millions of views, without a single song on the charts. They're also a favorite of industry insiders like Elvis Duran, the pop champion and legendary radio personality at New York's Z100 who's constantly on the search for what's hot and what's next. "Their sound is really what's driving the charts right now," says Duran of Why Don't We's musical style, which bridges the gap between modern pop and throwback vibes. "I love their image and I think it's interesting they have a huge social following. Modern-day celebrities are created in their own bedrooms instead of by a record label and that's the coolest part of Why Don't We. They made their image by being themselves."
Reception: Impressive, if you're only looking at their viral infamy on social media. But just ask the countless Vine and YouTube stars whose mainstream careers have never taken off as a result of their massive followings. Duran, however, is less skeptical. "They remind me of Shawn Mendes in terms of turning that internet fame into huge worldwide success. This is the boy band to place all your bets on."
CNCO
Best described as: Modern-day Menudo.
Listen to: "Reggaetón Lento (Bailemos)"
Backstory: A force in Spanish-language pop for the past year, the five members of CNCO (who come from all over the United States and Puerto Rico) shot to fame after winning La Banda, a Univision music reality series produced by Simon Cowell and Menudo vet Ricky Martin himself.
Reception: The group has become a global pop force and holds the unique distinction of garnering an impressive one billion views for their runaway hit single "Reggaetón Lento (Bailemos)." Now, the group is aiming a U.S. takeover by releasing a "Reggaetón" remix with Little Mix.
Citizen Four
Best described as: The 98 Degrees of the pack, for better or worse.
Listen to: "Testify"
Backstory: While Citizen Four's sound is more rooted in modern-day pop than any other group on the come-up, the four-member act continues the grand tradition of a quartet playing third banana to two bigger acts. (Think: 98 Degrees during the days of Backstreet and 'N Sync.) "We came together through Island Records and our manager Tim Byrne, who also worked on jump-starting the careers of Fifth Harmony and One Direction," says member Austin Percario of Citizen Four's origins. While their following isn't as big as either Prettymuch or Why Don't We, the act is notable for featuring an openly gay member in Percario, a distinct departure from the past, where coming out of the closet was a risky proposition for fear of alienating a fan base of crushing teenage girls.
Reception: Despite a lack of viral infamy or radio hits, the quartet recently lost a member in Josh Levi, who pulled an "early Zayn" and left the band to pursue a solo career. He was replaced by the singer Mikey Fusco who decided to take the opposite track. As of now, Citizen Four is still working a way to carve out a unique niche in the industry and, if all goes well, are getting those earplugs ready for future masses of yelping tweens. "I'm not sure if you could ever be prepared for loads of screaming supporters that allow us to live out the vision we see for ourselves," says Fusco. "It's definitely something we're looking forward to."
In Real Life
Best described as: One Direction lite.
Notable song: "Eyes Closed"
Backstory: The revolution was televised, and it was on ABC this past summer in the form of Boy Band, an American Idol for the genre that featured Backstreet vet Nick Carter as one of the judges alongside producer Timbaland and Spice Girl Emma Bunton. By the end of the season, the five finalists formed the group.
Reception: Considering the show was an under-the-radar facet of the summer TV landscape, don't count on a built-in fan base once the band moves beyond their meager debut single "Eyes Closed." "All I will say is that you can never bet on a boy band made off a TV show," says Duran. "Time will tell if the group rises to the same levels of success as a One Direction."