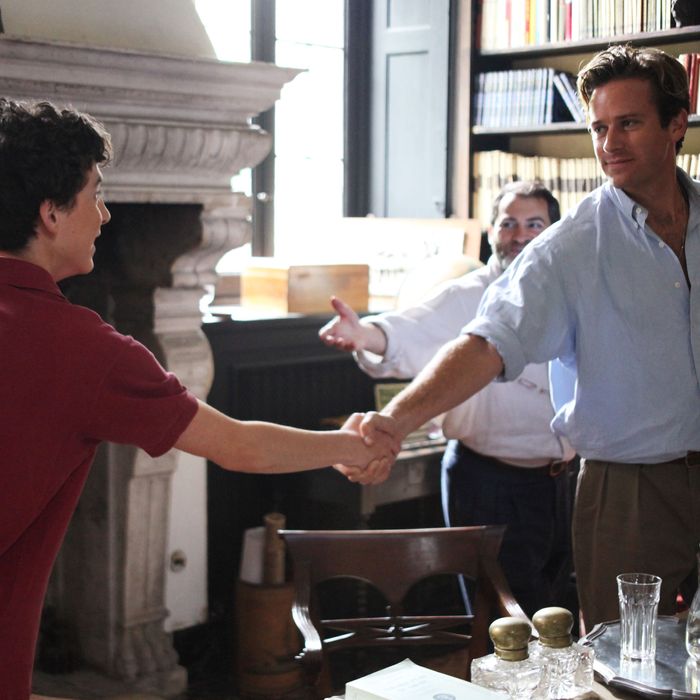 Photo: Sony Pictures Classics
No matter how much you love your family, the holidays can be hard to navigate, especially if you have that family member with those thoughts on "the tyranny of PC culture" coming to Thanksgiving dinner. Fortunately, late November is right in the midst of peak film season, giving you plenty of good reason to escape to the theater or your preferred streaming platform. To make life easier, we've compiled the best movies you can watch this Thanksgiving weekend (which are either available to stream or playing somewhere in the country) and handily grouped them together based on situations likely to befall us all. Grab the popcorn, the gravy, and the familial ennui.
If You Have Kids at Your Thanksgiving and Nobody to Watch Them
Thor: Ragnarok
Taika Waititi's easygoing, people-pleasing Thor installment is not just fun, but hilarious and utterly strange, bringing some much-needed levity to the Marvel Cinematic Universe that a person of any age can enjoy. Our film critic David Edelstein writes, "It's camp that elevates Thor: Ragnarok into the stratosphere … This one is probably my favorite, being the most unlike the others." Plus, it doesn't hurt to expose kids at an early age to the wonders of Jeff Goldblum.
Coco
If telling you that tearjerking-powerhouse Pixar made Coco still leaves you uncertain as to why the movie will be good for kids — and for you — then allow our critic Emily Yoshida to persuade you: "Coco is as indebted to Ratatouille as it is to Studio Ghibli's Spirited Away, but the combination of sensibilities and the colorful, semi-spooky milieu of the afterlife realm where most of the film is set is not at all unwelcome." The music isn't bad either. Yoshida writes that the songs range from "pleasantly nap-inducing" (helpful, in this sense) to "outright rousing."
Jane
2017 really needs Jane Goodall, one of the last model human beings. Plus, who doesn't love watching chimpanzees for an hour and a half? Brett Morgen's documentary about the famed primatologist jumps between footage of her early years in Africa and her life now. Edelstein loved it, noting, "We disagree on many things, but we can all agree on Jane Goodall. Gazing on wild chimpanzees, her patience is seemingly limitless, as if there were nowhere on Earth she'd rather be than perched for hours in her cargo shorts in the wilderness of Gombe."
Faces Places
Since you likely won't be able to escape your house, let French New Wave legend Agnes Varda — and her partner in crime, street artist JR — take you (and the kids) on a virtual road trip through the rural villages of France. "There is a real sweetness to this film, especially in Varda and JR's intergenerational chemistry, and its unfussy tone serves it well," writes Yoshida, adding that, despite some shortcomings, "Faces Places mostly gets by on its insistent simplicity."
Wonder
"Wonder has an overflowing humanism," writes Edelstein about Stephen Chbosky's drama in which Jacob Tremblay portrays a child who is scrutinized over his facial deformities. Not only does the film end up being a beacon of kindness, Tremblay also continues to prove that he "can convey worlds of emotions through understatement," according to Edelstein. While at times melodramatic, our critic found the film moving, leaving him with a hopeful sentiment: "I want to believe that people can be good, if not instinctively good, then by following the right examples, or even through shame at doing bad."
If Your Family Loves Crying in Public
Call Me by Your Name
Luca Guadagnino's gorgeous, wrenching Call Me by Your Name won over Sundance in January, and audiences haven't stopped showering it with praise since, with many (including our own Kyle Buchanan) pegging it to be an Oscar front-runner. Like the best Oscar darlings of the past, this one is for sure going to make you cry. The romance slash coming-of-age story is so powerful that once filming wrapped, star Armie Hammer was genuinely devastated to be leaving the shoot.
Lady Bird
Another Oscar contender, another nostalgic drama. This directorial debut from Greta Gerwig is about the last year of high school for one teenage girl (Saoirse Ronan) and is "nearly perfect" according to Edelstein. "Gerwig has a gift for skipping along the surface of her teenage alter ego's life and then going deep — quickly, without fuss — before skipping forward again, evoking the tempo of a life lived whimsically but over an emotional abyss." Bonus points if you see this (and cry) with your mom.
The Florida Project
Sean Baker's film about impoverished kids blissfully living in an Orlando motel among the shadows of Disney World will have you shedding tears, not just because of its gut-punch ending, but also because its young stars are insanely adorable. "This is a near-perfect film," writes Yoshida, "and a heightening in every way of everything that was great about Baker's last movie [Tangerine]."
The Meyerowitz Stories
What better way to spend time with your family than to watch Noah Baumbach's drama about a highly dysfunctional one? Dustin Hoffman, Ben Stiller, and Adam Sandler give moving performances as Upper East Siders coming together and (sort of) reconciling past grievances. Yoshida writes, "This unhappy movie family ends on a kind of elliptical, life-goes-on note that so many unhappy movie families have ended on before. But what a lovely note that is." (Stream The Meyerowitz Stories on Netflix.)
Mudbound
"Mudbound could have easily turned out as a kind of dusty, respectable period drama that looks important while advancing nothing," writes Yoshida, "but it exceeds expectations with every new layer." Dee Rees's 1940s period piece follows the lives of interconnecting white and black families in the rural South; institutional racism and the effects of war make for a profound, crushing tearjerker. (Stream Mudbound on Netflix.)
A Fantastic Woman
This indie is a vehicle for its star Daniela Vega, a trans actress who Buchanan, among others, thinks may make Oscar history with a potential Best Actress nominaion for her knockout performance. Vega is Marina, a trans woman mourning the loss of her boyfriend, Orlando, in the face of his scornful family. While the film is occasionally frustrating, Yoshida finds Vega's performance to be not just fantastic, but extraordinary: "The sidelong glances she gets even from the most well-meaning people she crosses paths with is enough to make anyone want to hide out at home in sweatpants forever in sympathy; that Marina keeps making herself an inconvenience for Orlando's horrible family is enough to make her a worthy heroine."
If You Want to Kickstart That Political Conversation Everyone Has Been Avoiding
The Death and Life of Marsha P. Johnson
David France's documentary investigates the death of the eponymous trans icon and activist, which was controversially ruled a suicide despite little investigation. Edelstein found the film to be shattering yet enthralling detective work, adding, "I hope the film inspires a new generation of amateur sleuths" so that "the injustices of history will stand plainly in the living present." (Watch The Death and Life of Marsha P. Johnson on Netflix.)
One of Us
The latest film from Rachel Grady and Heidi Ewing follows three people as they attempt to leave the Hasidic community in Brooklyn, only to be greeted with varying degrees of harassment, intimidation, and exile. Edelstein found the film fascinating, noting that the co-directors "use music as scary as in any horror film," with "no interest in making an objective documentary." (Stream One of Us on Netflix.)
A Gray State
Erik Nelson's documentary follows aspiring filmmaker and alt-right conspiracy theorist David Cowley's descent into paranoia, which resulted in his suicide and the murder of his wife and daughter. The film is extremely dark, and Yoshida noted how it expertly points to the ways that gun and war culture influenced Crowley, writing, "What's ultimately troubling about A Gray State is how familiar all this is, and how, no matter how off the deep end he ultimately goes, David Crowley is merely an extreme example of something already deeply embedded in politics and Hollywood."
Novitiate
In Margaret Betts's 1964-set drama, the pursuit of a fledgling nun (Margaret Qualley) to commit her life to loving Christ evokes eroticism and obsession. Edelstein praised the film's provocative material, noting, "Betts has succeeded in capturing a watershed moment in the life of the Catholic Church — a push to adapt that is, in important ways, at odds with its very origins. Her irresolution makes for excellent drama."
Three Billboards Outside Ebbing, Missouri
Martin McDonagh's mouthful of a movie may veer into gory surrealism, according to Edelstein. But, as he writes, "The movie is instantly gripping, a finely calibrated mixture of foggy melancholy and quirk, the rude comedy pushing at the boundaries of the tragic premise." That tragic premise: A girl has been raped and killed, yet the police have made little progress, stirring her mother (Frances McDormand) to buy the titular billboard space to publicly question the delay. Come for McDonagh's signature mix of dry comedy and gratuitous violence, stay for McDormand's Oscar-worthy performance.
If You Need An Extremely Dad Movie For Your Dad
Last Flag Flying
Leave it to Richard Linklater (a top-tier Dad filmmaker) to make a war movie (always good Dad fare) into a road-trip flick (even better Dad fare). Vietnam vets Steve Carell, Bryan Cranston, and Laurence Fishburne journey to bury Carell's son, who perished in the first years of the Iraq War. "Although the banter is high-flying, it's a grim slog from the semi-stupor of grief and age (and alcohol) to something that acknowledges even the possibility of transcending the misery of 21st-century America," writes Edelstein. "The movie is so laden it's hard to endure. But worth it."
Roman J. Israel, Esq.
Dan Gilroy of Nightcrawler fame has combined the solid Dad elements of a crime drama and a legal film into one package, and gotten the always-excellent Denzel Washington — whom your Dad (and, okay, everyone) loves — to star. And, as Edelstein writes, it's a bit old hat, but takes some surprising turns: "This is a formula movie but Gilroy is no hack. He hits the expected beats but with more color and depth than you expect. The legal issues seem thought-through. And he comes up with a doozy of a twist, which leads to a sharp, vise-tightening final act."
My Friend Dahmer
For the Dads fascinated by serial killers, Marc Meyers's biographical film follows the infamous Jeffrey Dahmer (Ross Lynch) in his formative, pre-murder, necrophilia period. "Damned if My Friend Dahmer doesn't offer a fascinating Portrait of the Artist as a Young Freak," writes Edelstein, adding, "It would be misleading to call My Friend Dahmer 'entertaining,' but I got off on its fuzzy sense of dread, its poker-faced ghoulishness."
Darkest Hour
Dads around the nation stack their bedside tables with biographical tomes about Winston Churchill, so why not treat the Dad in your life to Joe Wright's film, in which the unrecognizable, at times inaudible Gary Oldman stars as the celebrated prime minister? As with many Great Man Biopics, Yoshida finds the film lacks some nuance, but writes, "If all this makes Darkest Hour propaganda, then the shoe may fit, though it's hard to find fault with its protagonist's aims, at least in this small of a scope."
Brimstone and Glory
Dads love turkey almost as much as explosions, making Viktor Jakovleski's 67-minute documentary about the National Pyrotechnic Festival in Tultepec, Mexico, a perfect watch after Thanksgiving dinner. The annual festival is a remarkably unsafe spectacle in which fireworks bombard the sky, an exhibition Yoshida finds captivating, poetic, and frightful: "The people of Tultepec, the visitors, and Jakovleski all seem to understand that pain and injury are the price to pay for this tradition, and the pride of the town."
If You Want to Genuinely Horrify Everyone Around You
The Killing of a Sacred Deer
Yes, Yorgos Lanthimos and Colin Farrell's second film together is that messed up – just wait until the last scene to find out how messed up. Without revealing too much, we'll tell you that Farrell's doctor is haunted by the slightly annoying, very scary Martin (Barry Keoghan) in a world where great harm can be inflicted on others without any explanation and everyone speaks in emotionless deadpan. This will certainly screw with your family, and you'll absolutely get a kick out of it, too. As Yoshida writes, "To see an unfettered nightmare like this from such an idiosyncratic director feels like a cruel treat, and a welcome stylistic stretch."
If You Just Saw 'The Killing of a Sacred Deer' and Need to Feel Better
Joan Didion: The Center Will Not Hold
So you made it through Killing of a Sacred Deer? Are you doing alright? Well, Griffin Dunne's documentary on his aunt Joan Didion, the famed writer and reporter, is an informative and beautifully distracting watch for you. "Based around interviews with Didion herself, as well as her contemporaries and devotees," writes Yoshida, "The Center Will Not Hold is a loving late-career tribute that never feels overstated." Also, this film has informed the world that Harrison Ford was once Didion's carpenter! Isn't life funny and not horrible, like in Killing of a Sacred Deer? (Stream Joan Didion: The Center Will Not Hold on Netflix.)
Our Souls at Night
Nothing mends psychological damage like Robert Redford and Jane Fonda. The two reunite here in "a contrived but surprisingly enjoyable return visit with two frequent co-stars and a few other wonderful actors," writes Edelstein. The two play widowers who eventually get together, and "the good vibes linger," our critic adds. "Netflix is putting the film in a few theaters, but it's online now to watch. You should. It's a nice little movie." (Stream Our Souls at Night on Netflix.)
Jim & Andy: The Great Beyond
While this isn't a feel-good movie like the two above, Chris Smith's doc will let you get lost in the mind of Jim Carrey as he gets lost in the mind of Andy Kaufman. Using archival footage of when the actor went crazily Method portraying the late, great Kaufman in the 1999 biopic Man on the Moon, Carrey offers modern-day commentary on his performance and the toll of being a celebrity. Edelstein found the film to be not just amazing but sadly revealing, writing, "You come away from Jim & Andy wondering — not for the first time — about the cost to great artists of what they do, envious of their talent and thinking, 'I'm glad that's not me.'" (Stream Jim & Andy on Netflix.)