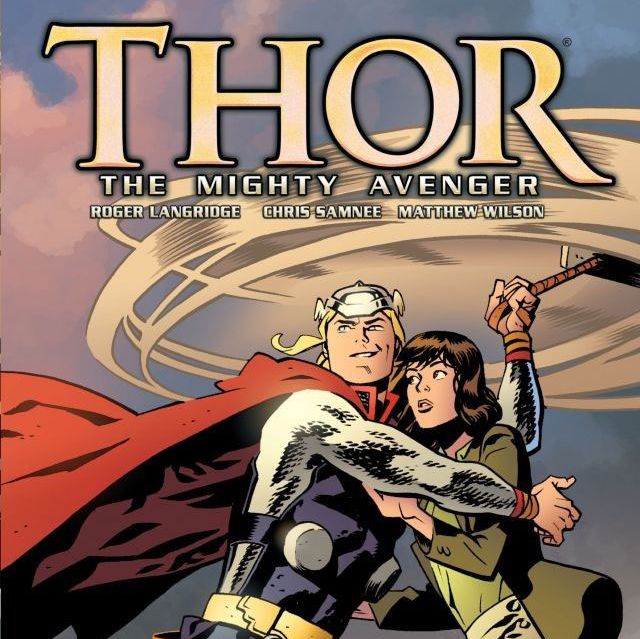 Excerpt from
Thor: The Mighty Avenger.
Photo: Marvel Entertainment
By Odin's beard, the flaxen-haired Odinson hath returned! Thor: Ragnarok is about to hit theaters, thus adding a new installment to 55 years' worth of sagas about Marvel's premier thunder god. If you're looking to bone up on the comics from whence he came or want to keep your Asgardian buzz going after the final credits roll, here are five great Thor comics collections toward which you can swing your mystical uru-metal hammer and fly.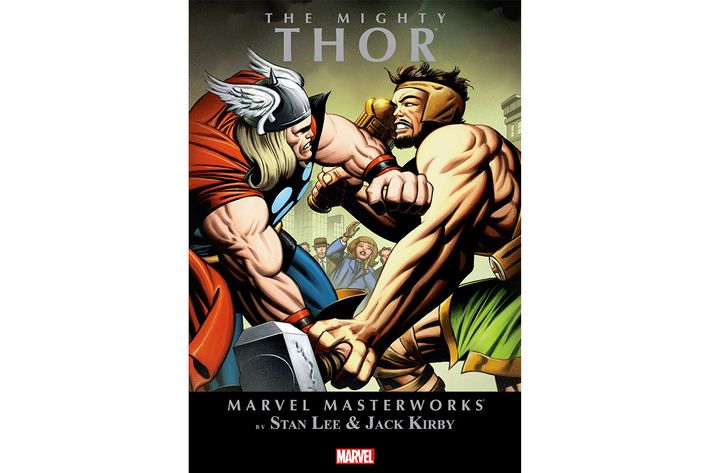 Thor Masterworks Vol. 4
The comics within this book weren't exactly where Thor's journey began, but they're the best entry point for his first era. The character — a dashing adaptation of an existing Norse deity — was co-created by writer Stan Lee and writer-artist Jack Kirby in 1962, but in the latter half of the decade, their work kicked into high gear. Lee had a gift for dialogue that mixed the faux-Shakespearean with the faux-mythological (e.g. "Now shall you learn that Hogun's wrath is more to be feared than the pillars of Utgard! Thy fate is sealed, mutineer!"). His partner, Kirby, was arguably the greatest comics creator of his time, and his grand narrative structures and explosive artwork are here given the freedom that only the wars of gods can offer. Each issue's main story is fun, but the real treats are to be found in the short backup "Tales of Asgard" features, which feature a version of this weekend's film's titular Ragnarok.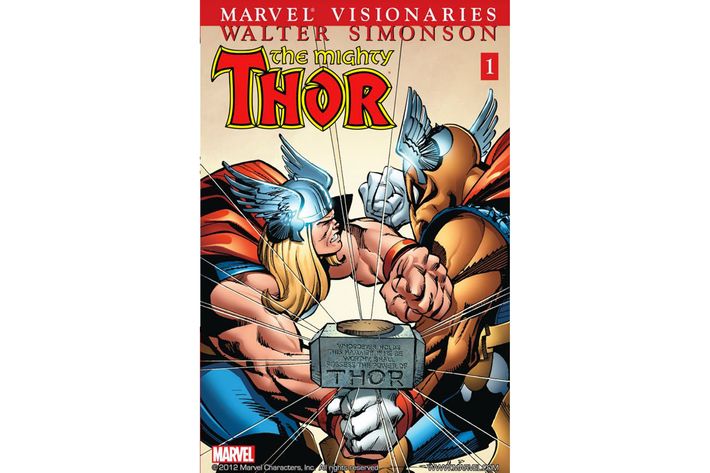 Thor Visionaries: Walt Simonson Vol. 1
Walt Simonson is to Thor what Pelé was to soccer. From 1983 to 1987, the writer-artist was at the helm of the monthly The Mighty Thor comic series, and in that time, he crafted a legendarium that is near-universally regarded as the character's greatest cycle of stories. Pick up this volume to watch things start with a bang: Thor is sent by S.H.I.E.L.D. to investigate the appearance of a mysterious spaceship, only to find it populated by a horse-headed extraterrestrial brawler with the delightful moniker Beta Ray Bill. When he and Thor go toe to toe, Simonson's pencils seem to shake the very page, and that kind of kinetic energy permeates every slugfest in the book. But if you come for the action, please stay for the top-notch humor, gentle character-building, and saucy love-triangling. You'll find yourself ravenous for more Walt, and luckily, there's plenty to go around.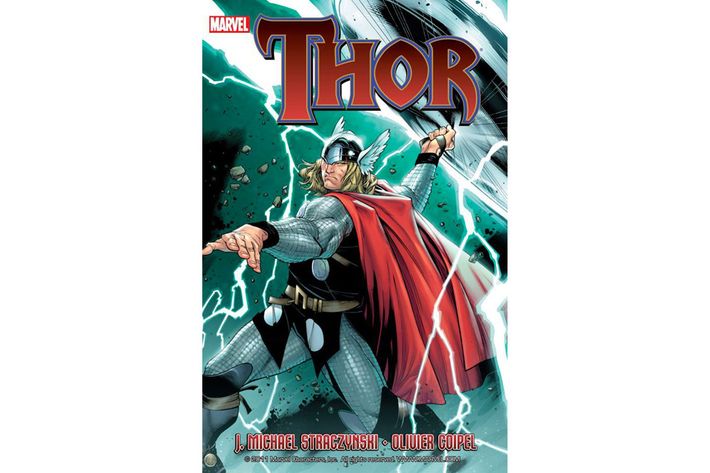 Thor by J. Michael Straczynski Vol. 1
In the middle of the aughts, Thor was in a rut. The character was iconic, of course, but his stories felt flat and his schtick seemed tired. So, in a then-controversial move, Marvel canceled his title and put him on the sidelines in 2004, leaving him mystically hibernating and presumed dead to his friends. Of course, this is superhero fiction, so he had to make a return, and when he did, the results were rapturous. Writer and Babylon 5 creator J. Michael Straczynski was tasked with relaunching Thor in 2007 alongside penciler extraordinaire Olivier Coipel, beginning a long and acclaimed run from Straczynski. In this first volume of the rebooted Thor saga, the god's mortal alter ego Donald Blake retrieves Thor from his realm of slumber, but once he's back, it's unclear what his place is in a Marvel universe that has changed drastically since he made his exit. Though it's Straczynski's name that's on the cover, don't underestimate the contributions of inker Mark Morales and colorist Laura Martin, two of the godliest creators the comics industry has to offer.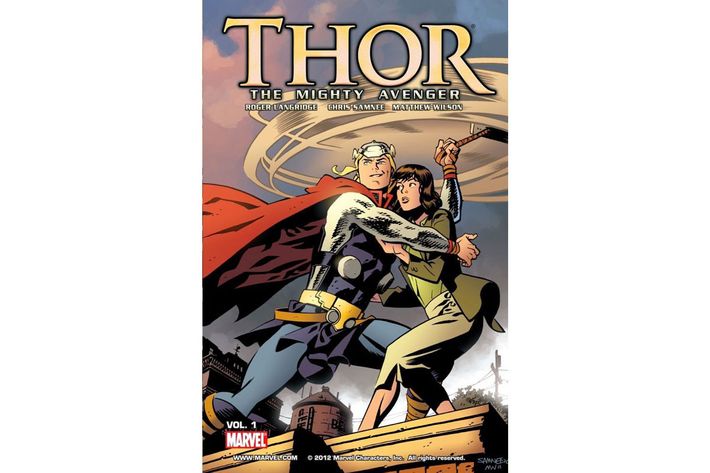 Thor: The Mighty Avenger Vol. 1
It's entirely possible that the other entries on this list have intimidated you with their attachment to the byzantine pathways of Marvel Comics continuity. That's totally understandable. If you're a casual Thor fan and just want to have a rollicking adventure with the thunderer, look no further than writer Roger Langridge, penciler Chris Samnee, and colorist Matthew Wilson's Thor: The Mighty Avenger. It's a delightful little stand-alone story that plays with existing Thor tropes but doesn't wed itself to anything that's come before. You'll get to hang out with your POV character, Norse-history expert Jane Foster, as she first encounters the god of thunder and, after initial skepticism about his identity, goes on a series of wild adventures with him and his meta-human cohort. It's charming, smart, reverent, romantic, sunny, funny, and appropriate for all ages — in other words, the kind of thing superhero comics could always use more of.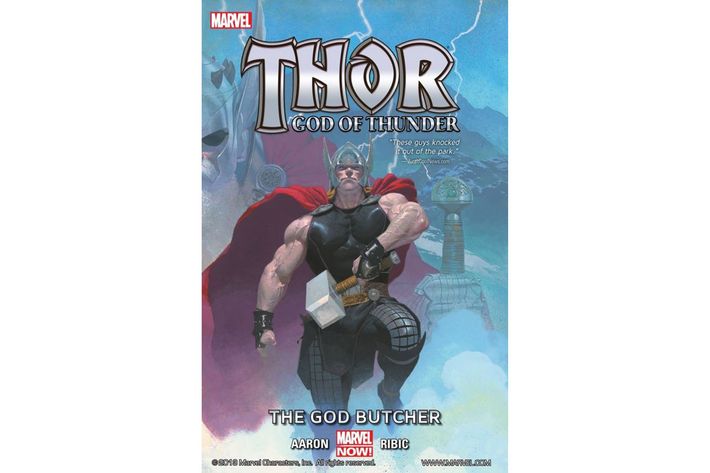 Thor: God of Thunder Vol. 1: The God Butcher
Many a writer has penned the adventures of Thor Odinson, but few have ascended to the level of canon. The most recent entrant into that special legion is Jason Aaron, who has driven the mighty mallet-wielder since 2012. In this volume, you can read some of his earliest work with the character in a magnificent series known as Thor: God of Thunder. It had the clever conceit of following three intertwined narratives, each set in a different period of Thor's life: one in his youthful days, when the Norsemen were plentiful; one in his contemporary, superheroic mode; and one in the far-flung future, when the halls of Asgard are empty save for an exhausted, crabby, one-eyed Thor. Penciler Esad Ribic and colorist Dean White provide truly stunning illustrations for Aaron's triplicate fable, the first volume of which features Thor's battle with a being named Gorr, whose favorite pastime is viciously torturing and murdering deities from throughout the universe. A good Thor story makes your fingers tremble with its majesty, and this sucker gets that job done.