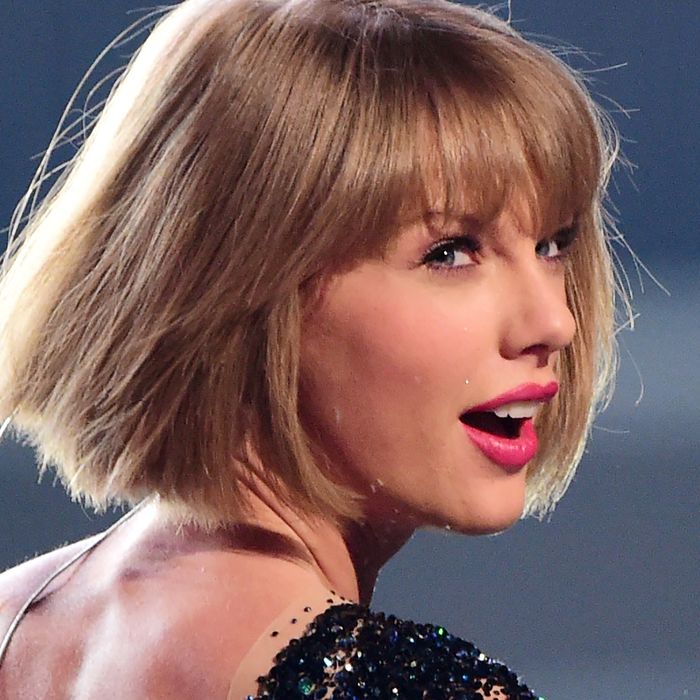 Let's comb through the details.
Photo: ROBYN BECK/AFP/Getty Images
The games have begun: Taylor Swift's sixth album, Reputation, is out now, fully unlocking its chamber of secrets for all the world to hear. As with Taylor's previous albums, there are some details that might not be detected on the first, or even fifth, listen. Whom certain songs could be written about is just the half of it. Below are the fun facts to know about Swift's Reputation that help complete the listening experience.
Taylor executive-produced it.
As with 1989, Swift is credited as an executive producer on Reputation. But now, she's the only artist involved with that title. She controlled the narrative and made all the album's executive decisions. She was also hands-on in the studio, co-producing each of the six songs she made with Jack Antonoff, equal to what she produced on 1989. (In theory, the title could also mean a higher paycheck for her efforts.) She previously shared EP credit with this album's other frequent producer and songwriter, Max Martin, on 1989, but that was the old Taylor. The new Taylor doesn't put anyone else's name at the top of her work.
There are only eight (and a tiny half) collaborators.
The ship is slightly tighter this go-around. Taylor wrote and co-produced the album with Martin, Antonoff, and Shellback. Swedish writer-/producer Oscar Holter (who co-wrote "Bon Appétit" for Taylor's enemy Katy Perry) co-wrote and co-produced "Dancing With Our Hands Tied." Tove Lo writer Oscar Görres co-wrote "So It Goes …" One of Max Martin's right-hand men, Ali Payami – and also another one of Perry's Witness collaborators – co-wrote and co-produced "… Ready for It?" This time around, Swift has two features: Ed Sheeran and Future, both appearing on "End Game." (She has also given songwriting credit to Right Said Fred for interpolating "I'm Too Sexy" on "Look What You Made Me Do.") Unlike 1989, which at least had Imogen Heap, no other woman worked on Reputation. Unless you count the album's tiniest collaborator …
Blake Lively and Ryan Reynolds's daughter is credited.
The rumors were correct: That is indeed Blake Lively and Ryan Reynolds's 2-year-old daughter James cooing her adorable pronunciation of the word "gorgeous" right at the start of "Gorgeous." She's credited as "baby intro voice," bragging rights James should keep on her résumé well into middle age. It's her first job! Hollywood just can't wait to start 'em young. According to fans at the listening session, Taylor said she played "Gorgeous" on guitar for Blake and Ryan at the beach when little James kept repeating the title, so she asked to get James to record it. As if this song wasn't going to have a cute backstory.
There are no hidden messages in the liner notes.
Breaking tradition, there are no secret messages to decode in the liner notes to Reputation. In the past, Swift would leave clues as to whom her songs are about by slipping an alternate story to the album in the lyrics printed in the digital and physical booklet. This time, though, it's all hiding in plain sight.
But there is a prologue …
Or at least that's what her fans are calling it. Included in both the booklet and Target-exclusive magazine is a lengthy disclaimer that "there will be no future explanation. There will just be Reputation." But this is Taylor, so there is some context. She writes about identity, perception, and judgment: "We may hear rumors about a person and believe those things to be true. We may one day meet that person and feel foolish for believing baseless gossip." She also writes about how curating a digital history for ourselves to look back on in the future might not have the desired effect. Swift ends her artist's statement with a searing media critique:
"I've been in the public eye since I was 15 years old. On the beautiful, lovely side of that, I've been so lucky to make music for a living and look out into crowds of loving, vibrant people. On the other side of the coin, my mistakes have been used against me, my heartbreaks have been used as entertainment, and my songwriting has been trivialized as 'oversharing.'




When this album comes out, gossip blogs will scour the lyrics for the men they can attribute to each song, as if the inspiration for music is as simple and basic as a paternity test. There will be slideshows of photos backing up each incorrect theory, because it's 2017 and if you didn't see a picture of it, it couldn't have happened right?"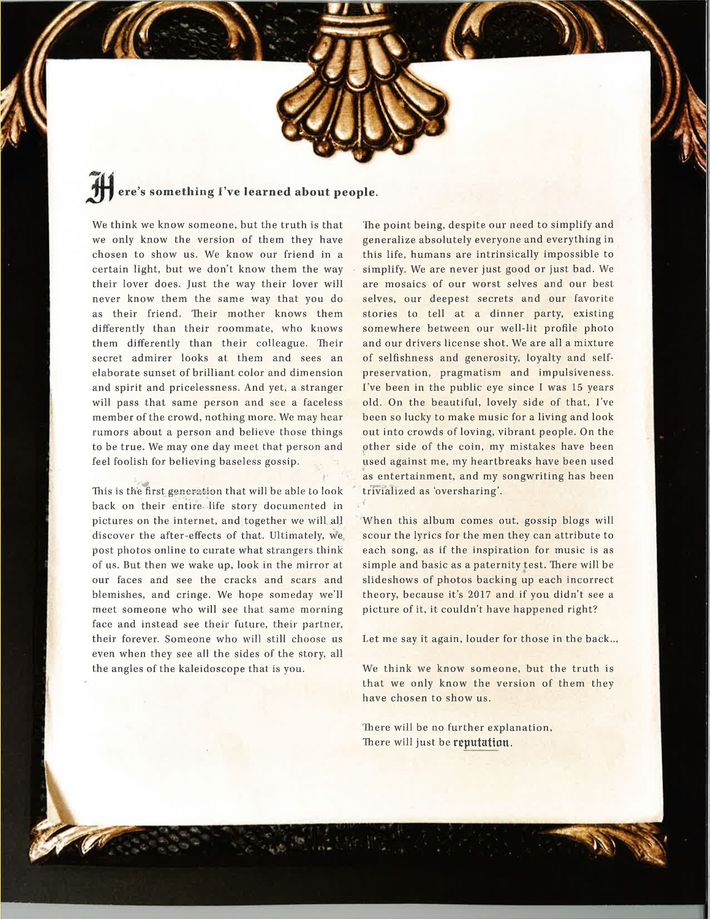 … and some poetry.
Another perk of the magazine is some original poetry penned by Swift. There's "If You're Anything Like Me," about all the ways in which Taylor struggles to be relatable: "If you're anything like me / There's a justice system in your head / For names you'll never speak again / And you make your ruthless rulings / Each new enemy turns to steel / They become the bars that confine you, / In your own little golden prison cell … / But Darling, there is where you meet yourself."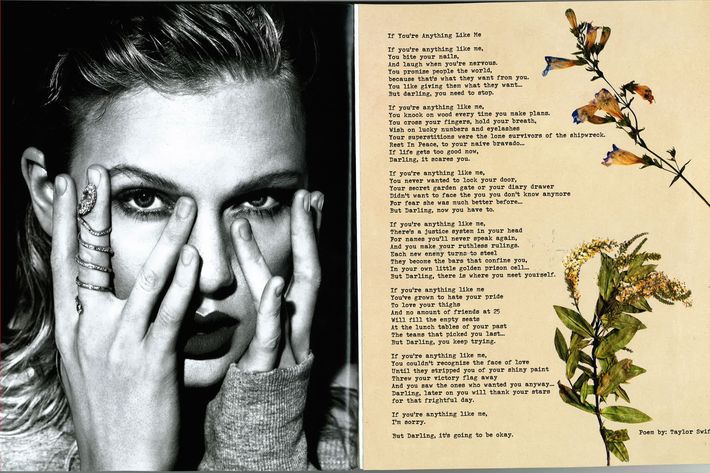 And "Why She Disappeared," dedicated to the death of her reputation. She writes, "When she looked around, her skin was spattered with ink / forming the words of a thousand voices, / Echoes she heard even in her sleep: / 'Whatever you say, it is not right.' / 'Whatever you do, it is not enough.' / 'Your kindness is fake.' / 'Your pain is manipulative.'"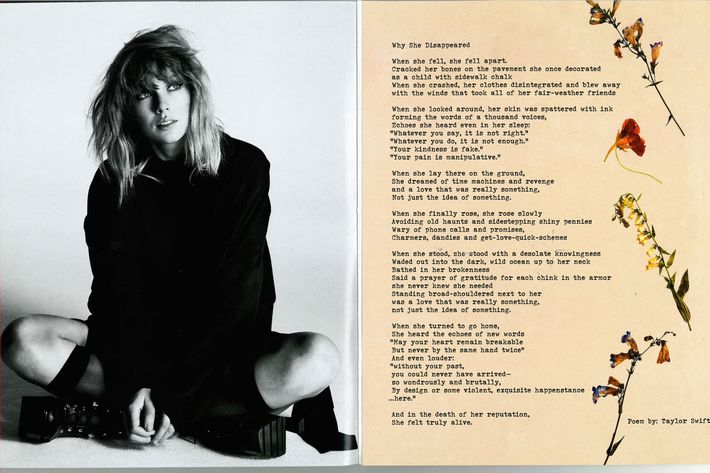 The album features her first real expletive.
Taylor has young fans, which has meant that, though she's matured, she still tends to self-censor. She's dropped an "ass" here, and a "damn" there, but a full four-letter curse seemed out of the question. And then she called herself a "bitch" in her "Look What You Made Me Do" video, and it was game on. She finally lets some profanity loose on an actual record, on new song "Don't Blame Me": "If a man talks shit, then I owe him nothing." If it's gonna be a rare curse, make it good.
She might have quoted Hilary Duff.
Of all the Reputation theories, this one wins: Fans believe Taylor quoted Duff on "Getaway Car." They point to the line "X marks the spot where we fell apart," which is identical to what Duff sang on 2015's "Breathe In. Breathe Out.," a song Swift has publicly praised. Coincidence? The internet thinks not.